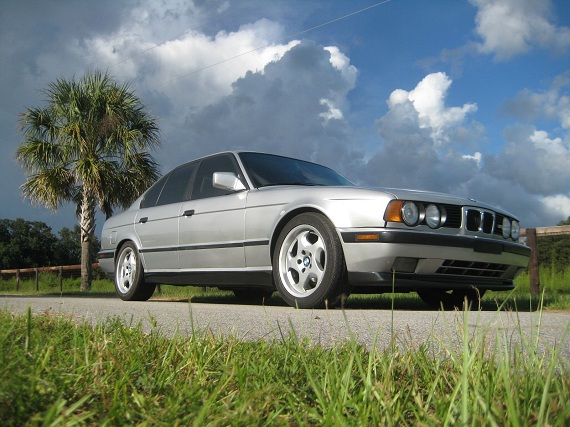 The ascension of the E30 M3 and subsequent increase in value of both the E28 M5 and E24 M6 have underscored the incredible value of the lone early 1990s BMW M survivor, the E34 M5. While purists may complain that the E34 was heavier and a more dulled experience than the E28 M5, I've always found the E34 to be an even better representation of the M experience. M cars were all about stealthy performance, and in my mind the E34 is the most stealthy M car produced. Another reason I like the E34 versus the E28 is the introduction of more colors than just black – in this case, this E34 is the same color combination as the first M5 I ever sat in; silver with grey leather: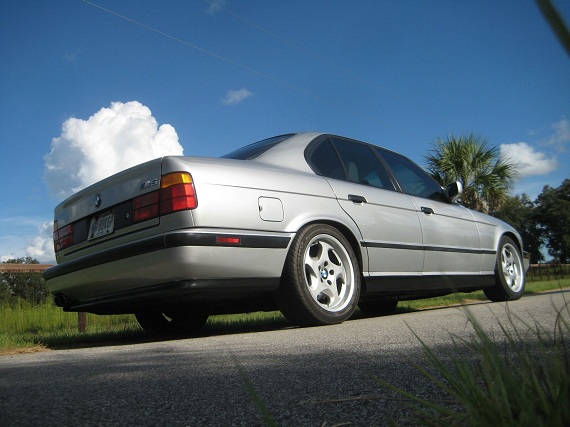 Year: 1991
Model: M5
Engine: 3.6 liter inline-6
Transmission: 5-speed manual
Mileage: 175,600 mi
Price: $8,500 Buy It Now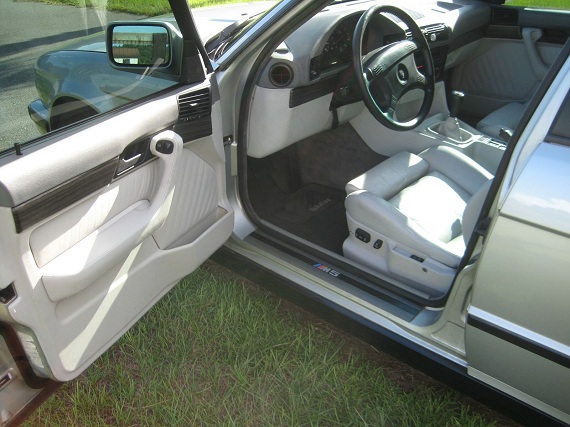 Looking for an inexpensive way to get into an E34 M5? Here's your chance. It's not show-perfect, but it presents well overall. It's a blast to drive, and you could go for years without seeing another on the road. I've owned 2 of these, and those are the only 2 I have ever seen in person.

I've only owned this car for a few months – and planned to keep it for a long time, as evidenced by the amount of preventative maintenance detailed below. However, I am trying to purchase a business and need to free up some cash fairly quickly. This car was to be a long-term project for me, so I still haven't gotten around to some of the less-important items. I focused on mechanical reliability / durability items first, and so the ancillary systems and cosmetics were lower on the priority list.

So, the details:

S38 inline-6 cylinder engine in excellent running condition. Does not burn or leak any significant amount of oil (this means, there's no drips or visible leaking on the driveway, undercarriage is dry). As with any 20+ year old engine, I can't guarantee there's not some tiny area of seepage, but I've not seen anything of significance. I've noticed up to a 1/2 quart added between oil changes on average.

Gearbox is tight and smooth – no grinding, no pop-outs, synchros work perfectly.

IN the last 3 months, the following has been done:
Valve adjustment
Refinished camshaft cover and plenum with black wrinkle-finish, and new M-emblem.
New seals, o-rings, and gaskets for entire induction system
Vacuum system gone through, all vacuum lines/hoses replaced, new vacuum caps at each throttle body.
Throttle bodies disassembled, cleaned, lubricated, and synchronized.
New throttle cable and cruise control cable.
New accelerator pedal bushings and spring.
Updated camshaft chain tensioner (S50B32 version)
Fresh lube in gearbox (ATF) and differential (castrol syntrax).
New Bosch (OE BMW) plugs, cap, rotor (wires were less than a year old).
Every hose in the cooling system has been replaced (not just the big ones, also the dozen or so related to heater plumbing, overflow, degas, etc. Most are OE BMW).
New Behr (OE BMW) fan clutch (viscous fan)
New Behr (OE BMW) thermostat and o-rings
New Saleri water pump
New Bosch (OE BMW) fuel pump
New Bosch (OE BMW) ignition coil
New Hella (OE BMW) auxiliary water pump
New Bosch (OE BMW) heater valves
Rebuilt Alternator
UUC Evo3 short shifter and DSSR
New leather knob with backlit ///M stripe pattern
refinished leather seats with SEM Classic Coat (front seats have cracking but this refinishing made them presentable again). Will eventually need new leather.
refinished door panels, used 3M Di-Noc ebony woodgrain vinyl over original wood grain (could be removed easily if desired).
New thrust arms (Meyle HD)
New Sigla (OEM) windshield and trims
Window tint with lifetime warranty – Formula one tint, 30%.
Fresh brake fluid / system bled
Brake caliper slides cleaned
Wiper arms refinished
Wiper cowl cover refinished
Inner door skins and drains cleaned and treated with rust-preventing grease.
New hood lift struts
New Bosch O2 sensor
New air filter
New interior cabin air filter
New HIR headlamp bulbs

Recently replaced guibo and fuel injectors, MAF sensor rebuilt.

Door panels replaced with improved 1995 style, with gathered-leather inserts, and full leather wrapped/stitched door handles.

Car has Racing Dynamics sway bars, SLS delete (Dinan stage 1 kit, I think).
Dinan chip

Throwing star wheels with good tires all around. Wheels have some scuffs/rash but are straight.
Tires have at least 50% tread remaining.
Brake pads have at least 60% remaining.
Sunroof and all windows/locks work properly.
Power seats, including heating, work properly.

Problem areas:
Headliner is worn, it's not sagging but eventually needs to be re-done
Seat condition described above – cracks in leather, general wear all around.
Rear parcel shelf needs re-covering. It's covered in black cloth instead of the original gray.
A/C was working up until about a week ago. I believe there's a leak in the evaporator core, or the expansion valve, or an o-ring between them. The compressor was working great when the refrigerant leaked out via the evaporator housing.

Paint is overall very presentable, but I think it was a medium-quality job, not show quality by any means. A few chips and things here and there but still shines well.

NO RUST. Undercarriage is clean. Car has been in the Southeast US its entire life.

Pioneer head unit with USB and ipod connection, illumination to match the BMW orange.
JBL front component speakers.

On Aug-20-14 at 08:10:44 PDT, seller added the following information:

Update: I took a look at the Air Conditioning system today. There IS still refrigerant (R134) in there, My gauges read about 90psi, so perhaps my suspicion about the leak is wrong. I think the system will still need inspection, but at least at this point it's not a catastrophic failure from what I can tell.

Also, I've had some questions about the paint. I probably described it as being worse than it is — but I would hate for someone to show up and be expecting perfection. If I had to give the overall appearance a grade, I'd probably put it at a 7/10 for the silver areas, and a 5/10 for the lower diamond-black painted areas. The lower areas appear to have been repainted more recently than the main silver areas, and the quality is less.

All body panels have the original VIN tags on them, with the exception of the hood, which has a non-matching VIN tag. Engine and transmission have the original VIN tags on them.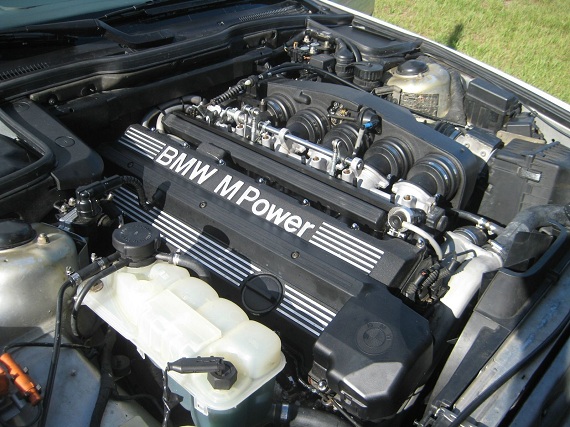 While the mileage total may look a bit daunting at first glance, a look over the maintenance performed by the seller is pretty reassuring. These M5s aren't the cheapest car to pile miles on to, but they do perform quite well and generally seem to shrug off large mileage totals if they've been maintained. This car does have a few issues, but the seller has been upfront about them and the price is set in line with the market. This appears to be a great opportunity to get into a classic M car for a very low price – it looks to me like a great driver and performance bargain from what some consider the high point of BMW's designs.
-Carter