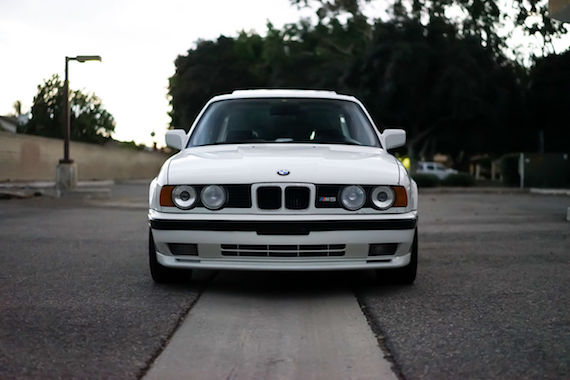 The BMW E34 M5 is a perfect follow on to the Opel Lotus Omega we featured yesterday. These two cars were contemporaries, fulfilling the need for speed in the executive sedan segment in a seemingly similar way on the surface, but, with key differences. While both of these cars have twin cam, 24 valve inline-six engines under the bonnet, the M5 makes due without the turbochargers strapped to the Lotus Omega but still produces a respectable 307 horsepower by way of some clever tuning, most notably the individual throttle bodies. In addition, the M5 is lacking the 6th gear of the Lotus Omega but makes up for it with a more linear power delivery and the free-revving spirit we've come to known from the engines of the house of Motorsport. This 1991 M5 for sale in California has made it well past 200,000 miles, with a few battle scars to tell its tale.
Year: 1991
Model:Â M5
Engine:Â 3.6 liter inline-6
Transmission: 5-speed manual
Mileage:Â 245,000 mi
Price: $13,500 Buy It Now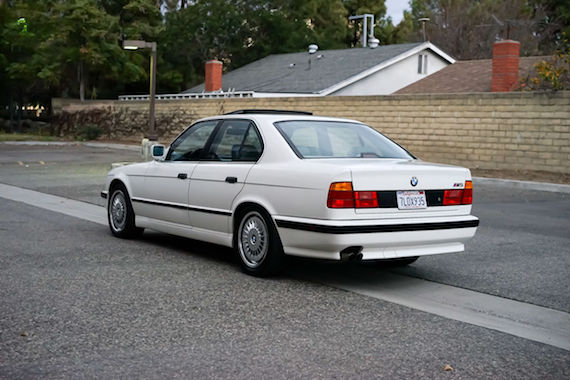 1991 BMW M5
Alpine White / Gray
S38 3.6L / 5 Speed

A true automobile enthusiast can't own just one car. This creates the struggle in deciding which cars stay and which cars go. Unfortunately it's time to pass this M5 on to its next owner. The combination of a S38 engine, a manual transmission, and the convenience of a sedan is a beautiful thing. This M5 is a driver's car. It's clean, presentable, and well maintained but as the odometer reading shows, it's been driven and enjoyed. Whether the new owners keeps it as a garage queen or uses it for daily driver duties, it's up for the task. Over the past few months this car has received a large amount of maintenance that should leave it trouble free for many miles to come. This car is completely stock and original minus the addition of the European spec M-Technic steering wheel and a back lit OEM ///M shift knob.

Recent maintenance:
-All cooling hoses
-Radiator
-Fan clutch & blade
-OEM BMW coolant
-Valve adjustment
-Valve cover gaskets
-Spark plugs
-Distributor cap
-Ignition rotor
-Crank position sensor
-Coolant temperature senders
-Intake manifold gaskets
-Throttle body o-rings
-All breather & vacuum hoses
-Brake booster check valve
-Brake booster hose
-Front brake pads & rotors
-Rear brake pads & rotors
-Accessory drive belts
-Hood & trunk struts
-Oil cooler seals
-Oil filter housing gasket
-Engine air filter
-Fuel filter
-Rubber fuel lines
-BMW roundel emblems
-OEM rear M5 badge
-OEM wheel emblems
-Transmission fluid
-Differential fluid
-Engine oil change
-Battery

The car runs and drives very well without issue. Engine pulls to redline and transmission shifts well. Cosmetically the car is not perfect but it's very presentable. The front bumper and tow hook covers are brand new original BMW pieces and have been recently painted along with the side mirrors. They are a perfect match to the factory paint. The car has rock chips in the front nose panel and a couple minor dings. All body panels are original with VIN tag photos included. The interior is in overall clean condition but the driver's seat does show wear due to its age. The car has air conditioning but it no longer blows cold. The front ashtray is missing in photos but will be included with the sale along with the original airbag steering wheel.

Please do not hesitate to ask any questions about the car!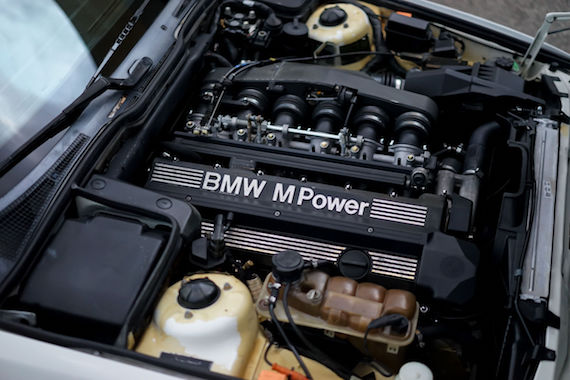 The thing I love most about this M5 is that it wears its original Style 20 wheels. These wheels are often swapped for the Style 21 Throwing Stars or the Style 37 M Parallels. The Style 20s were often derided for their looks, appearing as if the car had white wall tires. However, these wheels served a functional purpose, as the center wheel covers helped brake cooling. As with all early M cars, these E34s are starting to increase in value, although not as steeply as some other models. In addition to the wheels, Alpine White is one of my favored colors for these fast E34s, even if I'd prefer a black leather interior over gray. We saw a 1991 M5 with 180k miles sell for $13,700 back in August. Is this one worth about as much with higher mileage? It certainly makes a good argument given the condition and recent work done. If the seller can provide service records and a bit more color on the vehicle's history, I'd say this one would be worth it. The best part is, you wouldn't have to worry about treating it like a garage queen. Keep on using it as intended as the prior owners have.
-Paul