I have in many cases hesitated to post cars from this dealer. It isn't uncommon for sellers, especially many of the dealers, to photoshop their cars so that they look that little bit extra special. This dealer appears to do it to a higher degree than many others and that always makes judging the condition of the car more difficult and generally raises questions. But this one is too pretty to pass by. It's also not a shade we see very often on these early Turbos. This is a Minerva Blue Metallic 1979 Porsche 930, located in Indiana, with 75,764 miles on it. Going back to those pictures, we are provided with a wide range of detail shots that don't appear touched up so we do get a good sense of various aspects of the car, including the interior, along with a closer look at that wonderful exterior blue. I always have a soft spot for these shades of blue and on the 930, with its various contrasting black trim pieces, I really find it to be an enticing color. As a '79 MY 930 this one has the increased displacement and air-to-air intercooler of the 3.3 liter flat-six Porsche fitted in 1978 and also is the last model year in which Porsche would bring the 930 to US shores prior to its 6 year hiatus.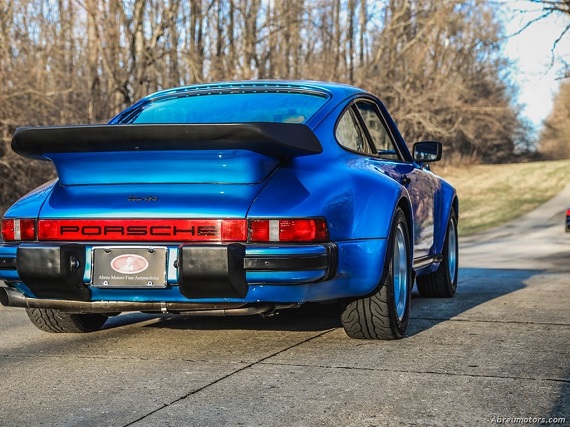 Year: 1979
Model: 911 Turbo
Engine: 3.3 liter turbocharged flat-6
Transmission: 4-speed manual
Mileage: 75,764 mi
Price: $129,895 Buy It Now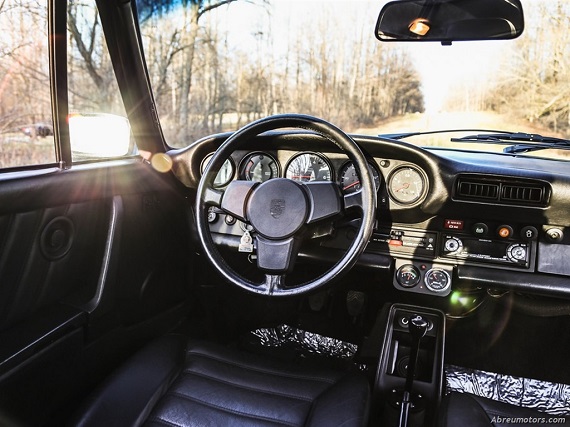 The legacy of the Porsche Turbo all began in 1975 with this beautiful first generation of stylish road warriors. Designed for raw speed and power, they were legendary for the wild ride they guaranteed – a pure racing experience full of under steer and over steer, and a challenge for even the most skilled driver. The modern day Turbo has its obvious improvements, but the aesthetic appeal of the retro Turbo and its place in history as the ground breaker makes this a generation to be revered.

The last of the early generation Turbo, the 1979 Turbo is perhaps the best, mainly due to the improved 3.3L engine and the introduction of the intercooler, which brought a substantial improvement in hp for US models, from 245hp-265hp. The '79 also had the benefit of larger brakes with ventilated and cross-drilled brake rotors. Other engineering improvements over its predecessors were the more durable silicon-bronze valve guides (previously copper), and cylinder-head studs, improvements which saved owners many costly repairs.

The example featured here is a spectacular Original Minerva Blue Metallic repaint with Original Black Leather interior. Documented original 75,764 miles. Complete with COA. Previously received major service as part of a long history of regular maintenance. Recent tune-up includes removal of BOV manifold assembly and reseal, oil change, and new BOV gaskets and hood struts. Previous serviced improvements include a Clewett ICN System, Stainless Steel Exhaust, New Heater Box, New Wastegate, Braided Brake Lines, Front Brake Cooling Ducts, Front Chassis Brace, Upgraded Oil Cooler Lines, Aeroquip Braided Lines, Updated Tierods and Upgraded Short Shift Kit.

This is an absolutely beautiful example of the '79 Turbo, and the windows out repaint in original and extremely rare Minerva Blue Metallic will take your breath away. There is a substantial catalog of service records with this vehicle, and includes original tool kit, all books, COA, spare, and 2 keys. We are comfortable calling this a Condition 2/3 and know this will be a treasured addition for any savvy classic car collector.

Abreu Motors wishes for every client to be completely satisfied, and thus strongly encourages interested buyers to complete a Pre-Purchase Inspection. Please ask about our 3-day Return Policy.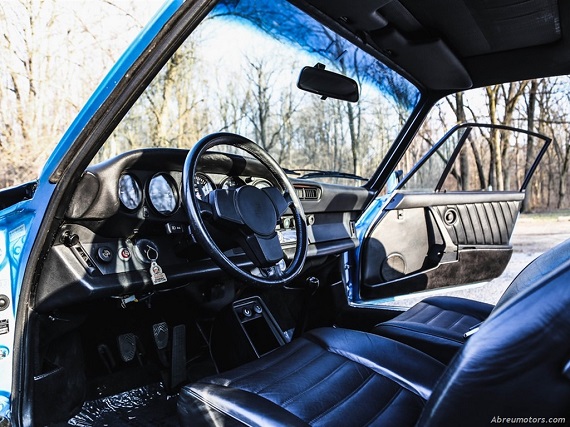 With an asking price of just under $130K this 930 makes for a nice contrast with the '87 930 we featured over the weekend. The mileage of the '87 was quite a bit lower – just under 40K miles versus over 75K here – which partially explains the nearly equal asking prices. I also suspect the overall condition of the '87 to be a little better, but it's very hard to look past the rare color on the 930 we see here. In either case you're looking at a car with tremendous value on the current market as 930 prices have shown little hint of slowing down. Like the '87 this '79 930 is priced reasonably if everything on it checks out. Perhaps that's a big if – the documentation doesn't appear to go back too far and it has been repainted – but it remains a fantastic looking machine and if the worst case is that you get a beautiful 930 to drive, though with less long term potential, then that's not a terrible overall position.
-Rob