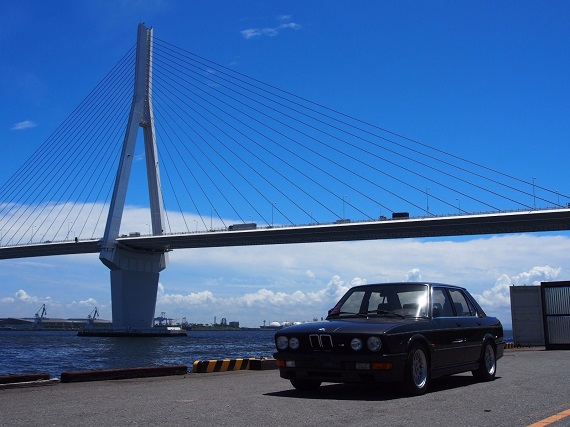 There's been a fair amount of talk on these pages about M branding, as BMW has moved towards slapping badges on seemingly every single model regardless of their sporting potential. Can you blame them? Perhaps, but obviously they've done their market research and just as Audi and Mercedes-Benz have similarly increased the breadth and scope of their limited run production, BMW has offered the public an ever increasing and diverse range of M badged products. It's as if these three are cowboys on the range, fearful of each other's steeds and stoking the fire to brandish their labels on the rear ends of their flock in a futile attempt to establish dominance and feign individuality. But, in all honesty this isn't a new trend. As far back as the mid 1980s, BMW was offering badge engineering on some of its finest products, and the M535i is the best example of this. Essentially this was a 535i with a M Technic body kit and no real performance changes outside of an optional suspension package. Does that make it less desirable?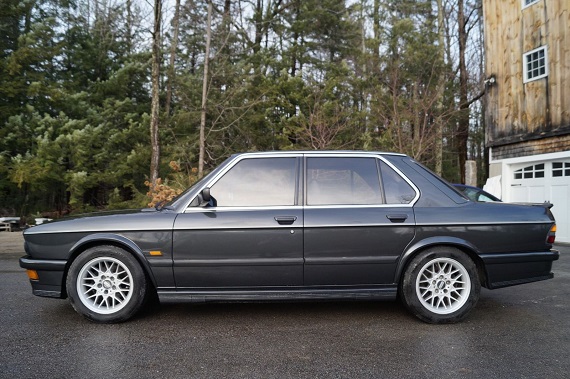 Year: 1987
Model: M535i
Engine: 3.4 liter inline-6
Transmission: 4-speed automatic
Mileage: 109,000 mi
Price: Reserve Auction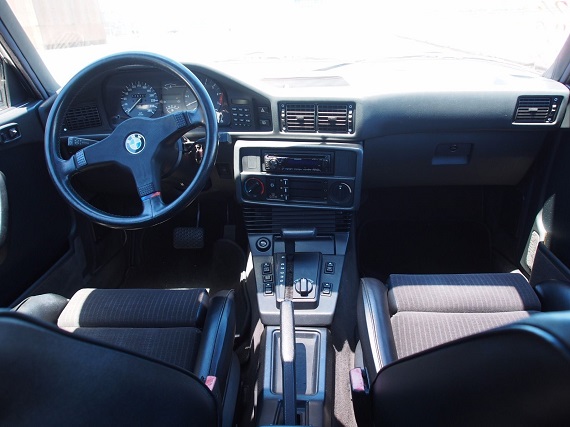 Hello All,

I have a E28 M535i, which was never available in the United States of America, with just under 110,000 miles. Essentially quite similar to the E28 535i, the M535i offered a close-ratio gearbox, M-Technic suspension and the M-Technic aerodynamic package, including interior M tri-color lapels on the front and rear seats. There cars were produced in Munich Germany from 03/1985 to 09/1987. I do not know if they were hand built like their sister, the M5. These cars were not offered in the U.S. for two reasons, the M-brand was not yet established in North America and it did not coincide with NHTSA standards, specifically front and rear bumper height among others. This is essentially a cosmetically enhanced 535i or a M5 without the specialized M-developed engine and components. This is the DC89 model, made for Japanese Markets (VIN was puzzling as it's nothing like ours). I have the original owners manual, informational packet and import documents. I have many supporting documents, many of which are in Japanese, as it is an import. This car is ONE of 1,140.

This E28 M535i is one of the few M Series models to have been available with an automatic transmission powered by a M30 inline-six, in this case the ZF 4 HP 22 unit with Sport, Economy and Manual shift modes and the following ratios: 2.48 (1), 1.48 (2), 1.00 (3), .73 (4). Automatic cars are equipped with a 3.45:1 rear axle ratio with limited slip. It is also LHD, which is quite rare. I challenge anyone to import one in this great of condition for a lesser price. I was actually looking for a E30 M3 but I couldn't pass this down, as the condition was shockingly exquisite for a car of its age . This car is 85% of the way to being a Perfect Sunday Driver. There is no rust whatsoever. Slight patina on underside but barely any, it's near flawless. This car is cosmetically the precedent for all other M535's in the country, I have yet to see a better one. As for inspection/registration, it's 25 plus years old, so it is exempt from emissions and safety. All you need is the VIN to register it. I have plenty of supporting documents for your sake. I might even have it registered soon. Has authentic BBS rims.

An E28 M5 is valued at $36,000 but they often fetch much more. An E30 M3 will fetch upwards of $50,000. Euro and U.S. 535's can reach $10,000 to $14,000 in mint condition. Turning a stock 535 to M-tech standards is nearly impossible due to the lack of parts available, which it would cost upwards of $10,000. They do not make original M-tech parts for these cars anymore. I assume if you found this car, you are looking for it or something quite similar. Yes, it's an automatic, great observation. It's a unique transmission with the sport options, hell you could even swap it if desired. This car is fairly priced considering other related BMWs. I had great show plans for this car, but moving to California has me reevaluating my options. I'm sick of people haggling me because they think they know what its worth. This is a one of a kind car, especially E28's, which are slowly dissipating from existence. Go on eBay motors, myE28 and Haggerty to check pricing trends. I highly recommend you come see the car before purchasing because it's a serious investment.
eBay doesn't allow linking URLs so email me and ill send the google drive link for more pictures.
Please email me or PM here:
nevinstevens94@gmail.com
What it needs…

– Currently fixing the driver door sealant, it's simply peeling down. Otherwise interior is flawless, you wouldn't believe it's nearly three decades old.
– Engine needs a tune up, I thought the lifters were running hard but I put a fresh tank of Supreme in and it sounds great. Need a heat shield under hood, currently there's ghetto rigged foam.
– Needs an exhaust clamp replaced, still 100% drivable but I wouldn't drive it like it's 1987.
– I'm having trouble finding any dents or dings. Paint will need a new coat in the upcoming years, it has been repainted to match original color. Some sections appear more faded than others.
– Battery has been dying, I assume because it needs replacing. Could be an electrical drainage, however a kill switch is installed which prevents drainage and theft.
In short, the only serious investment a buyer must consider is the engine tune up which is generally cheap, but I wouldn't spare an expense with this car. Definitely bring it to a BMW/Euro specialized shop. I may do it myself. Also the exhaust clamp welds I would expect would be less than $100. Please come see the car, bring a mechanic, etc.. I'm located in NH, I recently had it at a local BMW specialist who conducted body work; bumper looks brand new. It's not missing any parts. Aftermarket hosing and wiring, along with the kill switch and a Pioneer radio unit. Speakers do look upgraded.
Reserve the right to end the auction as it is for sale locally.

That's all I can think of off the top of my head. Email me and I'll respond promptly. I'm in NH until the 17th, let's go for a ride as along as the snow is at ease.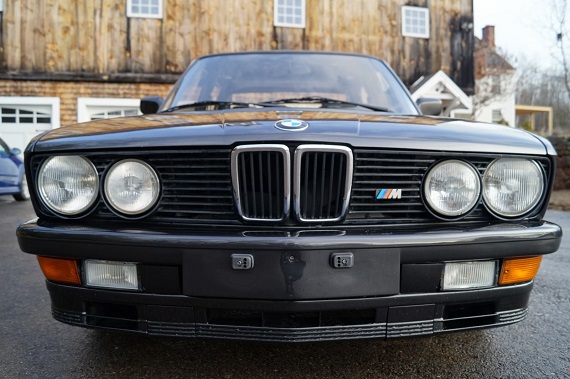 The seller does a pretty good job of letting us know why the E28 M535i was special, and indeed compared to the much more numerous normal 535i it's a neat package. On U.S. soil, it's quite rare to find the M-Technic equipped cars, but a few have been floated across the pond. Effectively, if you want a European specification 535is, this is pretty close. The seller mentions the sport suspension but it's not entirely clear that this car was equipped with that optional extra. The M30 is catalyst equipped, too, meaning there's no performance gain over U.S. models and that's further hampered by the automatic transmission. Also gone, for better or worse, are the original TRX wheels. Though tires are hard to find for them, I really prefer the look of the original dish wheels over the BBS RX model the car currently wears, but replacing the rubber on these is certainly much easier. There are some condition issues which really keep this from being a top notch example, but overall it comes to the market in much better shape than a majority of the market. Bidding is slow, with only one bid registered at a somewhat surprising $14,500. To me, which the European bits look absolutely fantastic and make the package pop, and even though this is a very rare car to see here, that's a high price to pay for this package.
-Carter