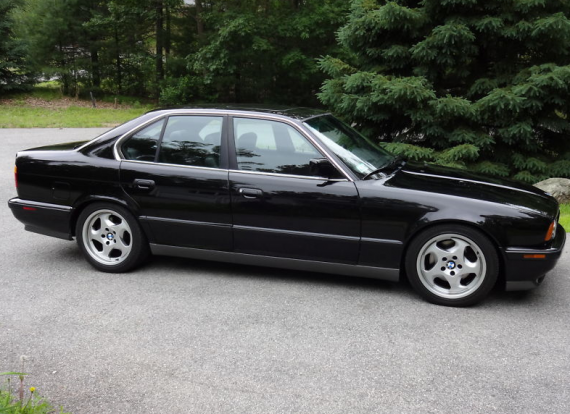 I went to my first NASCAR race this weekend. There were plenty of amazing notables, some expected (88 shaved into chest hair), some unexpected (a massive above-ground pool outside an RV). But what surprised me most was the pleasant conversation I had with our camping neighbors, them of the custom-made "PLEASE NO MORE HOPE AND CHANGE" sticker on the Dodge Intrepid variety. He liked my M5 and we had a nice chat about M5 history. Well, I guess if a BMW guy can like NASCAR, I should leave the door open for NASCAR guys to like BMWs!
Today's E34 emulates the E28 and goes the Vader route, black on black with the lovely Throwing Star hubcaps. Apparently it was stored for six years until it came out of hibernation two years ago. Those two years have apparently brought a nice honing period as the seller removed the SLS and replaced it with performance suspension, chip, and exhaust. That left him with a clean M5 with less than 120k miles. While the E34 is heavier than the E28 and not as brawny as the E39, it's a slick hand-built businessfighter, especially in this sub-radar color scheme.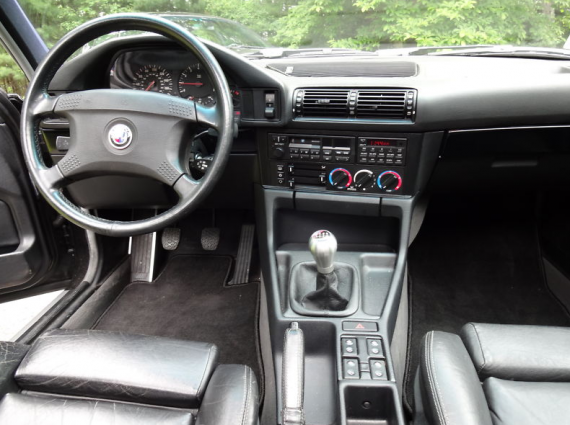 Year: 1991
Model: M5
Engine: S38B36 3.6l inline-6
Transmission: 5-speed manual
Mileage: 118,000
Price: Reserve on at $5,100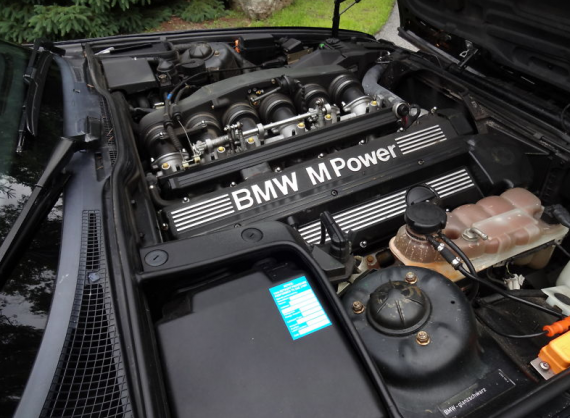 Here it is – one of the last hand made m5's with low miles black on black and in absolute gorgeous condition. Except for a few tasteful modification as discussed below, the m5 is all original. The original black paint still has its original glossy shine. There is no rust on this car. Everything mechanically works perfectly, (including the a/c and the front seat electric head rests). The car runs perfectly, and is amazingly fast and responsive as it should be. The M5 engine roars and the transmission shifts smooth and perfectly in every gear. The clutch is strong. I purchased the car in 2004 and it was in perfect condition then. I have always garaged it. I stored it for 6 years soon after I purchased it and then put it on the road 2 years ago. Since that time I have put only a few thousand miles on it. In the last thousand miles I have done the following:

·Replace crankshaft and oil pan gasket
·Complete tune-p
·Replace all stabilizer links and bushings
·Install Jim Conforti performance chip
·Replaced the original catalytic converters with custom track pipes
·Replaced the SRS suspension with HRS sport springs and Koni adjustable shocks all around. The SRS hoses are still in tact if anyone wanted to convert back. The Koni/HRS turned out to be a great modification as it replicates the original ride while removing the harshness. I keep the Koni's on the softest setting.

Everything else on this car is original to the car. The car is in perfect running and mechanical condition. The car leaks nothing. The only flaw on this car is that a section of the driver's interior door panel trim is separating and needs to be re-glued. See photo. All performance tires are in great shape with lots of tread. The throwing star wheels are in great shape. You will not be disappointed with this car. It is a blast to drive. Incredibly fast, incredibly tight, with a great sound. I have to downsize the collection. Your gain. Included in the sale are the original BMW turbine wheels. I will also include 2 additional shifter knobs see photo. I have set a low reserve bid. Good luck.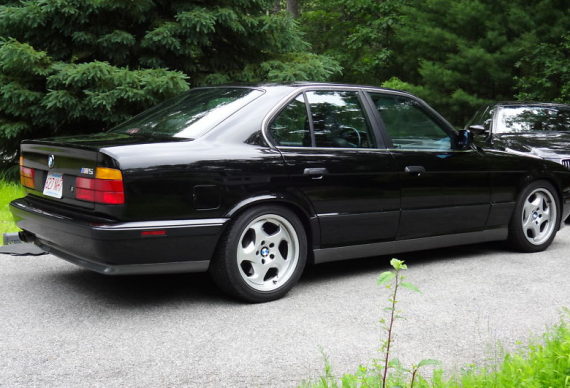 With a proper PPI, this could be a great performance deal. As long as the seller really has used the 2 years to make this well-sorted and is just ready to move on (there's an E60 M5 in the background of the pictures), anything under $12k is fair for this E34.
-NR