The 1989 E30 M3 that we featured last week failed to sell with a Buy It Now price of $39,950. It has been relisted with a Buy It Now price of $37,950. Is that enough of a discount to move it?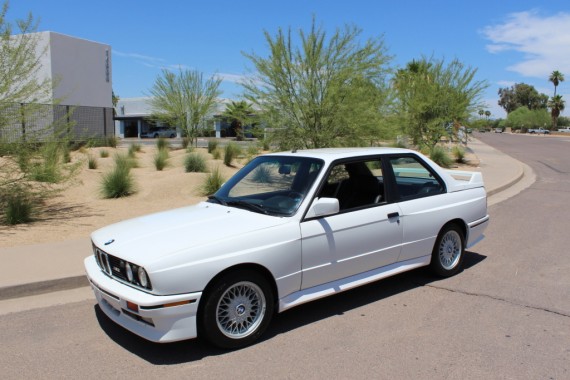 As owners of the original M3 look to cash in on the value rocketship, some clean examples are coming out of the woodwork and demanding serious cash. Today's example has an interesting early history of warrantied engine work, but all seems to have been addressed early and now it is an unmolested and well cared-for M3 in the desirable Alpineweiss. From some angles it looks brand new and from others it shows its 25 years, mostly in the seats and the discolored spoiler, but overall this is on the high end of original E30 M3s. The only thing left desired is a more affordable price!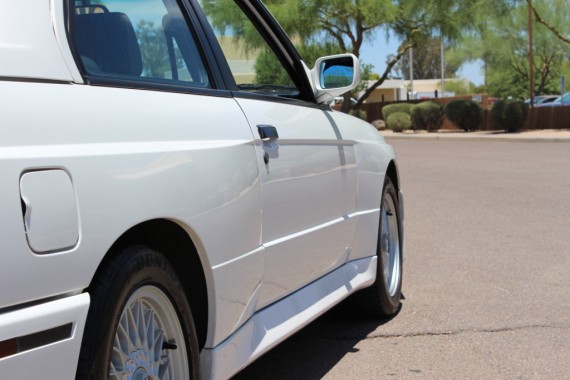 Year: 1989
Model: E30 M3
Engine: S14 2.3l inline-4
Transmission: 5-speed
Mileage: 87,000
Price: $37,950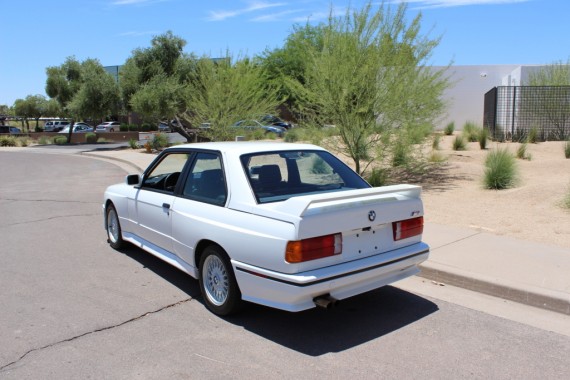 1989 BMW M3

VIN # WBSAK0308K2198515

Up for sale is a beautiful BMW E30 M3. This is a one owner low 87k mileage car that has never been in an accident or painted. This M3 has not been modified or raced. It has complete service records since new. There are not many E30's like this left! This M3 started it life as a BMW factory car. The original owner purchased it new off the showroom floor of BMW Seattle on 8/4/90 with 7921 miles on it. The extensive service records document the history of the car from that time forward. This M3 is ready to enjoy. The E30 was BMW first version of "motorsports" car for there legendary "3" Series. It is in excellent condition and will surely make its new owner happy.

This M3 is finished in its original Alpine White paint and looks stunning. This M3 is rust free with no sign of ever having accident damage. The car retains all of it's original VIN stickers. The white paint is very vibrant and has always been well taken care of. In 1991, the rear bumper was replaced under warranty by BMW Seattle. This was due to improper rear bumper mount that caused warping on the bumper. This is documented in the service records. A very good job was done and, since the car was so new at the time, it is not noticeable even when told it has been replaced. The rest of the car still retains its original paint. There are some minor rocks chips on the front end. None large in size and nothing out of line for an 87k mile car. The very bottom of the front bumper also shows a little wear. The rear spoiler is yellowing a little. I have tried my best to photograph all of the blemishes on the car. The car has always been garage kept and all of the rubber seals are still in great shape. The glass is all original. The windshield shows a little pitting and has one small star in it. The M3 wears a like new set of factory correct 205/55/15 Dunlop tires. Overall, the exterior of this M3 is in excellent condition and truly is a rare find in this condition..

The beautiful black leather interior is all original and shows very well. The seats are very supportive and feel great to sit in. The seats do show minor wear on the bolsters. The carpet is in excellent condition with very little signs of wear. The dash and door panels show little to no wear at all. The power moon roof works as it should. The OBC was replaced by BMW and works correctly. The check control system still works as it should. One of the few luxuries of the E30 M3 was the radio, it still operates flawlessly and is a fantastic sound system. At one point in the early 1990's this car did have an in car phone. The 4 screws in the center console are all that remain of that system. The interior is completed with the factory correct three spoke non airbag steering wheel that feels great in your hands. The A/C system is original and still blows cold. The windows operate as they should. The interior of this car is in superb condition and is a great place to spend the weekend driving up your favorite twisty roads!

Mechanically the car is very sound. The S14 engine fires right up and is a blast to drive. In 1990, BMW Seattle installed a warranty engine block in the car. The entire repair is documented showing BMW put in a warranty block, new crank, rods, etc. The factory original head retained and is still in the car with its VIN stamping on it. From then on, the motor performed flawlessly just needing routine maintenance. In 1994 with 54k miles, the motor suffered oil starvation and spun a bearing. The warranty block was reused and completely rebuilt. This time an oil baffle was added to prevent any future failures. This work is all documented and done by BMW Seattle. Shortly after the second rebuild, the car was retired from regular use and became a "nice" day car. It has been trouble free and runs like a top. The cooling system is in great operating condition and keeps the car cool in Arizona's 110 degree heat. The engine is mated to a 5 speed transmission that shifts great through all the gears. This is a great running and driving car that never skips a beat. The steering is nice and tight. The brakes feel great and the car stops with ease. Overall, this car is very mechanically sound and ready to be driven.

The E30 M3 is an excellent weekend toy or daily driver. This is a great chance to own a very nice 1 owner E30 M3 that has full service history and is completely unmodified. This car is in excellent condition both inside and out and is located in sunny Scottsdale, Arizona.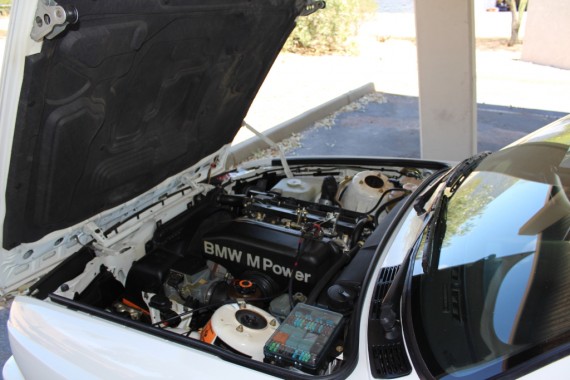 In the past 15 years I've seen decent M3s cross the $10k mark, then $20k, and now they are soundly in the $30s and about to crest $40,000. An impressively meteoric rise that so many of us lament as they have now moved away from accessible. So it goes.
-NR