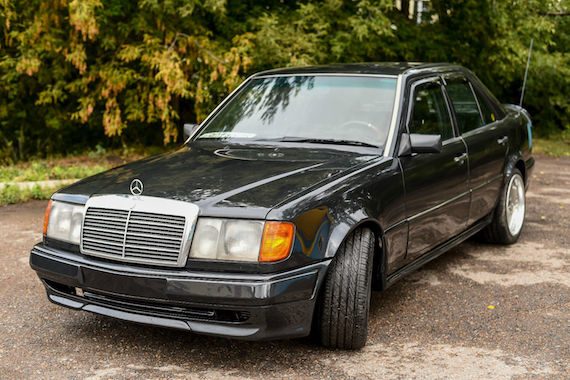 Back in the 80s and early 90s, when AMG was an independent tuner not yet folded into the Mercedes-Benz family, those looking to soup up their Benzes could have their cars delivered to an AMG-authorized dealer for the installation of a range of body, suspension and engine upgrades. As a result, there are a number of "mix and match" cars from the period with bespoke configurations, making the authentication of pre-merger cars today quite difficult. The most famous car from this period is probably the "Hammer," the AMG-tuned, V8-powered, wide-body kitted version of the W124 platform E-class (there's a neat little video of Chris Harris driving one here). While the Hammer continues to be highly sought after, and priced accordingly, less well known is that AMG also produced a tamer version of the W124, the 300E AMG. This offered the brutish exterior styling of the Hammer while retaining the M104 six cylinder engine, bored out to 3.4 liters.
Year: 1991
Model: 300E AMG
Engine: 3.4 liter inline-6
Transmission: 5-speed manual
Mileage: 52,000 mi
Price: $32,000 Buy It Now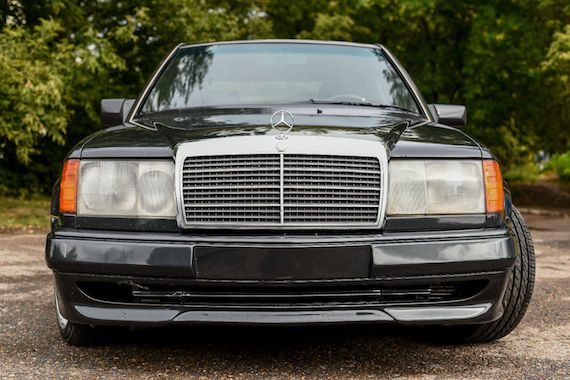 Mercedes Benz w124 3.4l AMG 300E
VIN: WDB1240311B434894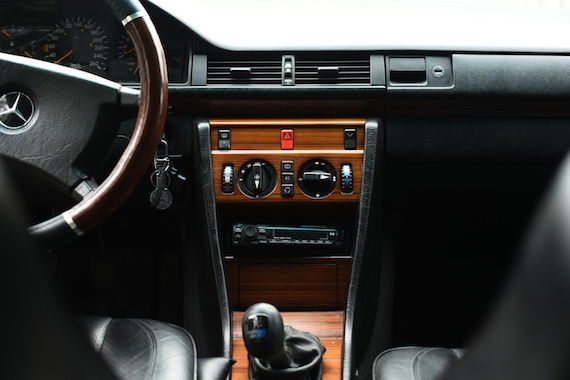 Though still quite rare, these 3.4 liter AMGs pop up from time to time on eBay (often imported from abroad). This example for sale in Boston appears at first glance to be such a car. It comes in 199 blue-black over black leather, and sports a neat looking set of deep-dish, period-correct wheels (maybe Lorinsers?) and glass, Euro-spec headlights. The type of climate control system mounted in the dash has dials instead of push-buttons, indicating that this is a European market car. There are, however, a few oddities that leap out from the listing that raise some questions about the car's authenticity.
First, the car has a manual gearbox, which is very odd because (as far as I know) 300E AMGs all came with a four-speed automatic. Looking at the photo, the gear lever has the "Sportline" logo on it, which just adds to the mystery. Sportline was offered as a (non-AMG) option on W124 and W201 cars bringing firmer suspension and a tighter steering ratio. Perhaps a manual swap from a Sportline donor car was completed at some point in the car's life, but no details are given.
Second, while the bodykit looks to be in good shape overall, the front bumper looks a little iffy – cracked maybe (?) and missing the fog lights one would expect to see mounted on either side.
Third, the seller provides no details whatsoever about the car aside from the VIN  – not even a picture of the engine bay. That's a problem because in the market for pre-merger AMGs, history and evidence of provenance are of vital importance. A google of the VIN throws up no results (odd because when these cars come up for sale, they usually get discussed on enthusiast forums) and running it through an online option checker shows no AMG options (although that's not necessarily dispositive, since cars from this period often left the factory in stock form and only had mods added later).
These issues leave me wondering if this is in fact just a standard, Euro-spec manual transmission W124 that has had a body kit put on it. It seems to me that the seller will need to address these issues if they hope to get anything like the $32k asking price.
– Craig