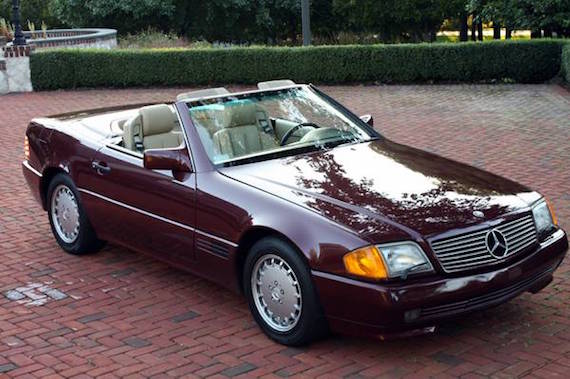 Some cars come and go, but the Mercedes-Benz SL has had staying power. Ever since the mid 1950s, this name has been going strong in the lineup, transforming from the original Gullwing coupe to a smaller hardtop two-seater, to the boulevard cruiser of the 1970s and 1980s and into the present day as a refined but capable luxury roadster. One of my favorite SLs was the R129 from the 1990s. It was no easy task taking over from the iconic R107 SL which had an impressive 18 year production run. This car was literally the face of Mercedes throughout the oil crises, recessions and the boom times of the 1980s, yet stayed fashionable all along. However, the new for 1990 300SL brought back an option to US buyers, albeit for a short time, that was lacking throughout the R107 production run: the manual gearbox.
Yes, you could order your 300SL from a US showroom with a 5-speed manual, making the most of a 3.0 liter inline-6 engine that was tasked with moving around 4,000 lbs. of car around. If you're used to a V8 in your SL, performance is a bit underwhelming in this model, but given that only a few hundred R129s were sold in the US with a manual gearbox, the novelty factor is certainly there. This 300SL-24 for sale in Arizona is one of the nicest 5-speed manual R129s I've come across in my time at GCFSB, tempting for someone who absolutely must row their own.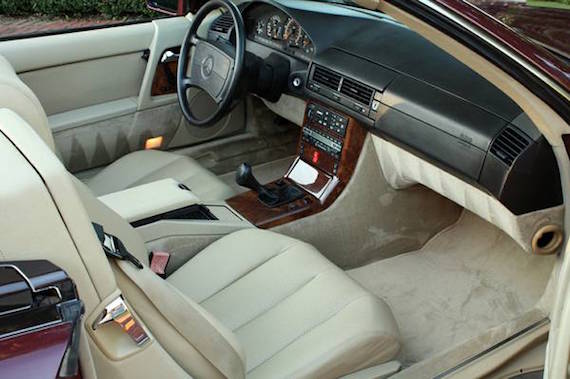 Year: 1991
Model: 300SL-24
Engine: 3.0 liter inline-6
Transmission: 5-speed manual
Mileage: 81,500 mi
Price: $29,999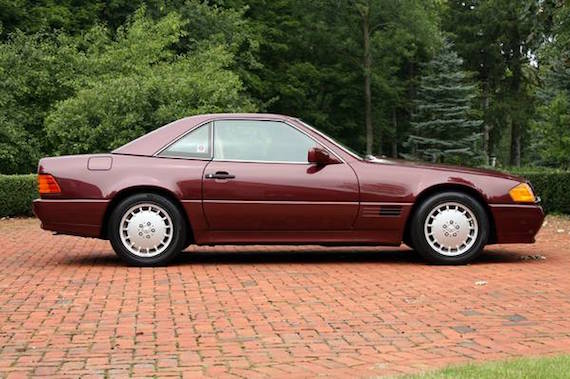 1991 Mercedes-Benz 300SL-24. Super-rare factory 5-speed manual trans (1 of 100 US models exported by Mercedes). Shifts like it is supposed to. Most have automatics and a standard motor. This car has a high-performance, high revving, light, 4 valves per cylinder, double overhead cams, straight six motor. Fast! Removable hardtop w/ new headliner and power soft top. Electric automatic factory roll bar, remote entry system, power steering, cruise control, automatic climate control, power windows, electric heated rear hardtop window, fully independent suspension, power 4-wheel disc brakes, ABS, power seats, tilt and telescopic electric steering wheel, leather interior (new leather on seats), halogen head lamps, factory stereo sound system. 81,500 original miles. Clean CarFax. Body and paint close to perfect! No accidents. Manuals, 3 sets keys. No issues, extraordinary mechanical condition! This is an established collector car! Car cover, hardtop stand and hardtop cover incl. Cars like this one sell in the low $30s. I priced this one to sell quickly!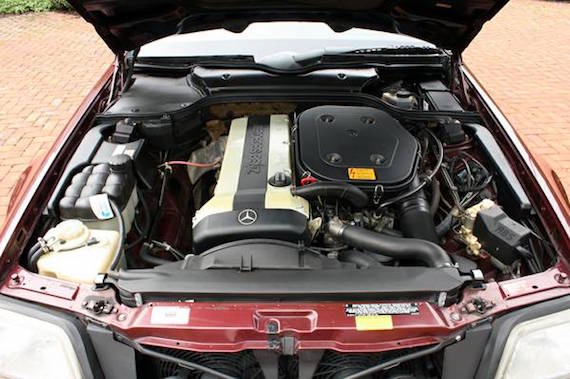 Right off the bat, the asking price had me doing a double take. At this level, some of the best, late model V8 and V12 R129s can be had. Six-cylinder R129s, no matter how nice, are not at the $30,000 level just yet, even if equipped with a rare manual gearbox. There's no denying this is one of the nicer 5-speed manual R129s, but from the comparisons we've seen, we're looking at a car that's worth around the $15,000 mark, maybe pushing $20,000 if the right buyer came along. This is another one of those cars that, if given the garage space, I would love to have because an R107 or R129 SL with a 5-speed manual has been high on the wish list for some time. Sure, some people would argue the automatic was a better pairing for such a car, but for me, only something with a third pedal will ever do.
-Paul