We've posted a few W124 tourings recently, noting the high esteem in which these old wagons are held. A functional and solid mode of transportation for well-to-do families of yesteryear, plenty of these cars have been kept by their original owners well into old age (or passed down to their kids), because people often just can't bear to part with them. No surprise: like all Mercedes cars from the era, these were built to last forever. This particular example is a 1991 Euro-spec diesel sourced from France. Not only does that make it quite rare  – 300TDs were only ever offered in the US for one year, in 1987 - it also comes equipped with some features not usually seen on US-market cars. And the good news: it's already here, for sale in Florida.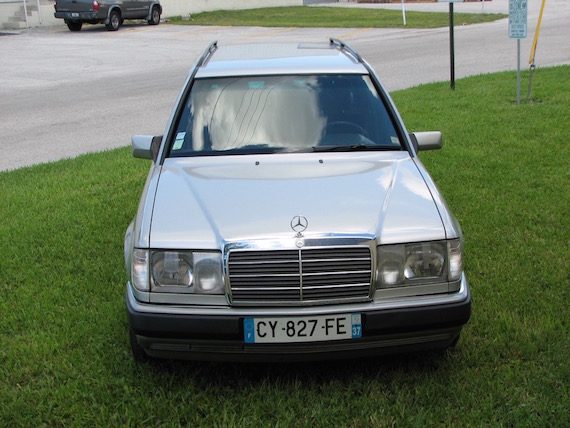 Year: 1991
Model: 300TD
Engine: 3.0 liter inline-6 diesel
Transmission: 5-speed manual
Mileage: 247,228 mi
Price: Reserve auction with $9,995 Buy It Now

This is a very rare European W124 Mercedes Wagon Diesel 5 spd manual transmission with excellent working AC and cruise control. Please note that the designation "TD" means Touring Diesel and NOT Turbo Diesel

I purchased this wagon in France this past spring after searching for one for over 8 months. Those wagons do not come up for sale very often in Europe since the people who own them just keep them… The majority of the few that are for sale are complete rust buckets, have a half million + miles on them, have mechanical issues, do not have AC or suffer from all of the above !
So I felt quite lucky when a friend overseas told me about the sale of this wagon. It checked all my boxes: Not rusty, reasonable mileage, non turbo (I did not want to have possible head gasket issues as most Turbo Diesel do), working cruise control, mechanically 100%, excellent interior, etc..

Looking at the condition of the interior, it is very obvious that this car was well taken care of by its 2 known previous owners and was most likely garaged all of its life; the dashboard is perfect, the wood veneers is not faded nor cracked, the original carpets were protected by Mercedes floor mats, the non-US cloth seats have no rips or tears and feel firm, etc..

Even with the somewhat higher mileage, this wagon runs extremely well and feels solid just like a classic Mercedes should. It is quiet, comfortable, track straight without vibrations or foreign noises and uses little fuel. The engine always starts on the first crank and does not smoke at all, either at start-ups or under accelerations. The brakes are strong and the shifting of all manual 5 speeds is precise. The clutch engages nicely.

This wagon has absolutely no issues whatsoever. I have been using it as a daily driver for a month and have put 700 km in it with a mix of highway and city driving.
Inside, everything is fully functional, front power windows (rears are manuals), power mirrors, cruise control, and excellent air conditioning with a steady temperature out of the vents between 43 and 45 degrees.

In anticipation for the sale the following work was done in the past 3 weeks:

– Oil and filter change (synthetic oil)
– New primary and secondary fuel filters
– New air filter
– New brake hoses (all 4)
– New ignition switch tumbler
– New wipers front (Bosch) and back

Furthermore, I have some receipts from overseas going back to 2005 for regular maintenance but also more recently (2013 and up) for a clutch master cylinder replacement, new ball joints, new radiator, alternator, flex disk, etc.. Also, this early 1991 model year did not come with the troublesome wiring harnesses (1992 -1995). All 4 tires are Michelin Energy Saver and have at least 50% thread left.

Parts are readily available in the US either through Mercedes directly of via auto parts stores. Those vehicle are known to be bulletproof, as used for taxis all over the middle east, and with this car's mileage, it has proven to be reliable and will keep on going for a long time. I actually envy the new owner who will put tons of miles in it !!! It is a fantastic drive …

The car was legally imported in August of 2016 under the 25 year old NHTSA exemption rule. This car is absolutely legal in the US and is sold with a valid Florida title.

Please note that because this is a European car, the odometer and speedometer are in km. I will leave the original Euro plates on the car for more authenticity.

This classic wagon is ready to go now in comfort, silence and smoothness. If you are like me and like to drive something different with great fuel economy, robustness and style, then this W124 diesel should be on your list. It is an ideal reliable daily driver for long commutes with plenty of space. I would categorize it as an upper quality driver.

Although, this Mercedes wagon diesel presents very well, it is still a 25 year old vehicle, so please do not expect a new car. Scratches and light wear is consistent with the age and mileage of the vehicle. I show the few areas in the photos below with the only rust spot being at the edge of the left front fender, right at the juncture with the bumper. A long scratch can also be found around the rear right quarter panel and unfortunately it appears the right front fender was "keyed" (about 6" long). The front bumper has a small crack where a low speed bump happened as shown on the slightly bent panel behind it (not visible when hood is closed). Those small cosmetic issues do not distract from the overall excellent presentation of this car.

I welcome viewings and inspections in Orlando, FL by appointment only. More detailed photos & videos are available upon serious request.

I have set what I believe to be a reasonable and realistic reserve on this rare and desirable wagon diesel and I am open to smart, true and serious offers. Do not waste my time with ridiculous offers.

Please have funds ready prior to committing yourself with the purchase. I take my listings very seriously and expect the same from you. Furthermore, because of the rise of non-paying bidders now prowling on Ebay, I reserve the right to cancel any bid / offer I find suspicious.
You are welcome to contact me via Ebay to discuss any other details not mentioned in this listing or to make an appointment to see the car.
As an import, this car has the desirable, Euro-spec glass headlights, a neat cloth interior that appears to be in wonderful shape, and is powered by a non-turbocharged version of the OM603 diesel engine mated to a manual transmission. That's a quite a boon: in US form, the 300TD, (which appeared in 1987 and was almost immediately phased out in favor of the petrol powered 300TE in 1988) came with a turbocharger and an automatic gearbox only. Those turbochargers could fail when they became plugged with debris coming from the nearby "trap oxidizer" – a component of the emissions control system located nearby. No need to worry about that here.
On the downside, while the brilliant silver exterior looks good in the photos, the seller notes a number of blemishes that indicate this car is far from mint, miles are high, the gauge cluster is still in KMs and there are no airbags up front (US cars would have had at least a driver airbag as standard by 1991, and many would have been optioned with a passenger-side airbag as well). The near $10k buy it now price indicates that the seller is looking for quite a lot of money for this one, and while it's pretty interestingly specified, I think that's a bit too optimistic.
– Craig