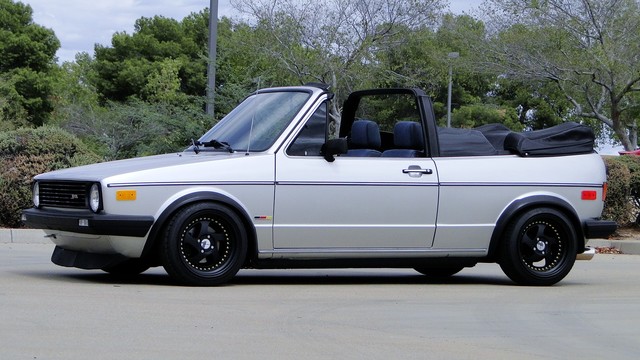 When considering the Volkswagen Rabbit Convertible and it's Halloween disguise replacement, the Cabriolet, I was at a bit of a loss to explain its general lack of popularity. It wears much of the same DNA as the very popular, universally lauded, and VW market darlings of the moment GTi and first generation Scirocco. Yet it is often dismissed as too soft, too heavy, too weak on performance, and too girly. This is strange, since it's not the removal of the top that dynamically changes it much. You don't look at a R107 or Porsche Cabriolet and think 'Wow, those drapes they've put on top have really made this car feminine.' I guess ultimately it's probably like the difference between the two Mercedes-Benz Formula 1 drivers, Lewis Hamilton and Nico Rosberg. Underneath, the share 99% plus of the same DNA. They're both intelligent, well spoken, dynamic and ruthlessly, take-no-prisoners fast on the race track. Yet when it comes down to it, the crowd loves the plucky underdog Brit, while the cold and calculating German seems a bit of the villain. Silly, right?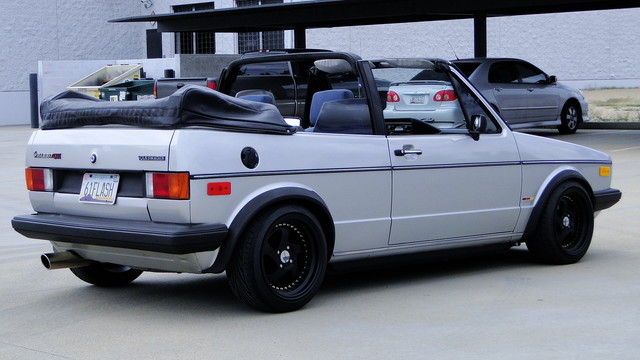 Year: 1984
Model: Rabbit Convertible
Engine: 1.8 liter inline-4
Transmission: 5-speed manual
Mileage: "14,000" mi
Price: $11,900 Buy It Now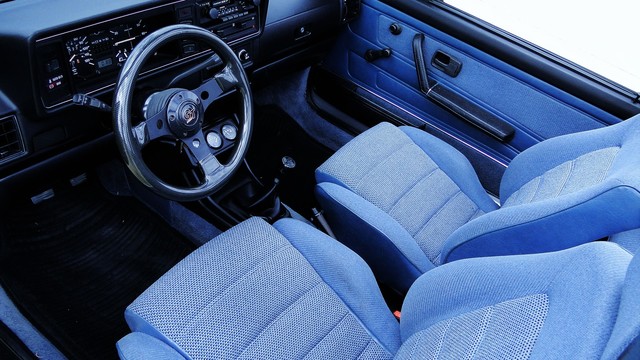 1984 VW Mk1 RABBIT

Garaged since day one!

ONE OWNER

SHOW WINNER

FREE SHIPPING

BEST ONE ON EBAY!!

Show winning!! 1984 Volkswagen mk1 Rabbit Convertible, absolutly like brand new!! one owner til this past spring. bought new in 1984 by a VW technician and was his personal ride since new, Driven daily until 2002 and then put in climarte controlled storage and and driven only a few times a year to shows and such. this car has been maintained so well and shows ZERO wear and drives like a Brand new car, original owner was obsessed with maintinence and service and it shows.

Rebuilt 1.8 liter 4cyl with approx 14k miles,new clutch as well, transmission and shifter have been rebuilt, shifts like new, no issues whatsoever, Tuned Cat*-Back exhaust, will pass emissions, New injector spider, hi amp alternator as well.

All electrics work perfectly, lights, signals,ect…no issues, even the factory Blaupunkt am/fm cassette works and interior lights!!

Suspension front and rear gone through, all new Progressive Rate Coilovers all the way around as well as brand new Avid 15x 8 wheels with new tires, lowered stance, European bumpers, H4 directional headlamps, Badgeless grill, euro clear turn signals and Carbon fiber steering wheel and "Duck Bill" spoiler.

All original books, with owner history!!

Solid original floors/pans,spare tire,jack and tools

Perfect original interior, with Factory sport seats, nothing cut up or chopped inthis car at all, Original top and top boot which are perfect….

Car has won a few shows the car has been a labor of love since new, this is one of the best Rabbit convertibles you will find with nice Euro' style updates, show winning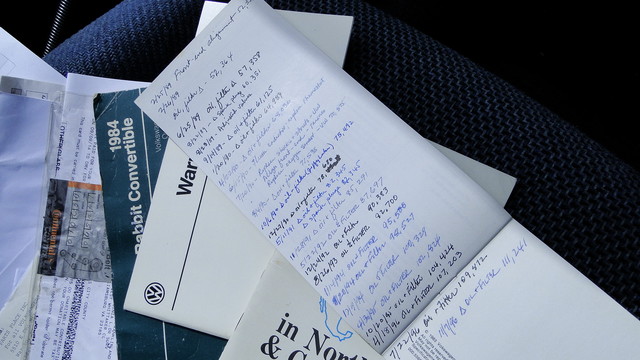 Okay, if I'm honest one of the things the Volkswagen world does worst is to misrepresent their cars. What is most frustrating about this is that it is often done when there isn't much to apologize about. So the big, splashy headline that caught my eye was "1 OWNER" and "DOCUMENTED". Caps lock aside, that's rare for any 1980s Volkswagen, and indeed scrolling through the photos I got excited to run across what appears to be a log of all maintenance done to the car, replete with engineer's delta symbols for change of fluids. Scrolling back up to the info box, this car only has 14,000 miles? Well, it certainly looks spectacularly clean inside and out. But, of course, then I remembered this was a Volkswagen that was lowered, and consequently further investigation of the description was necessary. Upon further reflection, it becomes evident that the seller is the second owner. So, when you're the second owner of a car, it is dishonest to claim that it is a one owner car – period. I mean, then any car could be put up for sale with a "1 OWNER" until they sold it to the second owner line, right? Then the mileage – 14,000 is a guesstimate on the rebuilt motor. We don't find out what the actual mileage is. It appears that the seller of this car bought it, then maxed out his credit cards with new (ugly) wheels, lowered suspension, and a bunch of European bits. For some reason the Volkswagen badge has been moved across to the right (it should be on the left) of the trunk, and a few undeserving GTI badges have made their way on. The bro-lights, clear blinkers, and giant exhaust also all look out of place. I consulted the Rabbit Convertible color chart for 1984, and (at least according to the catalog), blue isn't an interior color option. On top of that, the top should have been black originally, not gray. It's certainly possible that these items were reworked over the past 33 years though. The color is Diamond Silver Metallic and looks great overall, and though perhaps not original the interior and top work, too. I tried to find the interior code for "PA" which is indicated on the build sticker, but couldn't find a match – though in B2 speak, all the "P" codes are leatherette and that was an interior option on the Cabby. Still, under the recent additions of the seller, this is a pretty nice Rabbit Convertible. Is it the "nicest one on eBay?" I'd contend no, as we'll see later this week. Sell off the too low suspension, the silly headlights and grill, and those BBQ'd wheels and replace them with more modest stock and this could be a lovely little run about. But the seller is looking to pay off those expensive credit card bills, and as such is looking for R107 money for their Rabbit. Sorry, slap as many GTi badges on there as you want to and lie about the history as much as you can – it won't make it worth what the hardtop is worth right now.
-Carter