Recently I took a look at an E39 Touring M-Sport, explaining how I'd finally come to see the appeal of the load lugging variants of my favorite German sedans. I couldn't possibly leave things there without taking a look at the W124 estate. There's one parked near where I live that proudly displays Mercedes "high mileage" award emblems in its grille. I'm not surprised. Practical and durable, the W124 possesses the kind of old school Mercedes build quality that leads many of their original owners to hang onto them for as long as possible.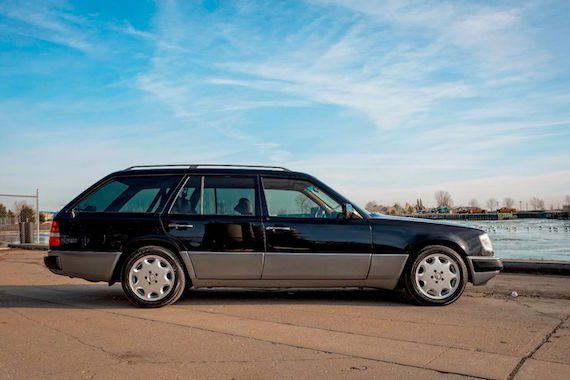 Year: 1991
Model: 300TE
Engine: 3.0 liter inline-6
Transmission: 4-speed automatic
Mileage: 200,114 mi
Price: $7,000 Buy It Now or Best Offer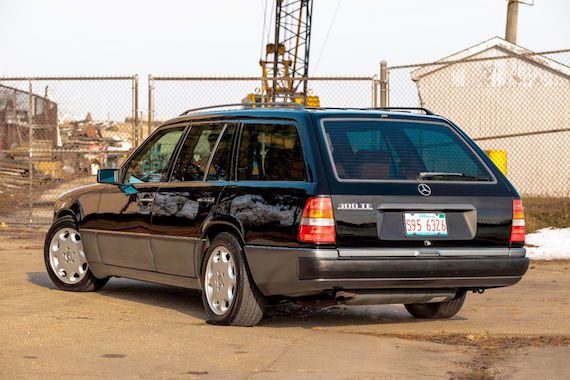 If you've ever wanted to own an iconic and classic W124 Estate, here's your chance. This 1991 Mercedes Benz 300TE has been extremely well maintained and is a beautiful example of the classic Black on Palomino color combination found in so many iconic 300E's.

This car is mostly original, from the paint to the interior and is in extremely good condition for its 26 year age. It spent some of its life in California and the entire time it has been in Illinois it has been either been garaged or stored. It doesn't look like it has ever seen snow. No rust on the body and minimal surface rust on the undercarriage. Paint is original and still shines bright but has some surface scratches and minor blemishes. The body is straight and in great condition aside from a few small surface dings on the tailgate and roof.

Interior is 100% original and in great condition. MB-Tex seats look new and there are no cracks anywhere in the upholstery. The burl wood trim and dash panels have some cracks in the clear-coat, which is common in all these cars. The interior B-Pillars could use a reupholstery job to make the interior nearly perfect. Orginal radio was replaced before I purchased the vehicle.

I purchased this car as a 3rd vehicle in early 2014 and since then have only driven it 1100 miles, usually for a Coffee and Classics or a short weekend get-away. All power windows, moonroof locks, and heated seats work. That being said I have replaced or repaired many of the major mechanical parts that were due for maintenance, all with genuine Mercedes Benz OEM components.

New Parts Installed:
Head Gasket
Fuel Injectors
Rebuilt Fuel Distributor
Engine Control Module (ECU)
OEM Behr Radiator
Water Pump
Thermostat and Hosing
Coolant Reservoir and Sensor
All Hard and Soft Coolant Hoses
Fan Clutch and Fan
Fan Shroud
All Tensioner Belt Pulley's
Belt Tensioner
Serpentine Belt
Motor Mounts
Flex Discs
Transmission Pan Gasket
New Bosch Battery
Spark Plugs and Wires
Distributor Cap and Coil
Engine Vacuum Lines
Rear Suspension Multi-Link Arms and Bushings
OEM Mercedes 8 Hole Wheels (New, no curb rash)
Tires (Less than 1000 miles)
Euro Headlights and Wipers (Original U.S Spec Headlights included)
Black AMG Style Grill
Hood Star and Badge
Rear Wiper Motor

Before I bought the car, the head had been rebuilt, but a small oil leak from sitting prompted a new head gasket as a precaution. Car runs and drives beautifully as a Mercedes Benz should. Happy to answer any questions and showings can be arranged in the Chicago area. Happy bidding on this classic German Estate!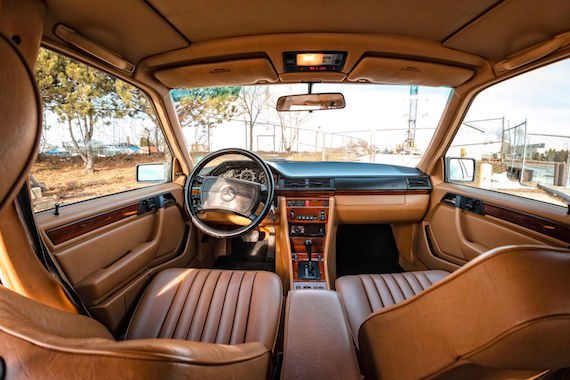 It may be the neat photography, but this 040 black over palomino 300TE looks particularly fetching. What I like about it is that the exterior is clean and mostly unassuming, but set off ever so slightly by the addition of a body-color painted front grille and Euro-spec headlights, giving the car a slightly-cooler-than-stock appearance. The MB-Tex interior appears to be in mint condition, with all accessories said to be working, and the exterior is reported to be very good.
Along with some other wear and tear items, the seller has replaced the head gasket as preventative maintenance. That's good news, since failure of the headgasket was always the chief weakness on the otherwise very durable 3.0 liter M103 engine.
Overall this looks clean and well cared for. My only complaint is that the price seems a little on the high side given the high (200k) miles on the odometer. If the car checks out, there is every likelihood it will trundle on for another 200k miles, if given the opportunity.
– Craig