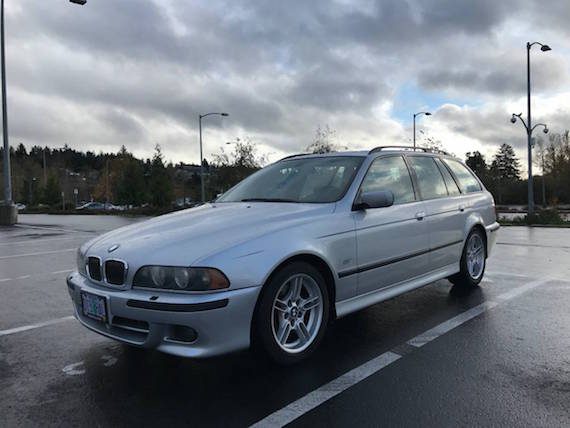 I'm not really sure where the "wagons are cool" craze comes from. Back in Europe, estates tend to be regarded as a bit boring. But the longer I've lived in America, the more I can relate. Camping trips, afternoons spent chasing down furniture on Craigslist, and weekends spent helping friends move apartments in the city have all led me to appreciate the appeal of a good wagon.The highly competent 540i sedan is already well loved, combining a well-balanced chassis with a torquey 4.4 liter V8 that puts out about 290 hp. The Touring version offers all of this plus a load space nearly on par with that of a small pickup, once the seats are folded down. What's even better than a 540i Touring? A 540i Touring M-Sport, which adds more aggressively styled, M5-like bumpers, firmer sport suspension, sport seats and shadowline trim (sedans also received M-Parallel wheels, although Tourings did not).
Year: 2003
Model: 540i Touring
Engine: 4.4 liter V8
Transmission: 5-speed automatic
Mileage: 115,600 mi
Price: $10,000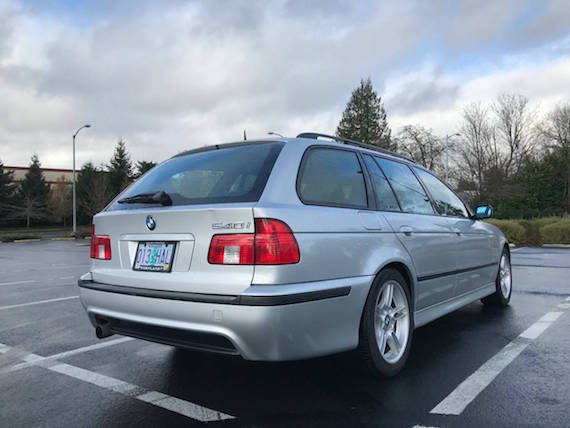 Selling my wagon. For those who know about these cars, you probably know that only about 300 of these exact M Packages' were shipped in the US. In short words, it's basically the M5 except an automatic transmission and with slightly less power.
This car has a clean title, runs and drives great! I love this car. Feels very solid and because its a wagon, its massive in terms of space inside. NON SMOKER car. Pictures don't do justice, but you can get a pretty good idea of how this car was treated: maintenance was done on time since I've owned this car and treated well. I'm not in a rush to sell this vehicle but for any questions or concerns, call or text me at (971)340-6051. If I don't respond right away, it means I'm busy but I will get back to you as soon as I will have the opportunity. Thank you.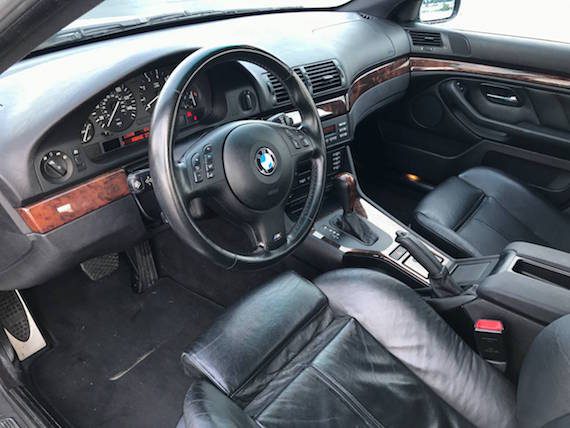 The seller is right in suggesting there were only 300 odd 540i Tourings specified with the M-sport package, making this indeed quite a rare car. However, I think he overeggs the pudding a little by claiming that the car "is basically an M5 with an automatic." That's not really true – the M5 has about 100 more hp for starters –  but it is the case that the 540 is swift and powerful, and gives you a lot (but not all) of the performance of the M5 while returning generally lower maintenance costs. (A brief aside: BMW never made a production version of the E39 M5 Touring. But they did build a prototype. You can see it here.)
The Titanium Silver paint might be a little plain for some, but I think it looks neat over the black leather interior. The car looks very clean both inside and out. The only flaws apparent from the pictures are two small dents: one on the rear left quarterpanel, near the tailgate door, and one on the right side of the tailgate door itself (in a position near a crease line that looks like it could be awkward to pull out).
Mileage is reasonable and the price seems almost too good to be true. I'd suggest a careful PPI to rule out any hidden issues. These cars need to be looked after and maintenance can get expensive. The plastic timing chain guides, for example, are a well known weakspot. If they break, they will show up as little broken plastic pieces in the oil pan, necessitating a $3k repair job. Some owners replace the guides preventatively; for more information, see this useful discussion thread.
Thanks to our reader Shawn for sending this in!
– Craig