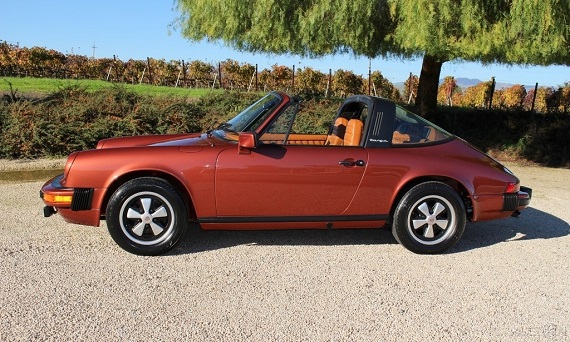 I've found myself featuring more and more of the mid-year 911. I still don't feature them all that often relative to other model years, but I used to never feature any model other than the Carrera so there is some progress. In part, I think this is due to more interesting examples being made available. I suspect that has occurred because, while these are still some of the cheaper models in the air-cooled 911 range, we've actually seen a few nice examples sell for values that at the time I found surprising. It's still rare that it happens, but some of the neglect has waned. This all brings us to the car here: a Burgundy Metallic 1977 Porsche 911S Targa with Cork leather interior and 168,074 miles on it. That's a lot of miles (though not necessarily for the age), but given that it's been fully restored I'm not sure that mileage should be overly concerning. It will affect value though.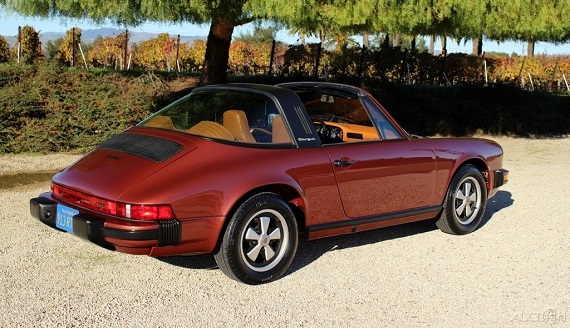 Year: 1977
Model: 911S Targa
Engine: 2.7 liter flat-6
Transmission: 5-speed manual
Mileage: 168,074 mi
Price: $41,995 Buy It Now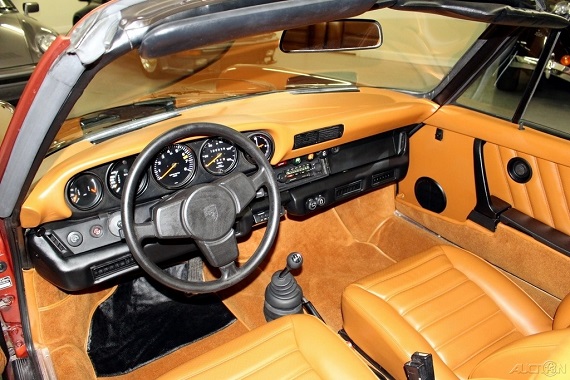 Garage 1977 Porsche 911S Targa with all service records since new, restored to excellent condition. Runs and drives superb. Beautiful color combination. California car with zero rust anywhere, excellent factory body gaps. Matching numbers, COA included.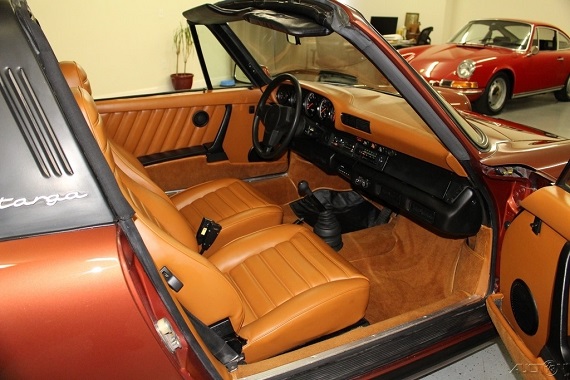 Cork is always one of my favorites for the interior and Burgundy Metallic makes for a nice exterior contrast. These are two very natural colors and they go well together. The seller has provided quite a lot of pictures so we get to see just about every aspect of the interior and exterior, as well as quite of bit of the mechanical components. Everything looks in very nice shape and ready to be put to great use again.
One of the persistent problems the mid-year 911s have, and this is even more so with a '77, is that the 911SC, a far more beloved and more reliable 911, came only one year later and also remains a reasonable value. Questions have long surrounded the durability of the 2.7 liter engine with thermal reactors while the 3.0 liter of the SC has long shown stout reliability and better performance. These days the question is obvious: why spend similar money for a 911 that most think isn't as good? I don't have a ready answer for you, especially given that the SC remains one of my favorites. It's beloved for a reason. But there have been many owners of mid-year 911s who have loved them as well. They aren't terrible by any means and can provide plenty of joy. So much will come down to price. With an asking price of $41,995 this is higher than I'm used to for a '77, but given its current condition it isn't bad. Could an SC be had for the same money and condition? Possibly, though it might take a while to find one in fully restored condition for this price. You can certainly find an SC in driver condition for under $40K, but prices do go up some when the condition is really good. I guess this brings us back to the mileage and how much that matters to us once the car has been restored. At the end of the day I think this S is priced a little high and were I looking I'd likely step forward one year and look for an SC. But it is a lovely color combination and looks in very nice aesthetic and mechanical condition so perhaps you won't go wrong either way.
-Rob