Searching for the 993 Turbo posted earlier, I happened upon this slightly-older Black Beauty. While the 993 may be the pinnacle of the classic (smaller) 911 shape, it's no secret my tastes lie more firmly in the 80s. Thus, the 964 body style of the 911 gets me going a little more than the 993, and this 1991 Turbo is no exception. With some fine engine work and just 54k miles, this murdered-out 911 is something special. My garage is full up on black Germans for the moment, so it's up to someone else to decide if this 450hp beast is really worth its $50k asking price.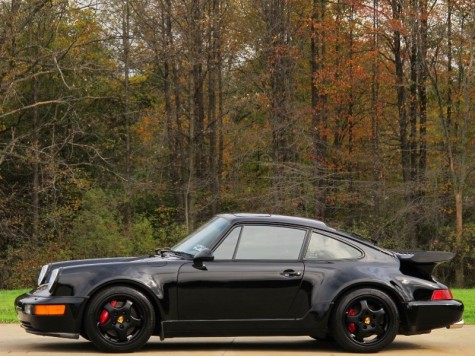 From the seller:
Sinister? You bet, and that was before Porsche laid down the black-on-black scheme. Wide body 911's are the best looking kind, and Turbo power reinforces the look. This example has only 53,000 miles, is clean in and out, and has some very nice and tasteful mods. It's still a 911 Turbo, but it goes to 11!
911 Turbos are excellent cars on their own. They're more comfortable, better equipped, safer and more complete vehicles than the 930. Antilock brakes, dual airbags, real live climate control, power steering and other amenities propelled the 965 (this generation Turbo's model desination) into the 1990's supercar elite.
These cars also respond really well with some minor tweaks. For more grip, the front and rear struts were replaced with adjustable JIC Cross pieces, and the wheels were repainted in black for an even more sinister look! New Michelin Pilot Sport Cup rubber is at all four corners, and the brake calipers were powdercoated red while everything was apart. This car sticks, and it corners like a slot car!
Power is easy to come by in a turbo car, but safe power is another matter. That requires effort and money, and both went into this car. For more spark to quell detonation, the heads were sent out and machined to accept twin spark plugs per cylinder. While they were out, Ollie's in California did a full valve job and trued the head gasket surfaces. A full Electromotive XDi setup replaces the distributor with coil packs and a magnetic crank trigger, allowing the new JE Pistons to run their 10:1 compression with ease. More power comes courtesy of the fully mapped Blitz dual solenoid boost controller and TiAl 46mm wastegate. Air now flows through Porsche Motorsport silicone intercooler and turbo hoses. Three hours of dyno tuning put down more than 380whp!
Thousands of dollars in service costs are documented back to the original owner, with minor issues resulting in service visits. The warm up regulator was replaced with a digital unit, the A/C saw constant servicing (it IS a black-on-black Texas car) and a new heavy duty clutch puts the power down. Much of this work was done at Sports Car Repair, Inc. in Houston, with the motor rebuild less than 500 miles ago!
I might prefer some different wheels, and the fat airbag wheel is incongruous on a car this lithe and quick, but these are nitpicks. It's a great-looking and well-taken care of 911 Turbo whose styling, and 50% price, suit me more than the 993.
-NR