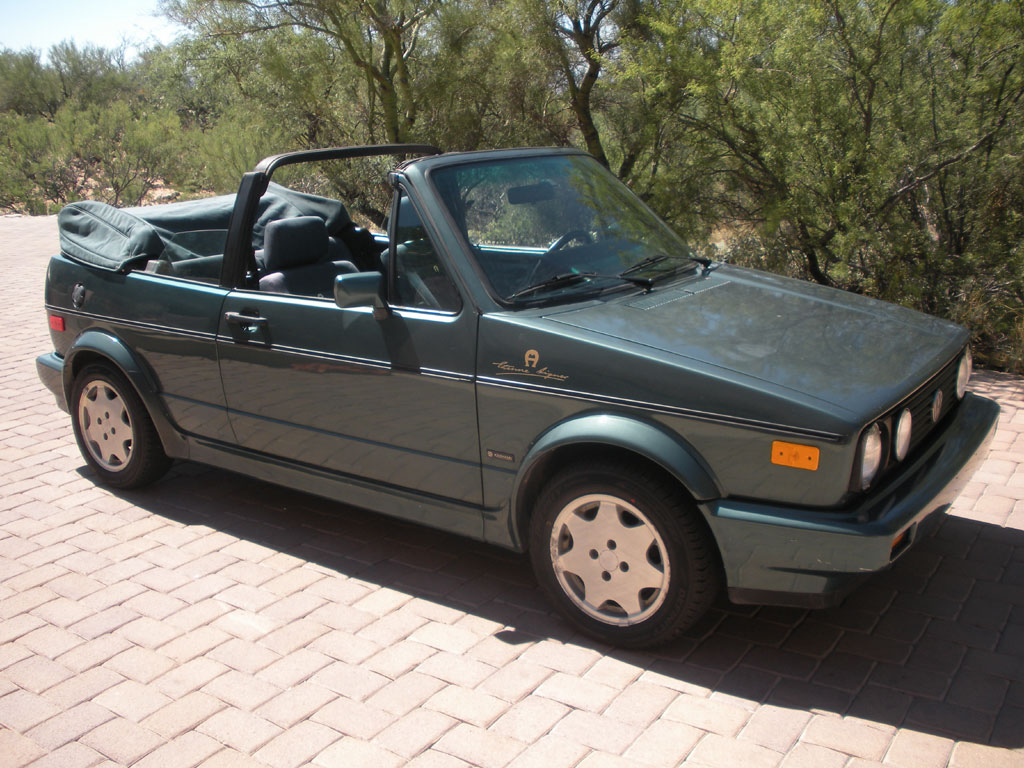 Special edition models are nothing new to the automotive world. Many times a manufacturer will release such a model due to lagging sales, to commemorate an anniversary or to signify the end of a model run. By the time the early 1990s rolled around, the Volkswagen Cabriolet was getting a bit long in the tooth, still being based off the MkI Golf introduced back in 1973. A new Cabriolet would appear with the introduction of the MkIII Golf in 1993, but before the MkI Cabriolet rode into the sunset, Volkswagen introduced the Etienne Aigner Edition Cabriolet. This was merely an appearance package for the Cabriolet, consisting of special interior fabric and leather trim, pinstripe and logos on the outside and the rather attractive La Castellet alloy wheels. The majority of these Etienne Aigner edition Cabriolets I've seen have been burgundy, making this Mangrove Green version for sale in Arizona a rather interesting find.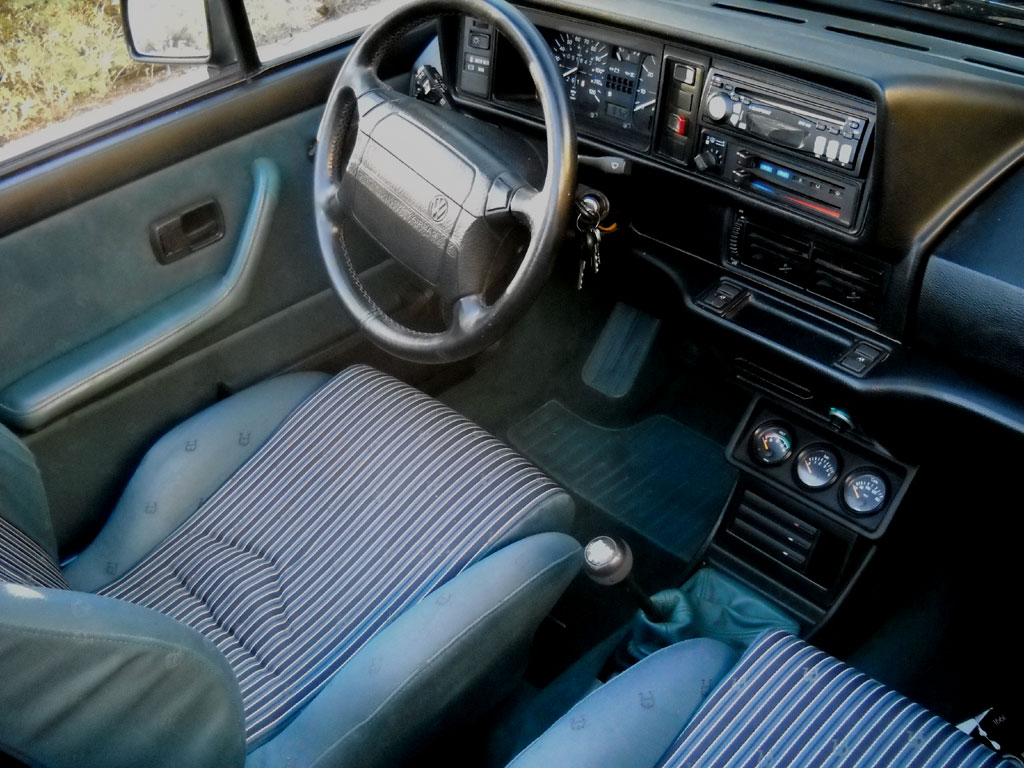 Year: 1991
Model: Cabriolet Etienne Aigner Edition
Engine: 1.8 liter inline-4
Transmission: 5-speed manual
Mileage: 91,700 mi
Price: No reserve auction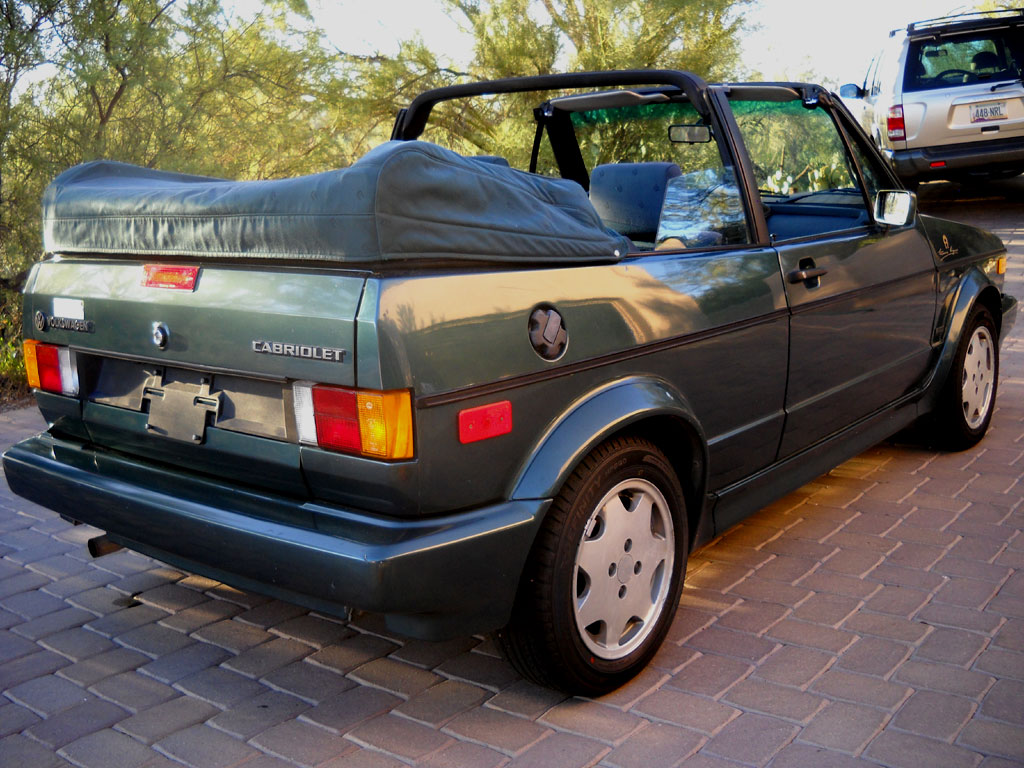 Please read entire description and research shipping costs before bidding. Car is located in Tucson, AZ and is available to see and drive. Over 100 pics available here. Bids will not be accepted from bidders with less than 10 positive feedbacks without contacting me first. Bids from buyers with unpaid items will not be accepted. Final payment for full auction value due within 5 days of auction close via direct bank transfer, cashier's check or cash in person. I will accept paypal but buyer to add 2.9% to cover paypal fees. Once payment has cleared I will send the notarized title to the buyer via USPS priority with delivery confirmation and car will not be driven. I can provide up to one month storage of vehicle but it is responsibility of buyer to research and arrange shipping quotes from zip 85704 before bidding on vehicle. Shipping/Insurance costs to be paid by buyer. International buyers welcome, please research shipping costs before bidding.

Extremely rare 1991 Volkswagen Etienne Angier edition Cabriolet. Only 1460 Etienne Cabriolets were imported to the US and only 639 were made with this mangrove green metallic color. 91,800 original miles. Title is an original "A Box" verifiable original mileage title. In AZ, there are 3 designations of titles; B box – means mileage is in excess of mechanical limits and C box means odometer discrepancy. A Box status is what CarFax uses to determine original mileage status. There are no liens or any brands on the title of this car. This is a very original and complete survivor with low miles.

The interior is in great shape, no tears or stains at all in the original fabric. All seat adjustments work as designed. The driver's seat has an extra adjustment for seat height. The seats are very comfortable. All the seats are trimmed with color coordinated leather with the Etienne Agnier logo in gold. The little plastic trim piece around the seat release lever on the driver's side is cracked but does not affect operation. This pieced can be sourced easily if desired. Door panels are in great shape and fabric has the Etienne Agnier logo embroidered in a repeating pattern like the seats. The shift boot and arm rests are trimmed in the same leather as the seats. The shift knob used to be covered in the same leather but came off and is now the bare black plastic. Door sills are in great shape with no cracks. Working factory cruise control. Car always has floor mats so the original carpet is in great condition.

Some of the vinyl covering on the glove box door is lifting around the edges, hard to tell when the glove box door is closed and does not affect opening and closing. The rest of the dash is absolutely perfect with no cracks at all. The car comes with a brand new, black DashMat that has never been installed. The car has manually adjustable rear view mirrors with little joysticks in the door panels that work well. The passenger side window glass has a noticeable ring where the mirroring is missing, probably from having a wide view, domed mirror at one point. The mirror works fine and could be easily replaced if desired.

All of the original Etienne Agnier Le Castellet wheels have some level of finish loss to the clear coat and 2 have some curb rash. These are rare wheels that only came on the Etiene Cabriolets. They are straight with no cracks and could be refinished or polished easily. The paint is %100 original and still looks great. It has numerous small chips, mainly along the front edge of hood and front bumper. There is one faded spot the size of a grapefruit on the hood but is not very noticeable. There are a few very small dings that are hard to notice. I think with a little effort, possibly a clay bar treatment, the paint would look even nicer. The car has never been in an accident, no previous repairs or bondo anywhere on the car. Undercarriage of car is rust free.

The headlight and fog light on the driver's side both have chips to glass but work fine. All gauges and lights work. The car has the optional gauge cluster in the center console with VDO, oil pressure, volt and oil temp gauge that all work. The dash has a coolant temperature gauge with low coolant level light that works well. Tachometer, odometer, speedometer and clock all work. The console has the original, illuminated 3 cassette holder. This cassette holder pops right out to reveal the normal storage compartment found on standard cabriolets if desired. The original cassette player has been replaced with a Blaupunkt CD player that works fine.

Doors open and close well and seals are good, very solid feeling for small doors. Car is equipped with power windows that work great, no hesitations or issues. The rear windows are manual and work correctly also. Car has the original keys, locking gas cap key and key ring has the factory key code tag for replacement keys if necessary.

The convertible top was replaced 5 years ago by the original owner at a cost of over $2,800 by the Volkswagen dealership in Tucson, AZ. This is the original Haartz Stayfast canvas top that was unique to the Etienne Agnier cabriolets. This is the same fabric that Porsche and Mercedes use on their convertibles and is much better quality than the more common, vinyl tops. The top is in good shape but has a few very small (1/4" to 1") tears. The top has lots of life left and still looks great. The convertible top mechanism works well, I have only had it down a couple of times since I owned it. Original glass rear window with good seal. The car comes with the original Etienne Angier top boot that cover the top when it is down. The boot is in great shape and has the logos like the door panels and seat upholstery. The headliner is in great shape with no rips.

Trunk are of car has the original spare which holds air and the original jack. I do not have the original lug wrench so a universal 4-way wrench will be included. The cardboard backing to the carpet is gone, this was a flat piece that was the shape of the carpet and could be easily cut from some ¼ inch masonite to replace. Trunk lid works as designed with original keys, hatch shock still works well.

All original literature including original window sticker showing a purchase price of more than $19,000. Original owner's manual and sales literature specific to the Etienne Angier model.

Car was purchased new and Bates Mazda VW in Presque Isle Maine. Original owner purchased the car for his daughter to use while attending college. After she graduated the car was used by the original owner at his retirement house in Green Valley, AZ where it was garaged always and saw very little use. I purchased the car in 2010 and have used it as my daily driver for 3 years, the car has proven to be a very reliable car for me. In the time I have owned it I replaced the radiator, battery, fixed the cruise control, installed new shift bushings, and replaced one taillight with an original OEM Hella taillight. The tires are brand new with less than 100 miles on them with a transferable, lifetime road hazard warranty. Transmission was flushed and new oil replaced approximately 200 miles ago. Recent air filter, oil change, distributor cap and rotor.

The transmission shifts smoothly in all gears and has a very tight feel due to the new shift bushings. The clutch engages late in the stroke which could be an indication of clutch wear but the clutch is not slipping at all and still works fine. Shifts through all gears with no grinding or noises.

The engine runs great and passes AZ emissions with no issues. No leaks and has never overheated. Good compression on all 4 cylinders, good oil pressure and no smoke at all. Exhaust is in good condition with no leaks. The car has all the original emission equipment and there have been no modifications to the engine. The car drives great, goes down the road straight with no wobbles or play in the front end. Very sporty and fun to drive little car.

The front strut cartridges should be replaced. They are the original oil filled cartridges and most people replace them with the gas filled versions. Rear struts are fine. Included with the purchase is a complete set of good struts with Neuspeed SoftSport springs, font and rear. These spring will lower the car a little bit – (3/4 to 1") and will be a little bit firmer without sacrificing ride quality like the firmer sport/track struts. The outer CV boot on the passenger side is cracked. The axles work fine with no noises. I was quoted 280 in labor to replace the front strut cartridges, replace cv boot and alignment. Strut cartridges vary in cost from $50 to $150 each depending on brand. I planned to put the Neuspeed struts on myself which can be done in an hour with no special tools.

Trunk area is clean and has original spare tire which holds air and original jack. I don't have the original lug wrench, a 4 –way lug wench will come with the car. The original cardboard backing to the carpet is gone, easily replaced with some masonite cut to same shape as the carpet.

When I purchased the car, the AC was not blowing cold. I sourced a good used compressor and charged the existing compressor. The AC worked fine for about a month but there is a leak somewhere. I should have used the dye to find the leak but unfortunately did not. The original compressor works fine and the car comes with the extra used compressor. AC system should be charged with dye again to find the leak, I suspect it is a hose or O ring. Heater works well. All components of the AC work otherwise. I have an extra, used alternator that will come with the car also. Charging system works correctly and battery was replaced recently.

The car is ready to drive anywhere. I would not hesitate to drive this car cross country as-is. Overall this car is a very solid and complete original Etienne Agnier Cabriolet that would be a very easy restoration or great daily driver. Thanks for reading!

LOTS MORE PICS HERE http://s1199.photobucket.com/user/westwerkes/library/ETIENNE%20AGNIER%20CABRIOLET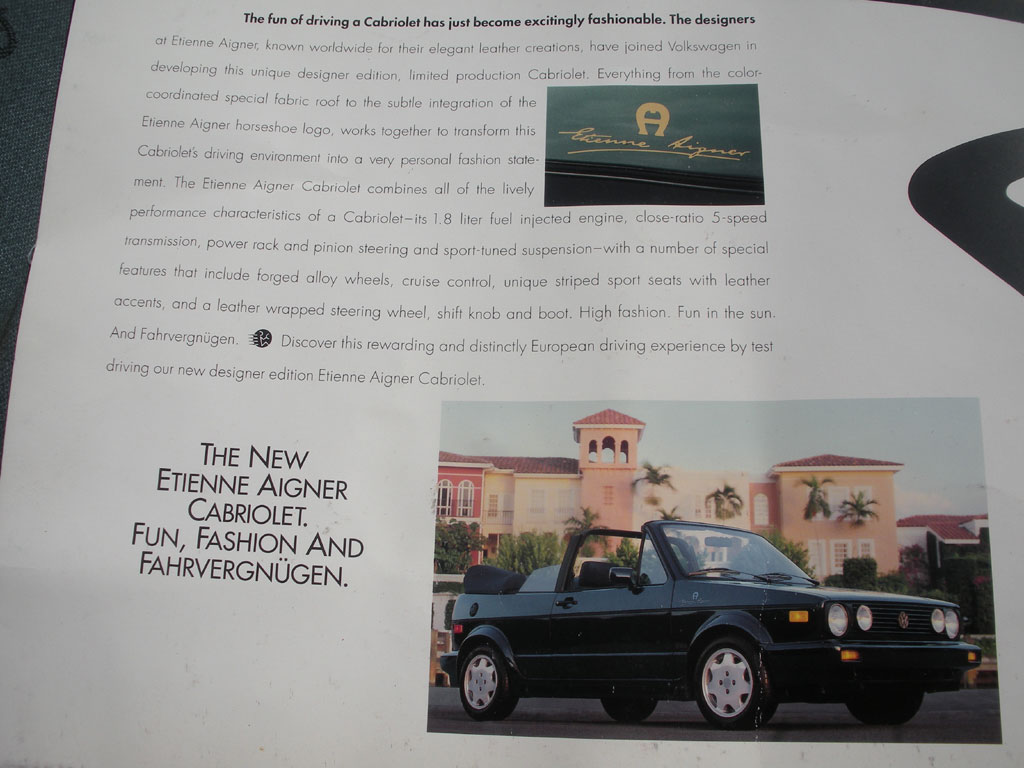 We've had a couple of lower mileage MkI Cabriolets featured here on GCFSB in the past year. While they get chided for being a car favored by teenage girls and hairstylists, they do have their following, especially within the Volkswagen community. In spite of that, they aren't highly valued in the market. Typically a Cabriolet in good condition with under 100,000 miles will fetch around $5,000. The Aigner edition package may bring a little more money to the right collector, but for most, it would boil down to a matter of taste. Perhaps bidding may reach closer to $6,000, but anything over that will bring you close to E30 3 series convertible territory, not to mention other drop tops like the Mercedes-Benz SLK, Audi TT and Porsche Boxster. Whether this particular Cabriolet will bring a premium depends on if those bidding have a desire to step back into the early 1990s and bask in a shade of green that was then all the rage.
-Paul