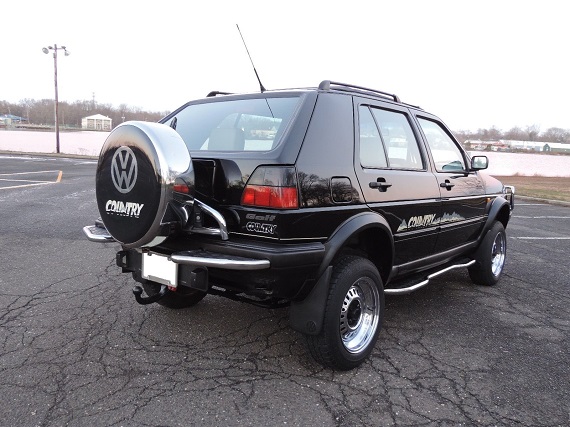 Though it was never available in the U.S. until this coming model year, all-wheel drive in a standard Golf is nothing new. In fact, it's been around since 1986.
If you follow me around the internet, and I don't expect you to, you might have caught my article for The Truth About Cars about all-wheel drive Golfs which predated the R32. Though the idea sounds simple enough since parent company Audi had an all-wheel drive system that was ever so popular, mounting that longitudinal transmission and drivetrain into the transverse engine Golf was impossible. Instead, Volkswagen contracted Steyr-Daimler-Puch to design a viscous coupling setup for the Golf with a new independent suspended rear. Like the contemporary Quantum and Vanagon setups, it was dubbed "Syncro", though outside of all-wheels being driven the three systems shared almost nothing.
The result was a few fan-favorite models. Performance types love the Quattro-inspired Golf Rallye, Golf G60 Syncro and Golf Limited models. But undoubtedly the most recognizable Golf to wear the Syncro badge was the jacked-up Golf Country. Utilizing an already heavily modified Golf Syncro, Daimler-Steyr-Puch installed some 438 unique pieces to create the light offroading Golf way before the Outback was conquered by Subaru: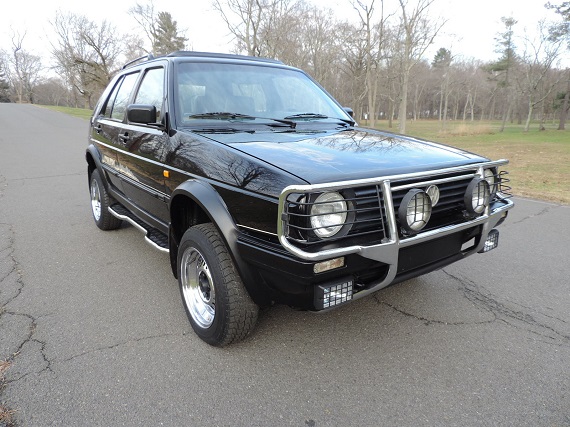 Year: 1991
Model: Golf Country Chrome Edition
Engine: 1.8 liter inline-4
Transmission: 5-speed manual
Mileage: 13,079 mi
Price: No Reserve Auction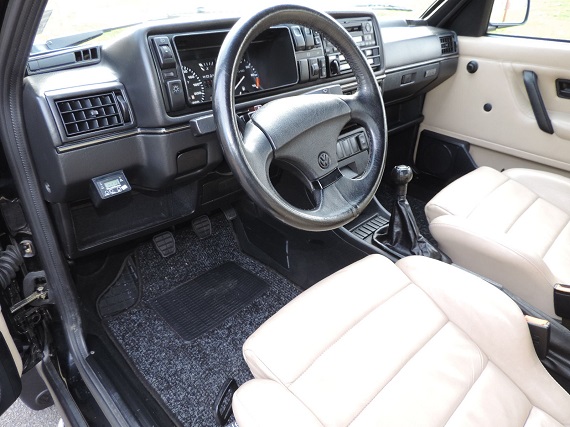 NO RESERVE

Highest bidder takes this car

For sale is a 1991 VW Golf Country Chrome SYNCRO 4WD with only 21,049 documented km (13,079 miles). This is an extremely rare and coveted car in itself with only 500 Country Chrome cars ever made. On top of that, this one has Air Conditioning, Power Windows, and Power Locks, which makes it truly a unicorn. Fully loaded with Huge Power Ragtop Sunroof, Leather Interior, Heated Seat, etc, etc, etc.. Amazing Condition Throughout. Free, Clean, and Clear Title in hand as well as spotless CarFax and AutoCheck reports. Runs, Drives, Looks, Feels, and even Smells like a new car. All Books and Keys. Complete set of USCBP/DOT/EPA/DMV importation paperwork and US Customs Release on file. Just serviced and needs nothing to be enjoyed. Stored indoors and under a cover. Please feel free to come and inspect this beautiful car prior to bidding.

A Whole Set of Detailed High-Resolution Pictures can be found here:

http://s1268.photobucket.com/user/ronaldmd/library/1991%20Golf%20Country%20Chrome

This is a NO RESERVE AUCTION so please bid to own. Thank you, and HAPPY BIDDING!

Terms of sale:

$500 non-refundable PayPal deposit is due immediately after the end of the auction. Balance is due in 3 more business days after the end of this auction in cash or bank/certified funds. If you can not or unwilling to follow this terms than please do not bid. Vehicle description represents our subjective and biased opinion. Only manufacturers warranty applies if any. Vehicle(s) sold absolutely as-is, where is, with all faults that it/they may or may not have. Miles could differ slightly due to occasional use. Buyer is responsible for shipping, however, I will assist in any way I can, just ask me. Please absolutely no "zero" or "negative" feedback bidders (you must contact me prior to bidding). Non-paying bidders will be reported to eBay and collection agency. Inspections are welcomed and encouraged prior to placing a bid. All sales are final unless cancelled by the Seller. Prospective Buyers are encouraged and expected to exercise their own due diligence prior to bidding. This vehicle is also advertised locally. Seller reserves the right to end/cancel this auction at any time at sole discretion. Thank you and GOOD LUCK!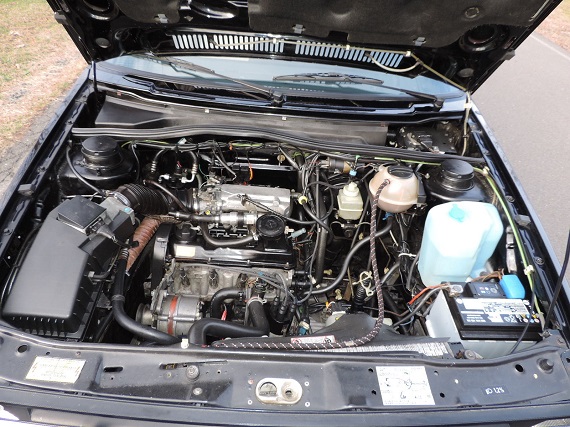 Within the Golf Country range, there were three models. The standard Country is probably the one you're familiar with, and this isn't it. There was a stripper model called the "lite" which had steel wheels. But the end of the run also saw the expensive and flashy "Chrome" model. 500 were produced and featured…well, chrome. Chromed was the front bush bar running boards. spare tire rack, and unique 15″x7″ steel wheels. It was only available in black but came with a light beige leather interior; unusual for a Golf of this generation. They also featured a huge panoramic retractable cloth sunroof. Performance was otherwise unchanged. But, these 500 limited models were expensive – some 42,000 DM in 1991 equates to about $46,000 in today's money.
$46,000 for a lifted Golf with 90 horsepower.
Still, even if these Golfs were a strange and expensive option in the new car market, they're hot items in the U.S. today. Fans love to see the model never brought here and this one is a rare variation of the norm. On top of that, condition is outrageously good. With only 21,000 km claimed, this car should look new and it does. Amazingly, the seller has gotten it to the U.S. and decided to roll the dice on a no reserve auction. The market so far is pretty tame; active bidding has only hit $8,600 with a day and a half to go at time of writing. It will be very interesting to see if this one goes for a steal or takes off before the auction ends.
-Carter