The Volkswagen Transporter, in particular, the commercial variants, are one of those vehicles that is famous most everywhere except the United States. This is a shame, because the few families and outdoor enthusiasts that opted for the Volkswagen Vanagon over more conventional vans came to appreciate these vans for their practicality and durability. Vanagons, Westfalia Campers and Transporters have been gaining ground in terms of value in the past few years, as these represent the last of the rear engined Volkswagens. Here is an amazingly original T3 DoKa (German for Doppelkabine, or Double Cab) that presents like new for sale in Atlanta.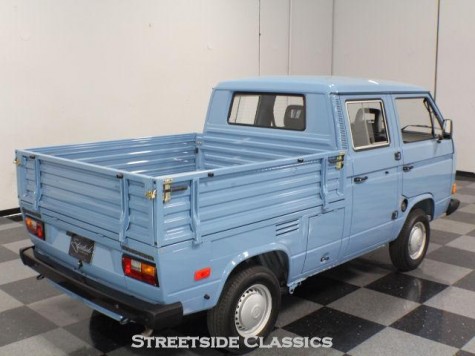 The seller states:
Never available in the US from the factory, the VW DoKa is a very rare machine, even in Europe. This 1991 model is one of the very last built, and shows just over 15,000 original kilometers (not miles!) from new. Highly desirable today, it also includes all the original documents, booklets, manuals, and even the original window sticker and bill of sale, making it an awesome collectable for any VW fan. Obviously the DoKa is built on the T3 Transporter platform, known as the Vanagon in North America. If there's ever been a more versatile commercial vehicle, I can't imagine what it might be. Fortunately, this one appears to have never worked a day in its life, and has been expertly preserved and maintained since new.

The paint is 100% original, the body panels are super-clean, and there's not a trace of rust or damage anywhere. Even the color, which is a vivid blue, is just what you'd imagine slogging along a narrow European street somewhere early in the morning, doing its job. Personally, I love the all-business look of this truck, with form following function and a minimum of frills. You could look at this little trucklet for hours and keep finding new details that were the result of some engineering solution rather than a stylist's pen, which is probably why these are so beloved. The cab is spacious and bright, more akin to the van on which it is based than, say, a modern extended cab pickup. The commanding seating position is up high with a great view of the road, and with no hood, this truck is a snap to maneuver.

The seats are firm in typical German fashion, but that also means they're all-day comfortable. Even the back seat is surprisingly spacious once you clamor back there through the third door mounted on the passenger's side. Gauges are basic, and the speedometer reading in KPH is another reminder that this truck was never available in the US. Interesting options in the bare-bones cabin include heated seats, an AM/FM/cassette stereo system, as well as power brakes. With the lightweight front end, however, power steering is unnecessary and it gives the little truck surprisingly sharp reflexes. Power comes from VW's traditional 2-liter air-cooled flat-four, which makes a modest 70 horsepower driving through a 4-speed manual transmission.

With an instantly-recognizable sound and surprisingly good torque in the lower gears, the DoKa squirts through traffic easily and offers stable, trusty handling empty or loaded. This one is just as clean underneath as it is up top, and although it has low mileage, it has not been neglected or stored for a decade, so it is mechanically extremely sound. For authenticity hounds, even the Continental radial tires appear to be the original type and size mounted on plain steel wheels. For VW enthusiasts, this is a rare treat, and it's likely that it won't stick around long once it hits the Internet.
We've seen a few T3 trucks here on GCFSB and this is arguably one of the best we've featured. While you could buy a number of new, V8 engined pickups, this VW truck is like new and rather versatile with its unique bed. You won't blow the doors off people at stop lights or pull stumps like some diesel engined trucks, but a vehicle like this is just as cool and utilitarian all the same.
-Paul