My first car, a 1988 BMW 325is, came by way of my uncle, who replaced that car with a 1995 BMW M3. In fact, his M3 was Avus Blue, the same hue as our exclusive feature vehicle on offer from EuroWerkz. I've always been a big fan of the E36, no matter the model. It represents the zenith of BMW design before the Chris Bangle era took hold. This particular M3 has a few special features that make it even more desirable for enthusiasts, such as the sunroof delete option and M cloth interior, which are nearly impossible to find here in the US.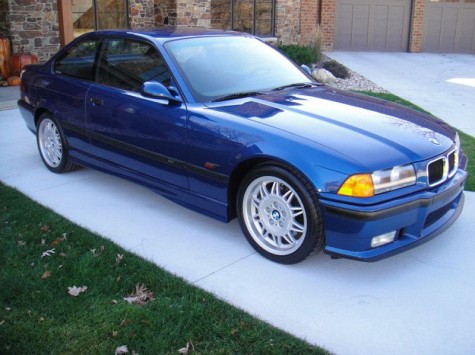 Nice!

We have known this great M3 for over 10 years and it has been cared for and cherished to a high standard for it entire life. The E36 M3 is a legend in the making and was the car BMW enthusiasts demanded and received from the BMW M division in late 1994. The 1995 pre OBDII may in fact be the very best of that series. What we have here is a super nice example of the breed finished in near perfect one year only Avus blue over very rare Black M cloth interior. It is lightly optioned and a NO sunroof car too. The car has had a cold air intake system, software upgrade, and a DTM exhaust added in the past and it runs as good as it looks. This is a near virginal car showing just 42k miles that has never seen a track day or even been driven in the winter. A 2 owner car since new and originally sold in South Dakota this beautiful car has spent the summer being enjoyed by us as we brought up to date with service, a cooling system update, Four New Michelin PS2 tires, and some very minor reconditioning including a door panel project that ended in 4 very expensive brand new from Germany interior panels. This is just the way we do things at EuroWerkz. If it needs it, we do it right no matter the cost or inconvenience. (And believe me this was a long drawn out inconvenience. 🙂

The results speak for themselves. Now finished and ready for its new owner this car stands up in every area above and beyond the rest of the typical M3's you may have seen. This is an easy 9+ car in all areas and will be a great buy for anyone looking for the best of the breed. Call or e-mail and let's talk M3's!
This car presents well and I'm impressed by the front clip, as it is remarkably stone chip free. The asking price of $18,000 seems reasonable for an icon of the sports sedan movement that is in such great condition.
And now for some E36 M3 action, let's go to the Nürburgring:
-Paul
Please note this is a sponsored listing. We welcome EuroWerkz as our latest sponsor and are proud to feature their inventory on the site. Please contact me directly with any questions about sponsored listings. Thanks for looking! -dc