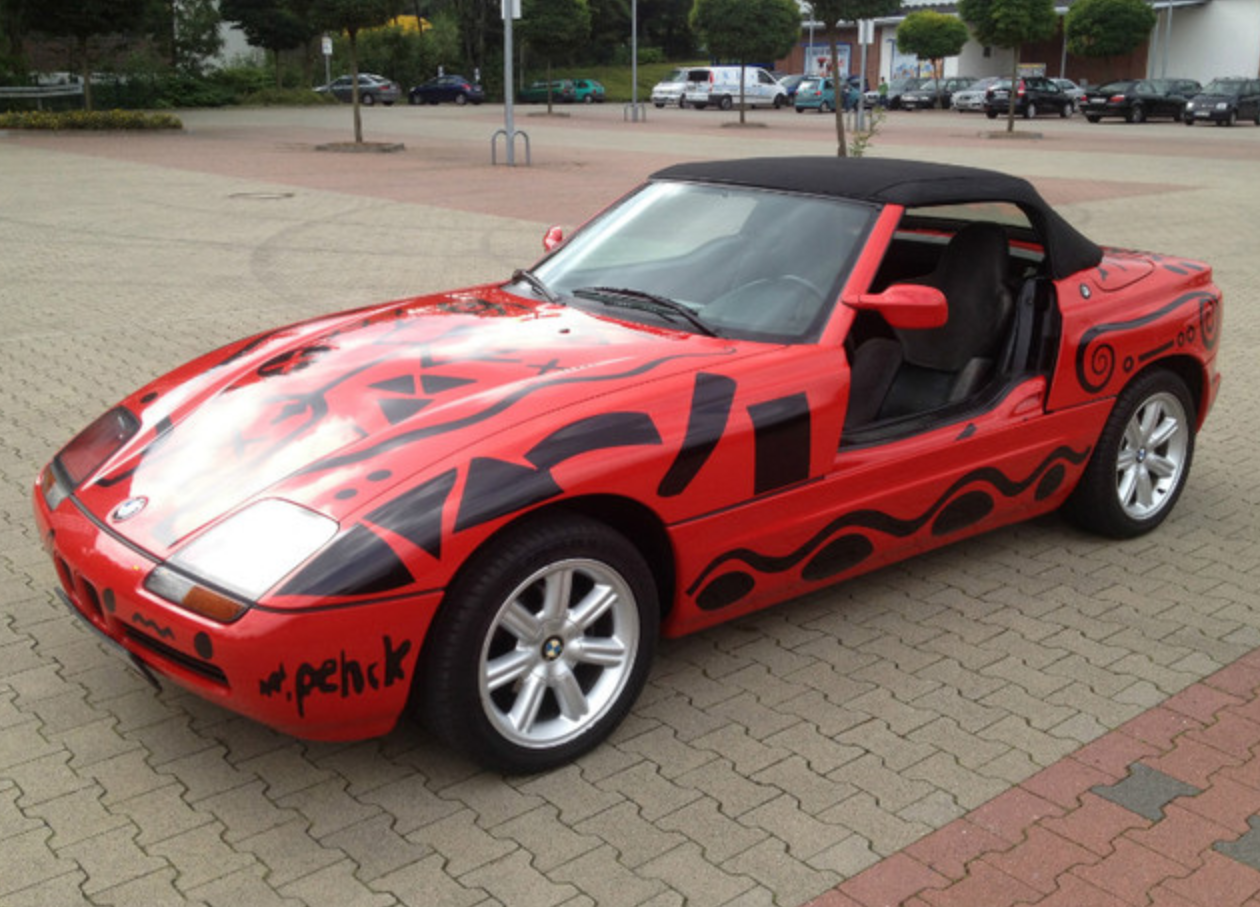 No….no…..someone didn't park a precious BMW Z1 overnight on the street in the Bronx. What you're looking at, rather, is art. Or an imitation thereof. BMW is well known for its series of one off "Art Cars." From Alexander Calder to Andy Warhol, a number of popular artists have had their go at creating art in motion, using a variety of BMW models as their canvas. A.R. Penck, a neo-expressionist painter hailing from Dresden, went to work on the Z1 in 1991. The artist drew inspiration from cave paintings and sign language to come up with this striking motif over a red base.
This Z1 Art Car tribute is for sale just northeast of Cologne, Germany and would be permissible to import to the US under the "show and display" rule. It will still be another four years until it reaches the exempt 25 year mark for non-federalized imports.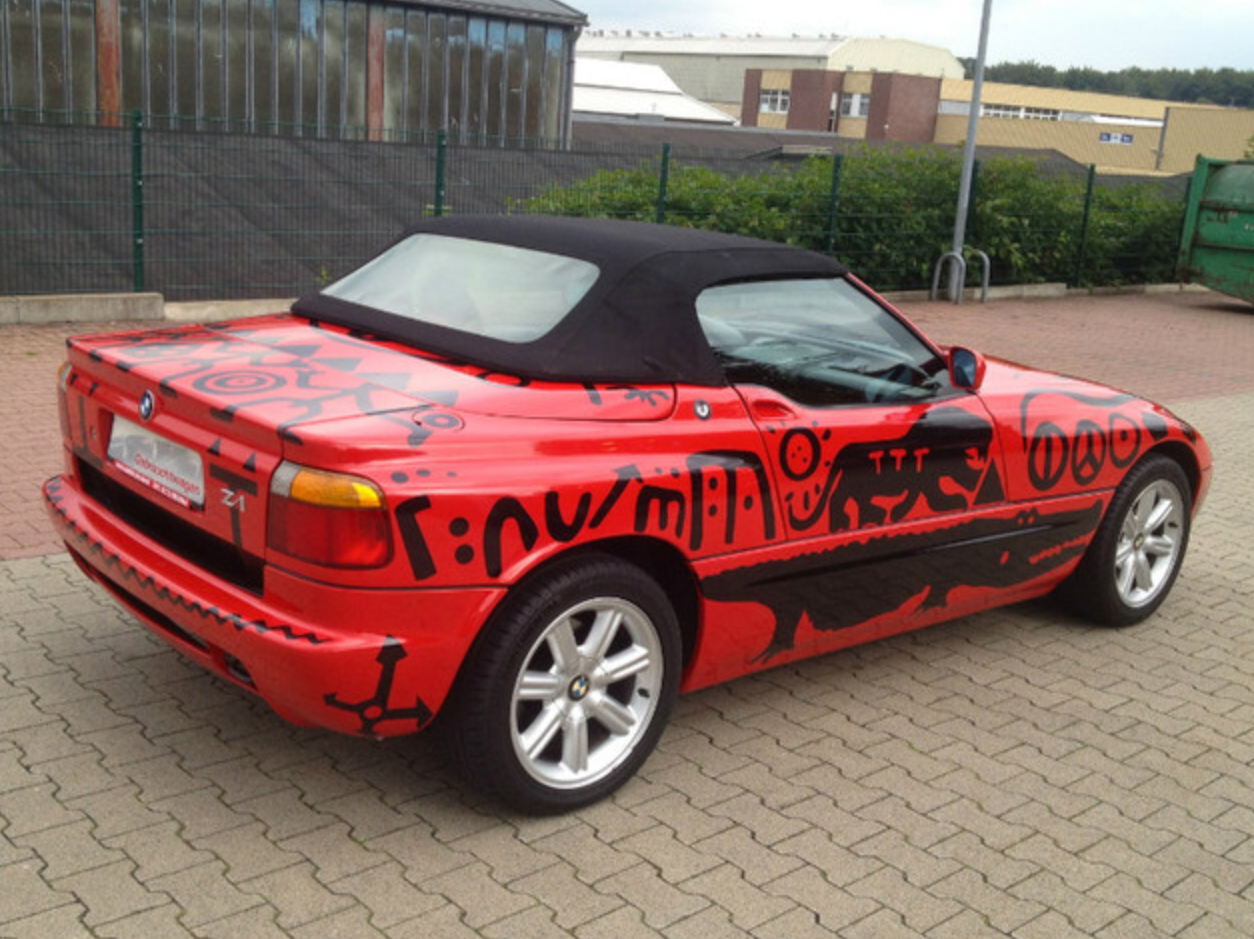 Year: 1992
Model: Z1
Engine: 2.5 liter inline six
Transmission: 5-speed manual
Mileage: 48,091 km (~ 29,900 mi)
Price: €24,500 (~ $31,500 USD)
BMW Z1 in "Toprot" with "AR PENCK" design (the film can be removed on request). You can see more information and videos on "Penck design" on youtube.de or google.de by entering the search term "BMW Z1 Penck." Original of this "BMW Z1 Penck design" is the BMW Museum in Munich.

German vehicle
3 previous owners
BMW Maintenance Guide to 32,000 km
Timing belt change at 32,000 km
Mileage 48,091 KM is original!
Good cosmetic and mechanical condition
Two small chips on the hood
Absolute eye-catcher with "unique" look!

Power steering, central locking, ABS, power windows, power mirrors, Radio/CD, electronic immobilizer (chip), sport leather seats, sports leather steering wheel, 16 inch BMW wheels, tinted windows, 5-speed, fog lights, etc.

Vehicle is in original condition except for the "Penck Design" & radio!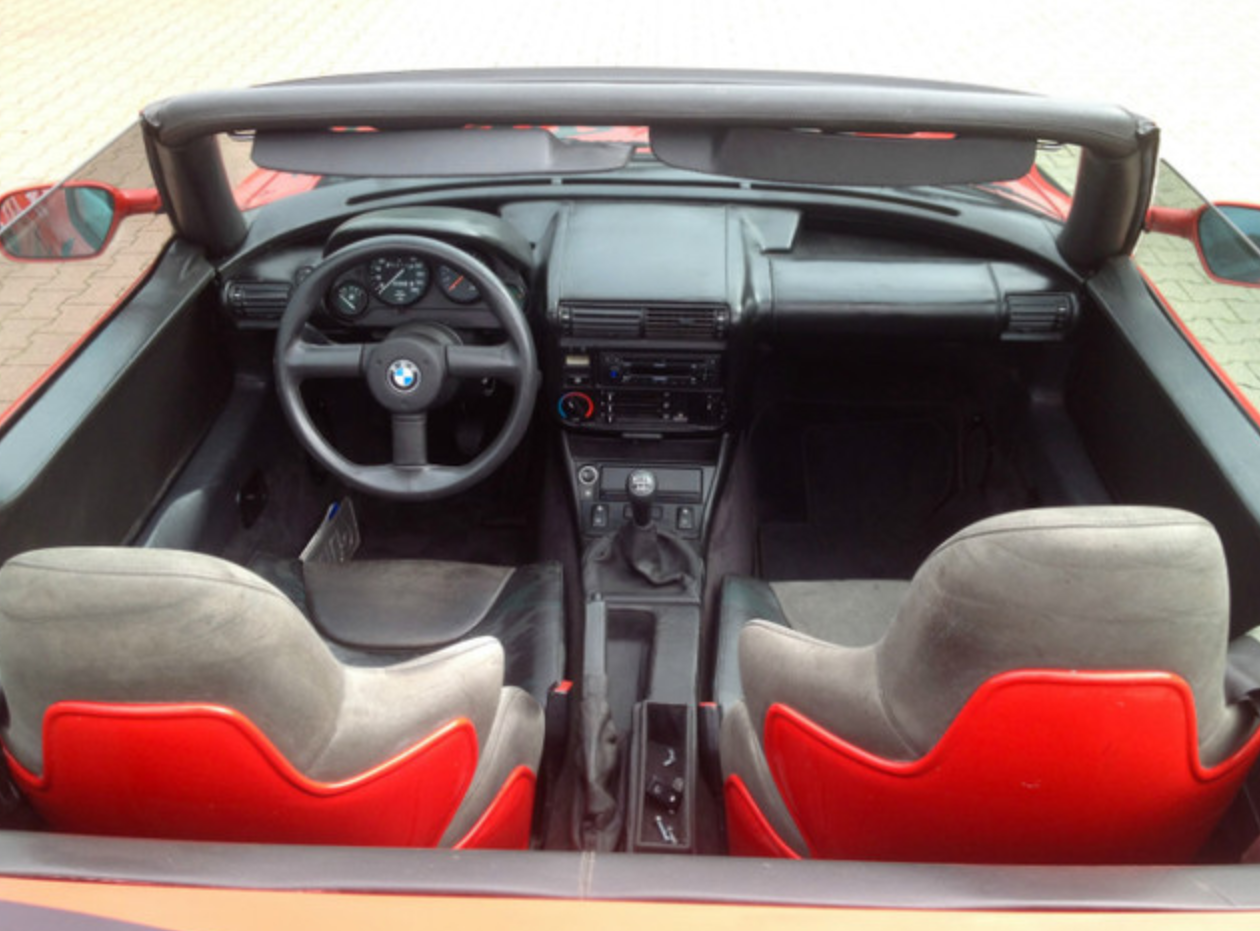 I've always liked Z1s. They're funky and carry a lot of E30 bits under the skin. They also tend to escape the "hairdressers' car" stereotype that plagues the Z3 and Z4, mainly because you just don't see them on these shores. I'd be curious to find out whether the design is painted on or if these are easily removable decals of sorts. The Z1 doesn't come cheap, even across the pond. About $25,000 to $30,000 is what you can expect to pay for a good one. It's a lot of money for a 20 year old BMW, but you're also buying into an exclusive club with a car that offers a healthy dose of rarity, engineering and uniqueness.
-Paul