When the Porsche 968 was introduced in 1992, the 924/944 formula was in its final throes. This car had come a long way, though, from the 924 of 1976, with the 2.0 liter four cylinder engine that was shared with the Audi 100 and Volkswagen LT van. Originally, the 968 was to be called the 944 S3, but with a majority of the parts modified or changed, Porsche management decided to come up with a new moniker for the car. At the heart of the 968, was an updated inline four, this time with Porsche's VarioCam variable valve timing. Good for 236 horsepower, this engine was mated to either a 6-speed manual or 4-speed Tiptronic automatic.
These days the 968 is a relative bargain amongst the modern classic set. This 968 Cabriolet for sale in Kansas City has the all important manual gearbox and still looks modern over twenty years on.
Year: 1992
Model: 968 Cabriolet
Engine: 3.0 liter inline four
Transmission: 6-speed manual
Mileage: 86,471 mi
Price: $13,700 Buy It Now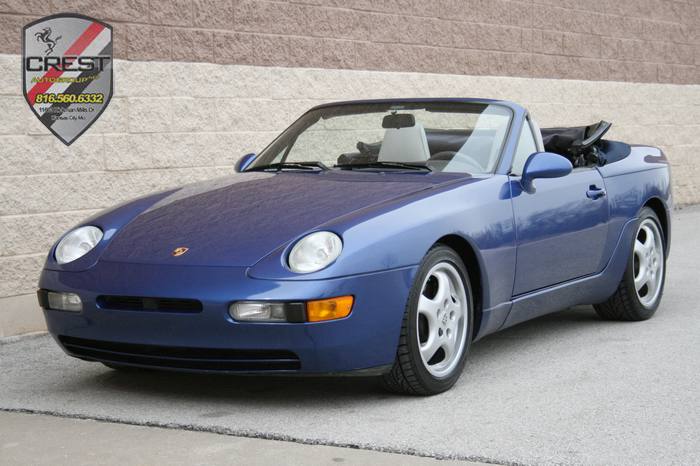 1992 Porsche 968 Cabriolet Finished in Cobalt Blue Metallic, Dark Blue Top, with Light Grey Leather interior. *** THIS IS A ONE OWNER CAR!*** All services with the exception of a couple of oil changes, wiper motor, and door handle have been done at Aristocrat Porsche in KC, which is also the original selling dealer. I do have all the service records, and due to the ridiculous amounts of request I have received for them, we will only send them when we are into a serious deal. This is a well-equipped 968 Cabriolet, sticker for this car was 55496 with out destination!

If you are looking at this car you probably saw the 968 on eBay do 9800 with 180,000 miles! We know the car had a rebuilt motor 25,000 miles ago, but it's still a 180K car with many things that will need attention! We have priced ours to sell at a fair price, we will not accept offers and our price is firm. I bought this car to keep it, but cannot sell one of my other cars, so this one is up for sale! Only item to note that needs attention is the clocks plastic crystal is cracked. You have two options for repair, buy a new clock, or put in a Porsche CD holder.

Remember that most 968's are on owner 3-5 and do not have the receipts and title to show the care this car has received!
We have the original window sticker, two original Porsche keys, top boot, and original mats (mats do show some wear)

We do have receipts for,

AC Condenser
Power steering pump
Replaced convertible top (due to age)
Starter
Timing Belt
Water Pump
Balance Shaft Belt
Aux cooling fan replaced
75k service
60K service
45k service
30K service
15K service

Options on this 968 are,

Cobalt Blue Metallic with Dark Blue Top
Partial Leather Seat Light Grey Classic
17" Light Alloy Wheels
Full Power Drivers Seat
Hi FI Sound System 8 Speakers
Amplifier System
Lumbar Support Drivers Seat
For purists, the Cabriolet might be a compromise, but I've always liked the 968 Cabriolet, as it offers a bit of open air fun into what is a fairly serious motoring equation. I've heard from a few 968 owners as of late, and one Cabriolet owner told me once that someone asked him if that was the "new" Porsche. This design has stood the test of time well. Not only that, the 968 offers exclusivity at a price that is hard to match. Given this is a one owner car, service records are available and it is a 6-speed, I would say the seller is being pretty fair in his asking price. It's hard to say whether these 968s will ever skyrocket in price, but for now, it's hard to beat this kind of performance and handling for the price.
-Paul