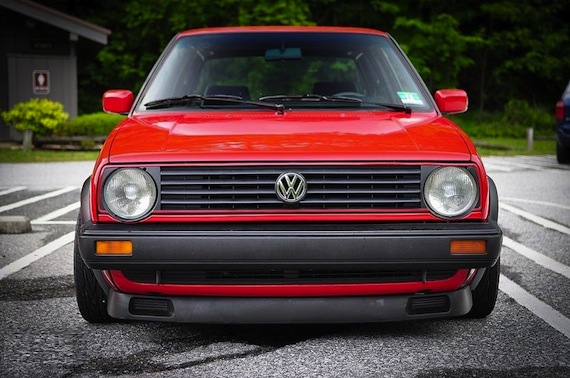 One of the things that initially intrigued me so much with VWs back in the day was the concept that Volkswagen Auto Group parts were much more like Lego than other makes; you could grab different pieces and improve and modify as you pleased. This Jetta takes that concept to 11, OEM+ing the heck out of 1992 Jetta GLI. With enough specific year-model-piece details to make your head spin (88 Jetta bumper, 92 GLI spoiler, Italian grill, 97 GTI shifterbox, etc…), it's essentially a greatest hits of Volkswagen performance. Yet unlike a greatest hits set from auteurs like Pink Floyd or the Beatles, which remove the context which amplified the songs' greatness, this GLI makes all the pieces work in harmony for a result greater than the sum of its parts. I've said before that the Mk2 GLI reminds me of a frugal E28 M5/535is, and this is no exception. Looks great all around, must go great with the VR6, and is all clearly chosen for specific gratification. If any Mk2 Jetta is going to pull $10k, it might as well be this one.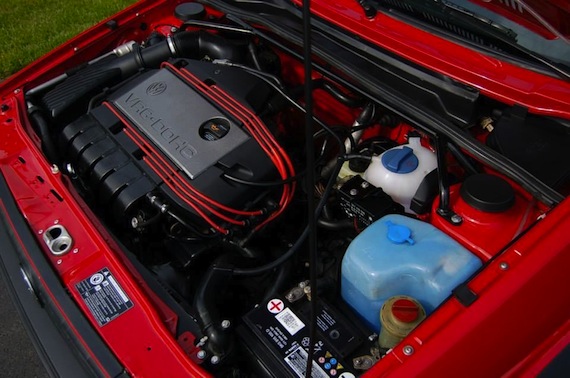 Year: 1992
Model: Jetta GLI
Engine: 2.8 liter VR6
Transmission: 5-speed manual
Mileage: ~90,000 mi on engine
Price: $10,000 Buy It Now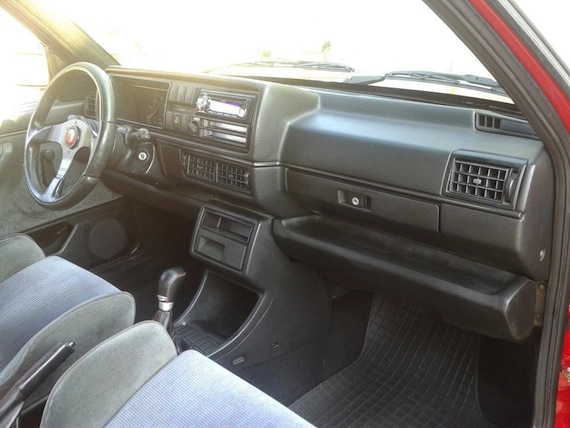 1992 VW Jetta GLI, Tornado Red, converted to '88 GLI spec – interior and exterior. OBD1 VR6 swap with power steering and AC. Full vag-com functionality. Working MK2 cluster, tach, speedo, MFA, and all gauges. Manual windows, locks and sunroof. Bought this car from Jeff Bynum (Bynum Builds), state of art, absolutely no rust, a lot of new parts, fully restored with fresh paint. I have driven it two summers, the car has never seen winter, only rain a few times. The car is up to date with any maintenance, it is pretty much flawless.

Exterior:

Full glass out respray (basecoat/clearcoat, wetsanded and buffed), painted full shell including all jambs, engine bay, doors/trunk/hood inside and out. Shaved fenders. All exterior trim cleaned, degreased, sanded and painted with SEM trim black. (85 Golf front bumper, 88 Jetta rear bumper, flares and door trim from 88 Jetta. Decklid spoiler form 91 GLI, and 91 Jetta plate tub. New FAW rain gutters, window seals, rear glass seal, and trunk seal. New OEM sunroof seal. New OEM replacement windshield with OEM style seal. 1985 Jetta non-brakelight back glass. Single round conversion using new Italian radiator support (color matched top), new Italian badged single round grille (painted BC/CC stripe in matching Tornado red), Hella fluted, period correct 7″ lights (have city light provision, not wired). Door B pillars done in 3M vinyl to OEM spec. New Italian lower valance, and deep 16v chin spoiler. New OEM Jetta GTX rear badge. OEM Hella taillights. New FAW pull style door handles. All new OEM door striker pins.

Interior:

Uncracked silverstripe tilt dash, tilt steering column, late spec kneebar and console, 90 Jetta Recaro interior including door panels, and front (power) and rear seats. 90 GTI 2 piece black carpet, NEW (4 piece) MK3 monster mats with 2 color VW logo, Converted to B pillar 3 point seatbelts. Recovered black tweed headliner including – Headliner, sunroof slide, A, B, C pillars, visors, domelight panel, and rear window trim. Recovered rear hatrack in black carpet. Front and rear speaker grilles done in black grillecloth. New shiftboot and e-brake boot in black leather with red stitching. Conrero shiftknob in black leather with red stitching. Momo steering wheel with red horn button. CE2 MFA instrument cluster (fully functional), with new bulbs

Trunk:

Early carpeted side panels, and new trunk floor carpet, edgebound.

Suspension, chassis and brakes:

Raceland coilovers converted to 5×100 with MK3 VR6 hubs, but maintains MK2 track width. MK3 VR6 PS rack with new MK2 tierod asseblies and new boots. New MK2 A-arms with Poly fronts and R32 rear bushings. MK3 front swaybar with poly bushings. New strut bearings, new ball joints, new front rotors, rew OEM VW front pads, new front wheel bearings, OEM MK2 axle shafts with OEM MK3 VR6 CV joints fully disassembled, cleaned, reassembled and POR 15'd axles, with all new boots and grease. New CV bolts, POR-15'd bolt retainers, MK3 11″ calipers (ceramic painted red, with stainless brake lines. Spindles cleaned, POR 15'd, new hardware, and new OEM brake backing plates. New Italian 22MM brake master cylinder, MK4 reservior, NEW ATE clutch master cylinder and slave cylinder. All brake lines and tension clips POR-15'd. Front crossmember, lower radiator support, K frame, all brackets, and pulleys, complete rear axlebeam, and gastank straps all media blasted, cleaned and powdercoated in OEM black. Energy suspension poly rear axlebeam bushings, MK4 rear caliper conversion. SS rear brake lines, new rear rotors, OEM equivalent brake pads, new wheel bearings and seals, new OEM brake backing plates, All new hardware for axlebeam, new E-brake cables. Front Nuespeed stressbar, rear ABD streesbar, Autotech hollow 28mm rear swaybar.

Air Conditioning:

New MK2 condenser, new reciever/drier, new expansion valve, low miles replacement AC compressor, MK3 evaperator core in rebuilt MK2 heaterbox. Corrado VR6 AC lines. B4 Passat VR6 fan controller harness and fan controller. Converted to R134. MK2 AC controls and dash wiring.

Cooling system:

New AKG Corrado G60 radiator, Corrado VR6 fans with new drive belt in powdercoated fan shroud, new low temp thermostat and fan switch, Corrado VR6 cooling hoses, new thermostat housing and all o-rings, new metal crack pipe with FORGE silicone oil cooler hoses, new HEPU water pump, and new heater core. Gates PowerGrip thermoplastic clamps on all hose connections. New coolant reservior, and coolant cap.

Engine and transmission:

90K mile OBD1 VR engine pulled from B3 VR6 Passat. OBD1 coilpack mangement with SAI and EGR delete. 42 draft designs SAI plug. New valvecover gasket, new NGK spark plugs, new sparkplug wires, new oil cooler hoses and oil cooler seals, new oil switches (hi and low), new oil pan gasket, new waterpump, new rear main seal, new front crank seal, new SACHS clutch kit , with new lightweight flywheel. New timing chains, guides, tensioners. new intake gaskets, new exhaust gaskets, new downpipe gaskets, new OEM VW O2 sensor, new serpentine belt and belt tensioner. New BFI 0.5 poly front and rear engine mounts, New FEBI G60 transmission mount. CCM transmission pulled from 120K '95 Jetta GLX. New speedometer cable. Shifterbox from low miles '97 GTI VR6. New OEM booster bracket. Autotech stainless cat back exhaust with polished stainless tip.

Wheels and tires:

16×7 BBS R's 3 piece wheels. Fully disassembled, cleaned, new stainless bolts. Original BBS lips stripped of clear and mirror polished, Toyo Proxes 4 205/40/16 tires, new Adaptec 5×100 to 5×114.3 adapters, 15mm (front) and 20mm (rear). New metal valvestems. New hardware for adapters and wheels.

Audio:

New Kenwood CD headunit with 3 sets of RCA outs (front, rear, and sub), USB and phono for AUX/iPod connectivity, switchable illumination, remote control. Old school MB Quart 215 CS components. MB Quart 215 CS midbass for rear fill. AURA 5 channel amplifier (new) – 50×4 and 150×1 RMS JVC Arsenal cast frame 12″ dual voice coil sub in black carpeted enclosure (new). 4 gauge power/ ground wiring and new RCA cables.

The Bad :
The speedometer recently stopped working, easy fix, needs a speed-o cable, from a G60 VW Corrado.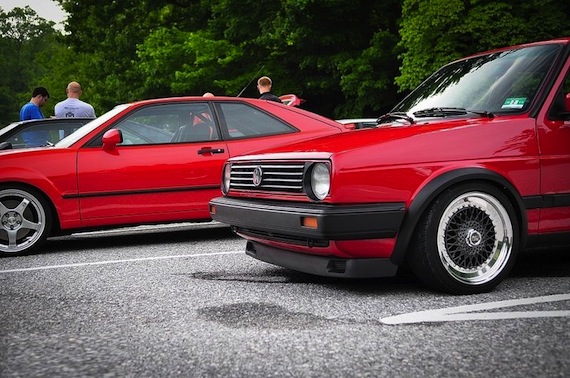 Ensuring it comes with the black-centered BBS rims instead of the golds and a different steering wheel would complete this package for me. But at the same time, the BIN is roughly what I paid for my E28 M5. Yes, the maintenance, blah blah, but seriously – I love the VR6; I worship the S38. If the reserve can come off a few grand lower, this is a very cool amalgamation of the best 90s Volkswagen parts out there that you could show or drive with equal amounts pleasure and content.
-NR