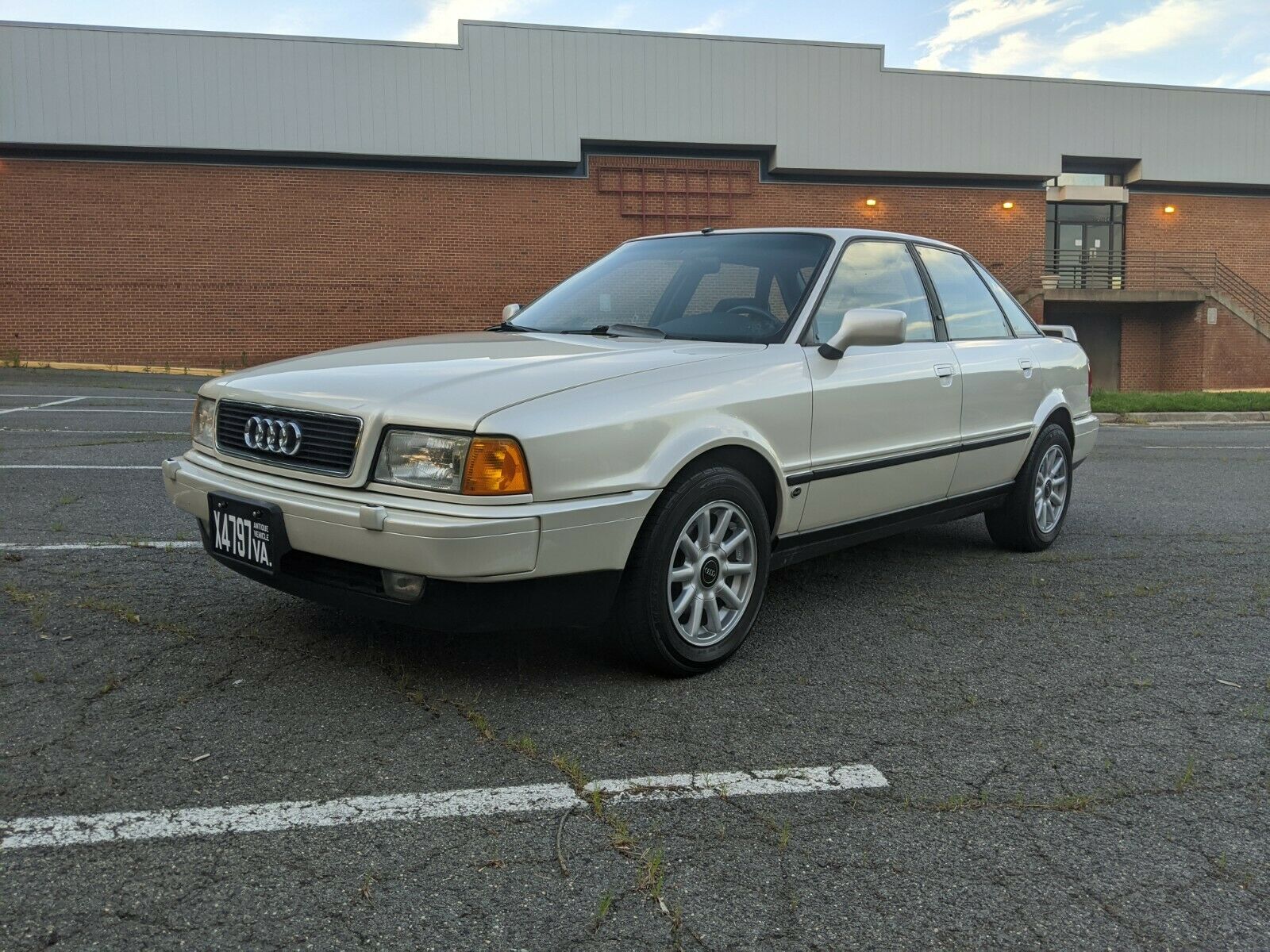 As I've covered before, Audi made some strange moves in the early 1990s in terms of nomenclature and pricing strategy. The best example for this is undoubtedly the sticker price. In late 1994, the 'new' BMW M3 rolled into dealer showrooms in the United States. If you selected no options, you paid roughly $38,000 and got a bunch of pretty reasonable standard features and a 240 horsepower inline-6, some fantastic seats, and the best handling this side of a race car. If you moved over to the Audi side of the showroom, the top-tier offering in their small chassis was the 90CS quattro Sport, which cost about $3,500 less admittedly. However, you got a slow-revving 2.8-liter V6 rated at 172 horsepower. Okay, they had different missions. And the Audi was really intended for inclement weather. Why, then, were heated seats and washer nozzles extra? And why was the sky sack extra? It's not like this was a stripper car. This was the equivalent of a $60,000 plus dollar car today! To draw it into much sharper contrast, the base price of today's RS3 – which sprints from 0-60 in under 4 seconds – is $56,000. They apparently got the memo that heated seats should be standard, too.
So you (or I) could make a strong argument that the 90CS quattro Sport was a better built car than the E36, and in many ways, it was. But from and enthusiast's standpoint, the decisions that went into the launch of the B3 and B4 cars were exactly what caused Audi's early 90s sales problems. Don't blame 60 Minutes. They were too soft and not luxurious enough to really justify their price. Good looking cars? Sure. But Audi fixed the issue with the A4 – tightening the looks up in a more aggressive package, adding a touch more (perceived, mostly) sport with turbocharged powerplants, and dropping the base price substantially. A base A4 2.8 quattro in 1996 rolled out the door at roughly $28,000, and at that price point, it's no surprise that it was a lot more compelling to consider. Today though? Well, these 90s are pretty hard to come by at all, so when a great condition example comes up for sale, it's more exciting to see than an A4 and always worth a look: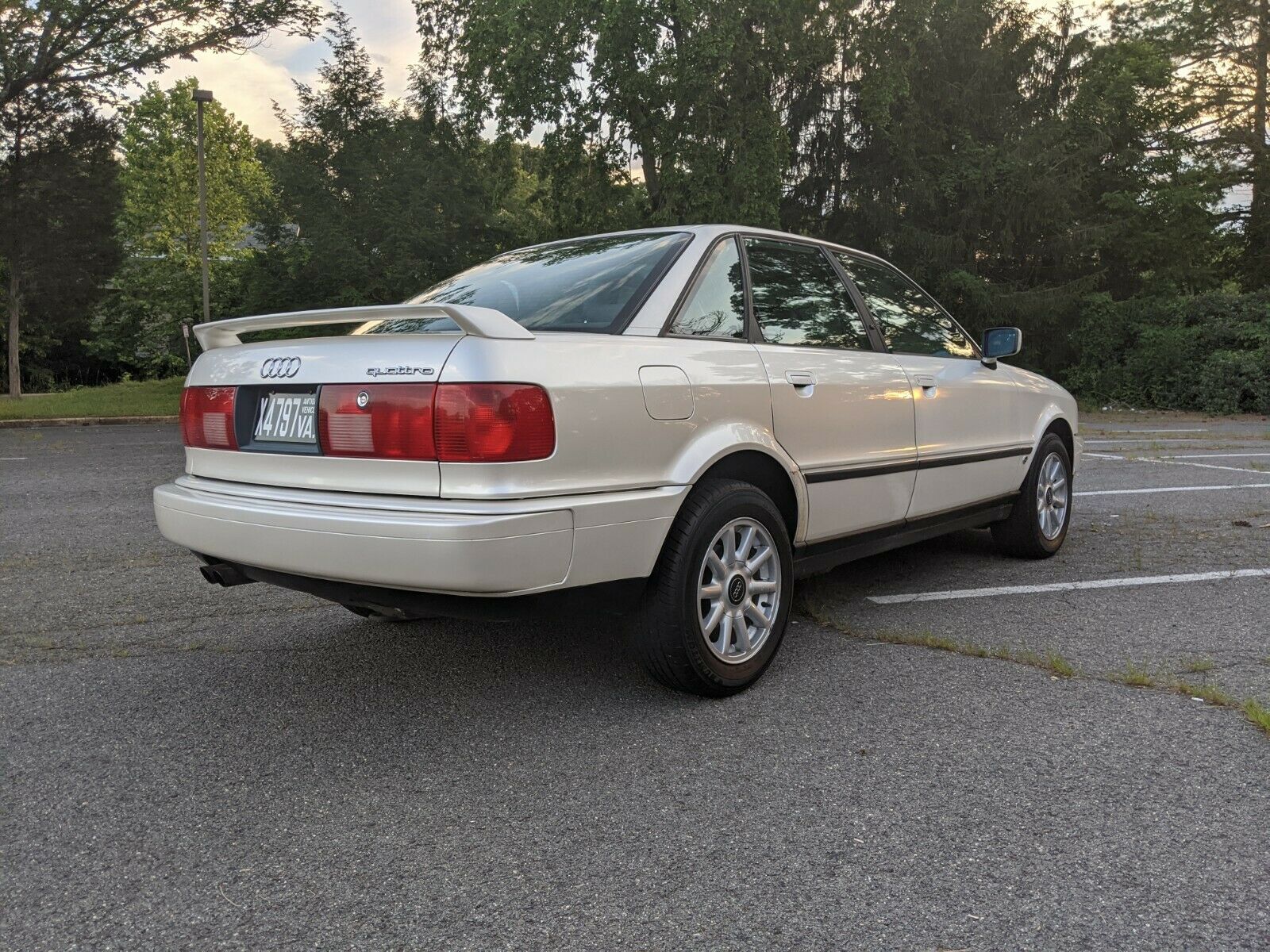 Year: 1993
Model: 90CS quattro Sport
VIN: WAUEJ58C8PA254409
Engine: 2.8 liter V6
Transmission: 5-speed manual
Mileage: 131,000 mi
Location: Sterling, Virginia
Price: Reserve Auction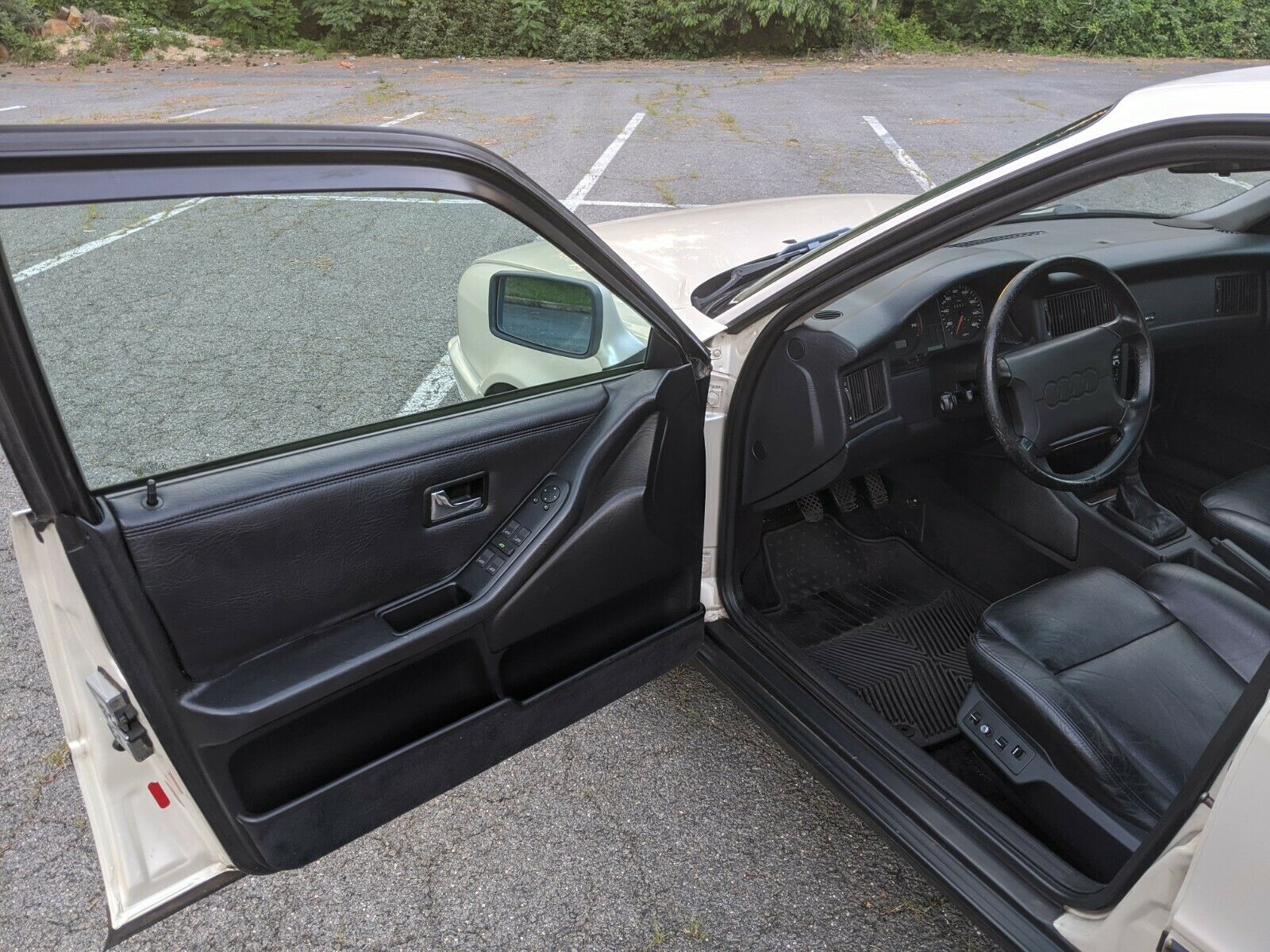 Up for sale is my 1993 Audi CS Quattro in 5 speed manual. This is an awesome car and in great condition inside and out. You won't believe that it's 27 years old. It's a rare find and a joy to drive. I personally think it drives better than many newer Audis I've driven and believe it was made of a higher build quality. I'm moving and am downsizing my car collection. I am going to miss this car a lot.

Highlights:

Pearl white paint with Black leather with very little wear.

Real all wheel drive with locking rear differential and Torsen Center differential.

Winter package, heated seats, pass through ski boot, headlight washers + mirror defrosters

New brake parts all around. Front and rear rotors, front and rear pads, front calipers and brake flush completed in last 500 miles

A/C works great. Blows super cold

JVC head unit with Sirius XM built in and aux port

Upgraded speakers front and rear

Amplifier/subwoofer hookup pre wired. Ready to plug and play in the trunk.

High performance all season tires with about 8000 miles on them

Bilstien HD struts, with 034 Motorsports strut bearings,

Tie rods/ ball joints + alignment

water pump, cam seals, and valve cover gaskets , belt + misc oil seals done in the last 5000 miles.

Oil change and air filter done in last 500 miles

Original documentation: manual and sticker included with sale. See pictures

Rubber all weather floor mats

Negatives:

Rebuilt/Reconstructed title due to a low speed accident in 2013. It was repaired prior to my ownership.

I was told this was due to:

Rim being scraped and rear bumper cover cracked. Wheel was wet sanded out and bumper cover was repaired and 4 wheel alignment was performed. See pictures.

There is some brake fade ever since I had the brake parts replaced all around as noted above. The car stops without issue but has some play in the pedal and not the full braking power that it should. It may need a new master cylinder.

Keyless entry, and cruise control not currently working. locking/unlocking works via door or trunk and locks/unlocks all with no issue. I've never attempted to diagnose either of these issues , they both may be an easy fix.

Some scrapes on rear wheel, see pictures

Small dent scratch on hood front left, see pictures

Rear headrest stitching has separated.

On Jun-25-20 at 21:38:47 PDT, seller added the following information:

Update:
Forgot to mention
Headlights: upgraded to 55w HID xenon headlights installed. Super bright, big upgrade from factory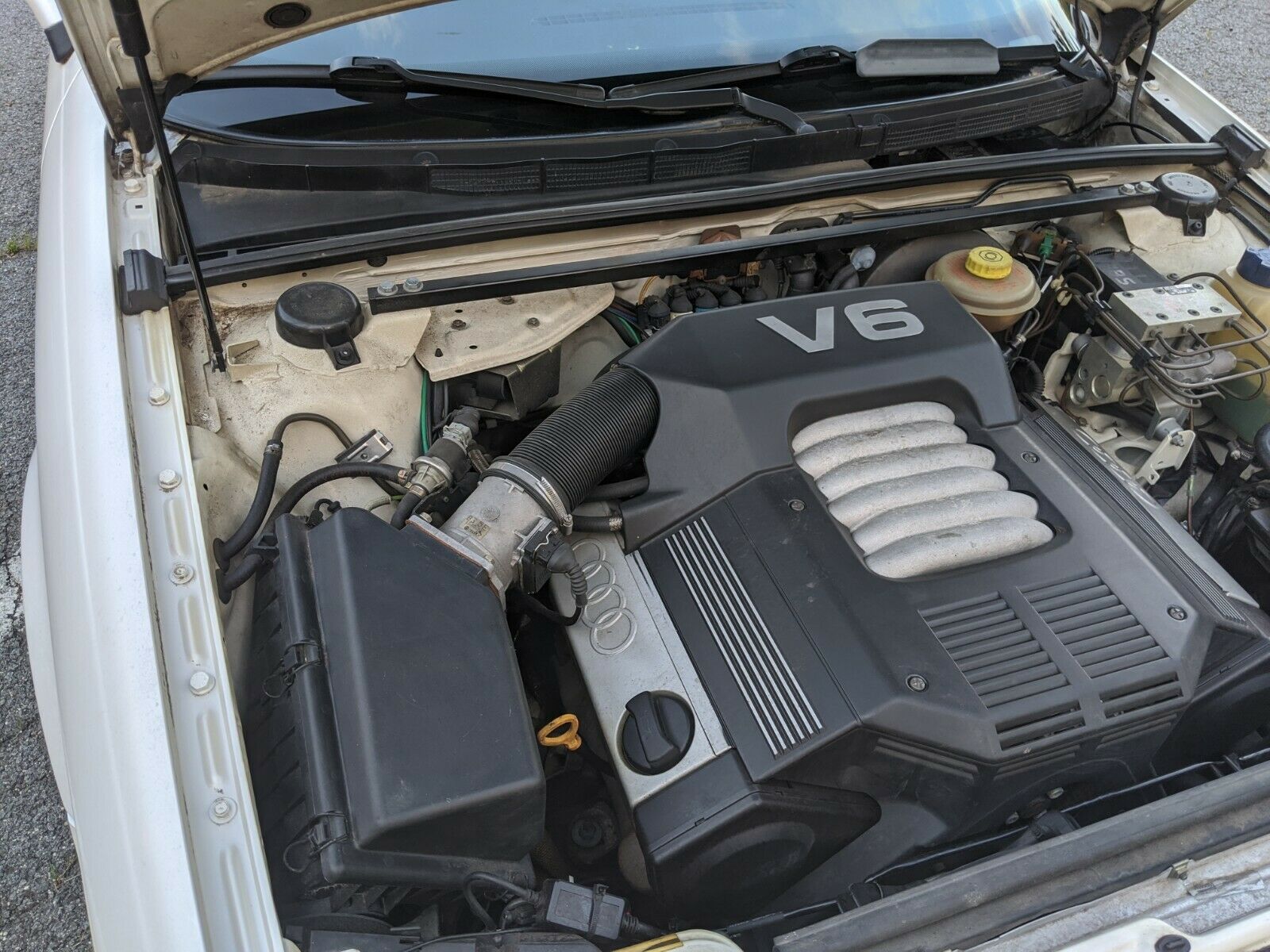 It's no surprise, frankly, that the car has a branded title from an accident. Because these had such a low residual value a few years ago, even a minor accident could result in near-total status. When I had my 4000CS quattro, I was hit on the door when parked, causing a dent on the driver's side door. The accident damage cost the insurance company over $2,000 to repair, and at that time, it was reportedly within a few dollars of hitting the 75% threshold. I'm not sure I'd let that hold me back in this case, though I'd like to know what occurred and how bad the repairs were. Outside of that? It's lovely overall. I'm not as big of a fan of the Speedline 10-spoke wheels as I am of the later Ronal/Votex 5-spokes on the '94-'95, but hey – you can't have everything. Pearlescent White over Black also probably wouldn't be my first choice, and the repairs look to have mis-matched the paint, but ultimately, there are worse things.
90s are tough to value today. They're too nice to be cheap, but not nice enough to be expensive. In many ways, this is the problem that's always plagued them. I would think that with the branded title this one should remain more affordable, but just like new, it'll be a hard sale.
-Carter