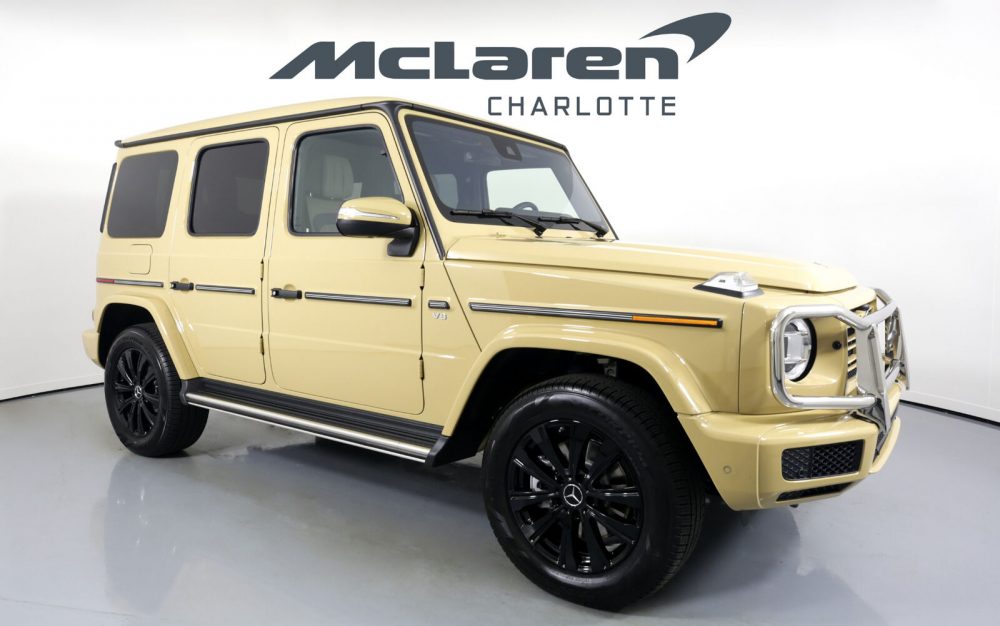 We are over a year into the all-new Mercedes-Benz G-Class and to the surprise of no one, they literally can't make enough of them to meet demand. It makes sense, as the G-Class is used as a form of currency in the state of California, both monetarily and socially, and they don't ride like old farm trucks anymore. So as soon as a new one hits the lot, it is usually snagged up within a day or two. That I expected. What I didn't expect is now that we are well over a year in, prices are still as crazy as ever. Let me explain.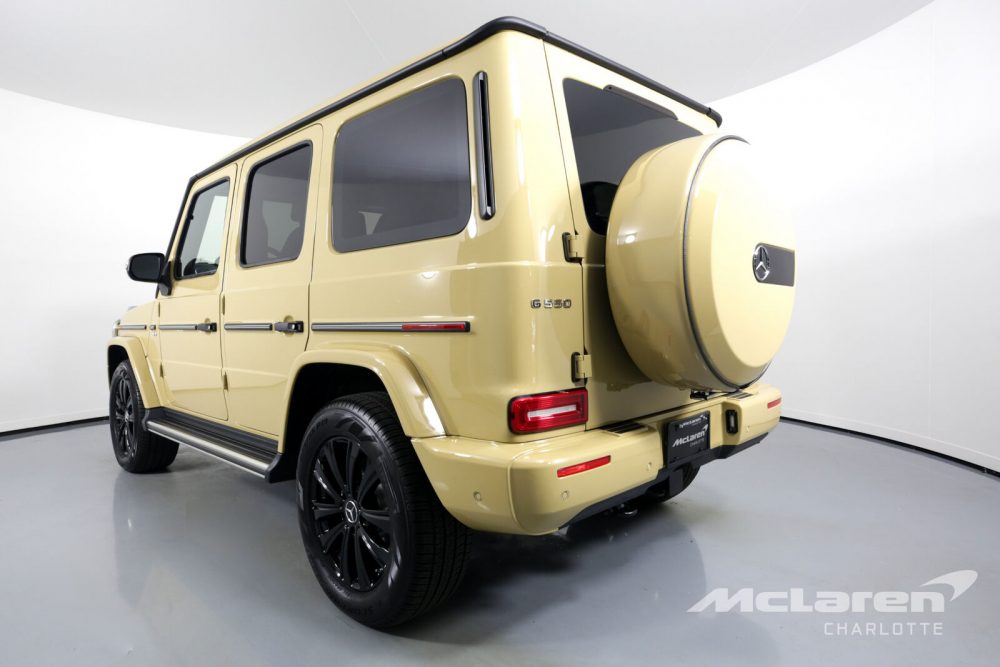 Year: 2020
Model: G550
VIN: W1NYC6BJ2LX350298
Engine: 4.0 liter twin-turbo V8
Transmission: 9-speed automatic
Mileage: 320 mi
Location: Charlotte, North Carolina
Price: $179,996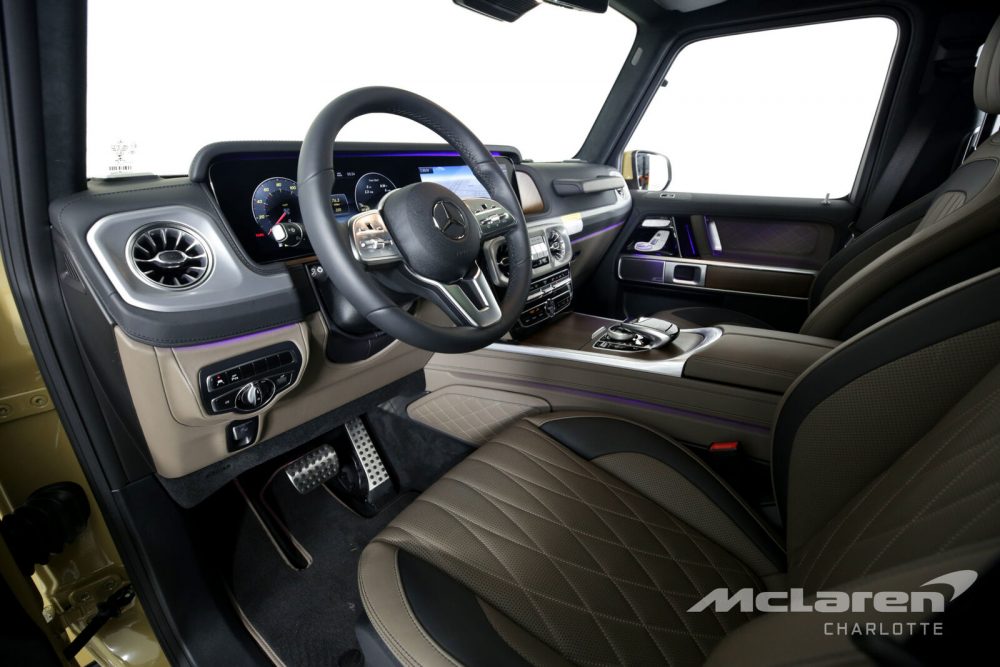 – MSRP $156,945
– G MANUFAKTUR DESERT SAND $6500
– DESIGNO TARTUFO / BLACK EXCLUSIVE NAPPA LEATHER
– NATURAL GRAIN WALNUT WOOD TRIM
– REAR SEAT ENTERTAINMENT SYSTEM $2650
– 12.3″ WIDESCREEN INSTRUMENT CLUSTER $850
– HEATED STEERING WHEEL $250
– ALL SEASON FLOOR MATS $200
– SPARE WHEEL COVER PAINTED IN VEHICLE COLOR $1200
– 19″ TWIN 5 SPOKE WHEELS, BLACK $500
– NAPPA LEATHER STEERING WHEEL
– LEATHER GRAB HANDLES $550
– WHEEL LOCKING BOLTS $150
– EXCLUSIVE INTERIOR PACKAGE PLUS $12,200
– EXCLUSIVE NAPPA LEATHER
– FRAMELESS REARVIEW MIRROR
– DESIGNO DINAMICA HEADLINER
– NAPPA LEATHER DASHBOARD
– DIAMOND STITCHING
– DESIGNO FLOOR MATS
– ACTIVE MULTICONTOUR FRONT SEATS WITH MASSAGE
– RAPID HEATING / VENTILATED FRONT SEATS
– COMPETITIVE LEASE AND FINANCE OPTIONS
– EXTENDED WARRANTY AVAILABLE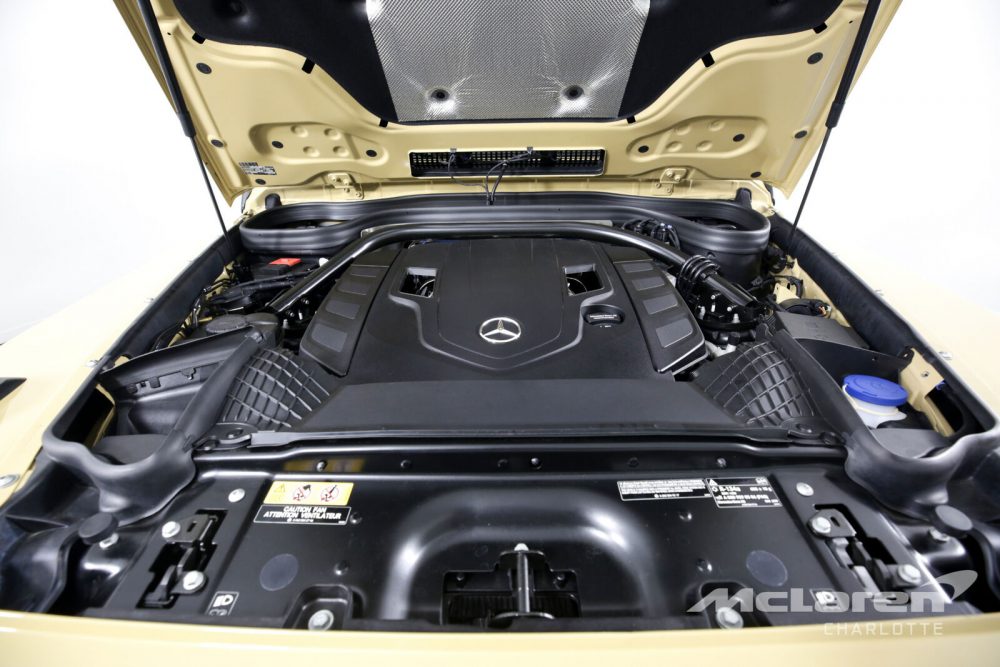 First, what is going on with this color? Mercedes calls it Desert Sand from the "G Manufaktur individualisation programme," but to me it just looks really odd. This is an ultra-luxury vehicle trying to do the whole "rugged" thing, and it isn't working for me. You have a whole bunch of back trim and massive black wheels, but then stick a chrome brush guard on it. The interior is called "Tartufo," which is "truffle" in Italian, but I don't think it jives too well with the Desert Sand exterior. But all of this doesn't matter one bit. Why? Because people will buy them no matter what.
The sticker price on this one new from Mercedes-Benz of Memphis, Tennessee was $156,945. Now 320 miles later, this one is for sale at McLaren Charlotte for $179,996. Yeah. That is the demand for these things. A normal G550 is commanding a $15,000 mark-up on the secondary market. I'm curious if this was a trade-in on something McLaren Charlotte had or just them snagging one when they could, but either way they are trying to make a quick buck. Even crazier is the G63 AMG. A sticker price of $161,345 is now asking $212,500 with just 75 miles on the odometer. That isn't an outlier either. All G63s are asking over $200,000. I hope they have some extra space in the hills of Graz, Austria to build another production line. They are going to need it.
– Andrew