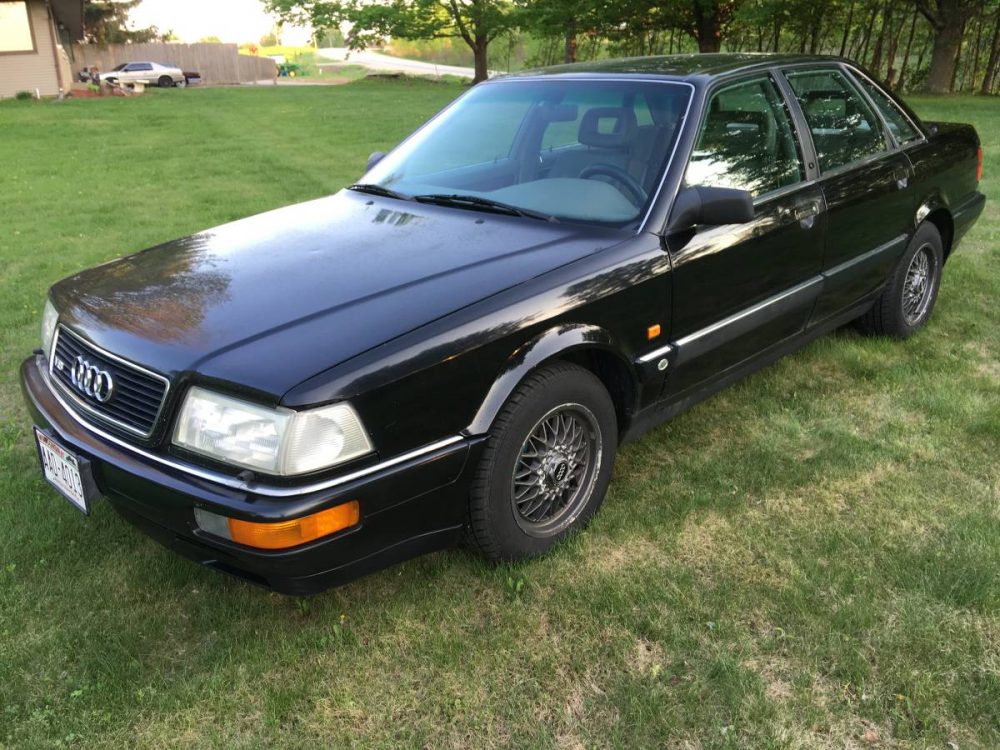 Recently we got treated to a rare 1991 Audi V8 quattro 5-speed to ponder. Though it had nearly 190,000 miles, it certainly looked to be in pretty good shape. At first glance, $6,500 for one of these complicated older Audis sure seems outrageous and (in many ways) is, but considering the rarity it wasn't outlandish to see that price.
The manual left the V8 quattro option list in 1992, but to make up for it there were quite a few upgrades. Chief among these was the new ABH 4.2 liter unit. The increase in displacement netted 276 horsepower and 295 lb.ft of torque; though they were far from light and all mated to the 4-speed automatic here, the 92-94 models were far from slow. A revised exhaust now had tips that came straight out, and while the rolling stock looked the same on the forged BBS RG wheels, the suspension uprights brakes changed to be shared with the S4 – no more floating rotors. Inside there were minor changes to the dashboard, dual airbags, a transmission cooler and the revised climate control unit shared with the C4, along with standard Connolly leather. The sticker price rose accordingly to nearly $60,000.
Perhaps it was turbocharged manual S4, with its modern design, that steered customers away from the V8. Or perhaps it was competition outside of the marque. Regardless, few of these 4.2 V8s sold; 270 1992s, 170 1993s and a scant 78 '94s left dealerships. Late V8s are hard to find twenty five years on, especially in clean condition: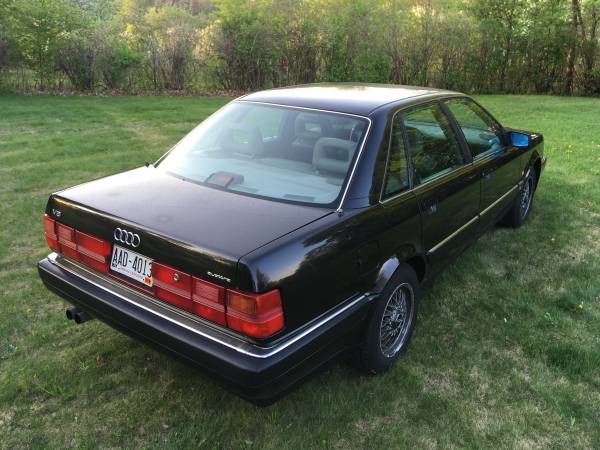 Year: 1993
Model: V8 quattro
Engine: 4.2 liter V8
Transmission: 4-speed automatic
Mileage: 178,000 mi
Price: $4,500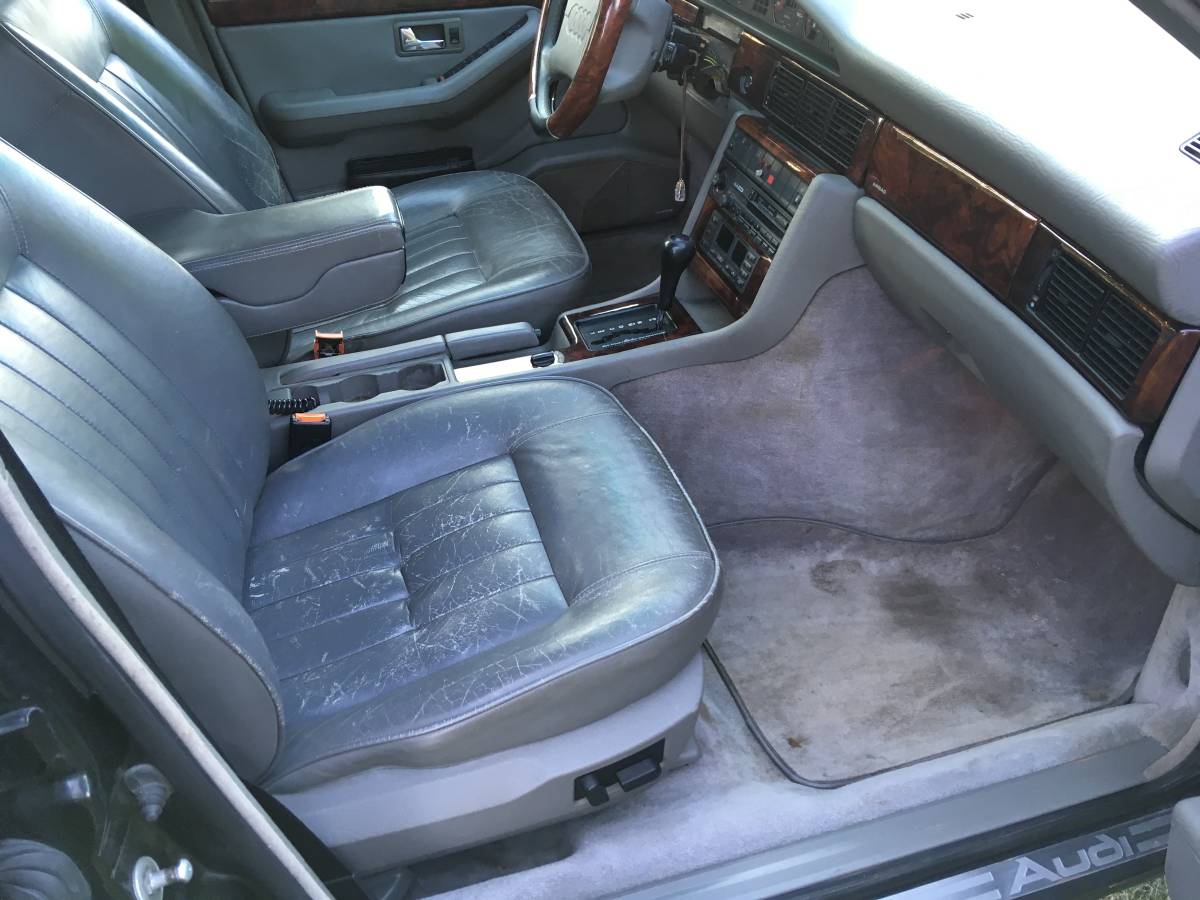 93 audi v8 Quattro
178,000 miles
CLEAN title
4.2 v8 300hp
Automatic transmission
Sport, economy, manual modes
Urs4 brakes and suspension
Bbs wheels
New tires
Lots of new parts
Daily driver
Very rare hard to find car
Fast and fun

4500obo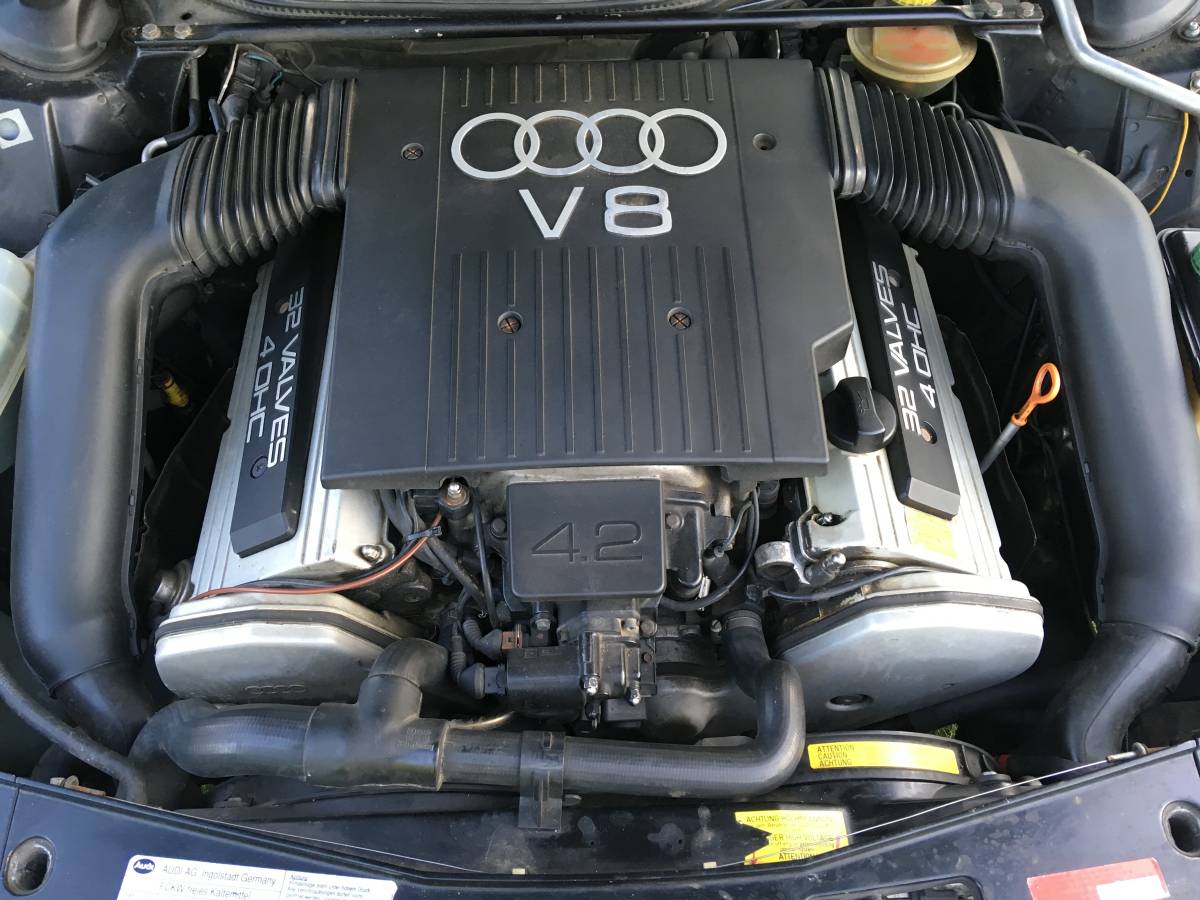 Pictures don't really tell us a lot about this car other than it is generally pretty clean. The lips of the BBS wheels often suffered clearcoat failure, so it's not much of a surprise to see them painted a dark gray here. It looks like the leather has seen better days and the front seats may have already been redyed; they look suspiciously dark. As we've seen in previous examples, my guess is under the steering wheel cover is a pretty wrecked color-matched gray leather wrap. It's missing it's front headlight trim (NLA) and windshield wipers (you guessed it…) as well. It's unfortunate that again we don't find out more about what "lots of new parts" entails; at nearly 180,000 miles, prepare yourself for a timing belt change – the first among many expensive undertakings on the V8. Pricing is about market at $4,500, but these cars are often slow sellers because of the automatic and notoriously expensive repairs – never mind hard-to-source parts! Still, I hope someone keeps this one alive; it's nice to see they're still appreciated enough to keep rolling, because they really are a fantastic car to drive.
Thanks to our reader John for the spot!
-Carter