The ultra low mileage 1993 BMW 325i Convertible we featured back in January is up for sale again, with a lowered Buy It Now price of $28,500. Enough to move the metal this time around?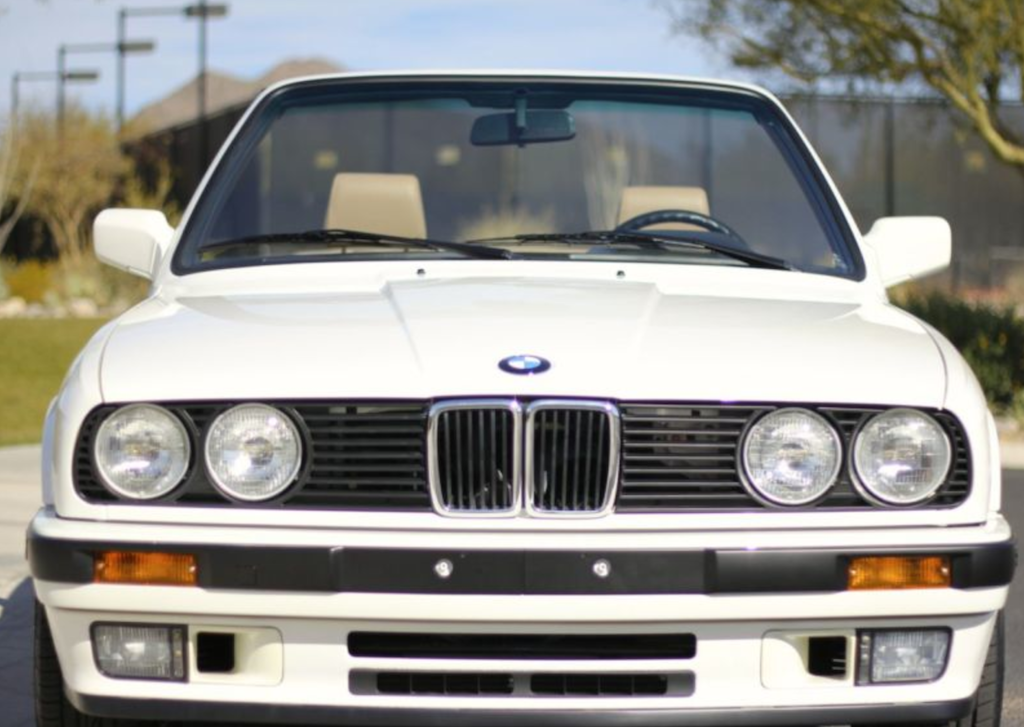 The below post originally appeared on our site January 16, 2013:
If you could buy a new E30 convertible, what would it be worth to you? The price of a new subcompact? Perhaps even a figure approaching $30,000? Well, the seller of final year E30 Convertible in Arizona seems to think more. This has to be the lowest mileage E30 I've ever seen and brings back fond memories of my youth, as my 325is was Alpine white with a tan leather trimmed interior.
Year: 1993
Model: 325i Convertible
Engine: 2.5 inline six
Transmission: 5-speed manual
Mileage: 227 mi
Price: $42,900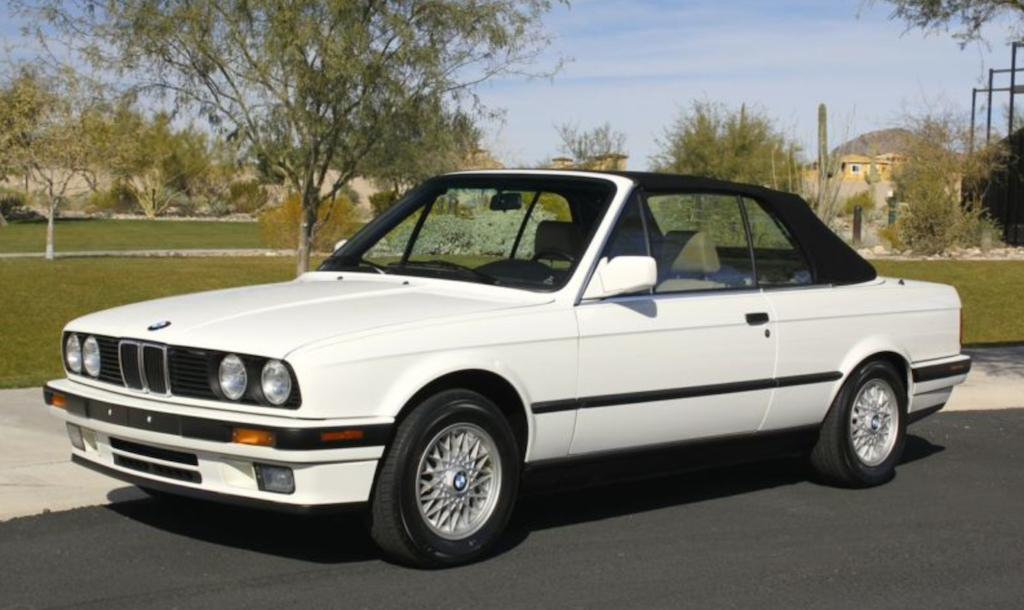 ONLY 227 ACUTAL MILES!!! This gorgeous 325i convertible is in mint condition impeccably restored with all original or BMW genuine parts. It looks and drives like it just left the showroom. This unique car is a BMW enthusiast's dream. It was one of the last E30 convertible models produced in December 1992. It has been stored in a garage and covered throughout its life. The original white paint and exterior are flawless. The original power convertible black top is in amazing condition, raising and lowering smoothly, and with a crystal clear rear window. The interior is beautifully maintained with perfectly conditioned leather. The condition of the dash and center console appear like new.

The original tan BMW floor mats are in great condition. They are near impossible to replace as BMW has discontinued production. I have included black genuine BMW mats to be used and kept the tan mats bagged to be included as well. The trunk is spotless and looks as though it has never been touched with the original jack and tool kit included as well as full size spare tire. The engine compartment and undercarriage of the car are in amazing condition. In fact the original rust preventative Cosmoline applied at the BMW factory is still present. The tires are brand new Falken 195/65 R14 complete with a full size spare.

I have replacement BBS hubs that originally came with the car at the time of delivery and four brand new genuine BMW hubs made for the original wheels. All original manuals and binder included. E30 3 series service manual included. All 325i convertible brochures available from the late 80s and 90s are included as well. All service documentation included. Services performed on the car in the last quarter of 2012 include:

Timing belt replaced
Genuine BMW oil filter and oil replacement
Clutch fluid replaced
Brake flush
Coolant flush
Windshield washer fluid replaced
Genuine BMW shock resistant convertible battery replaced
Replaced microswitch for automatic top
Fuel tank inspected and in excellent condition
Spark plugs in excellent condition
Brake pad calipers in excellent condition
BMW recalls performed
Just passed Arizona emissions without difficulty

This is an extraordinarily rare automobile with only 227 original miles and in mint condition. It is a collectors dream or a perfect addition as a weekend convertible. The purchase of this car is "as is" without warranty offered or returns. I will not accept PayPal and will only complete transaction by wire or cashiers check. A $5,000 deposit is required at the close of auction to hold car for 10 days. $500 of the deposit is nonrefundable if the transaction is not completed. Full payment totaling $42,900 is required within 10 days of close of auction. Please feel free to email with any further questions. I would be happy to show the car in person. The car is currently garaged in Scottsdale, Arizona.
In short, this is a great car at an astronomical price. I usually try and steer clear of being too negative with the values on cars we come across, but I honestly can't see anyone ponying up over $42,000 for what was originally a car that retailed in the mid $30k range. Even the best E30 M3 will struggle to get to this price point, so you can imagine that Bimmerphiles would be hesitant to plunk down money on a what could be considered a lesser E30. It's cool to look back and see how one of these came right out of the showroom, but if you bought a car like this at this price, would you drive it? I certainly would be hesitant. At somewhere around $15,000 or so, I'd be more apt to enjoy it as intended.
-Paul