Long before Volkswagen started its march to market dominance, the 1980s were a bit of a patchwork in terms of the US product offerings. While the Golf, Jetta and Cabriolet were relatively decent sellers, there were other cars in the lineup that lagged behind the competition in sales, even when they were competitive when it came to equipment and driving fun. Case in point the Quantum, or what is now known (and always was to the rest of the world) Passat.
These sedans and estates offered a bit of upscale engineering at Volkswagen prices, with the Audi 2.2 liter five cylinder engine under the hood. In 1986, Volkswagen unleashed the Syncro Wagon, which, contrary to its name did not share the Golf Syncro four-wheel drive system. Rather, this five-door had the Quattro four-wheel drive system from the Audi 80. The Syncro Wagon has a dedicated if small following, whereas the sedan is kind of a lost soul in the history of Volkswagen. This Quantum GL5 for sale in New York represents the final year this car was sold in the US, leaving Volkswagen without a mid-sized offering in the US until the B3 Passat arrived in 1990.
Year: 1988
Model: Quantum GL5
Engine: 2.2 liter inline five
Transmission: 3-speed automatic
Mileage: 88,836 mi
Price: $3,600 Buy It Now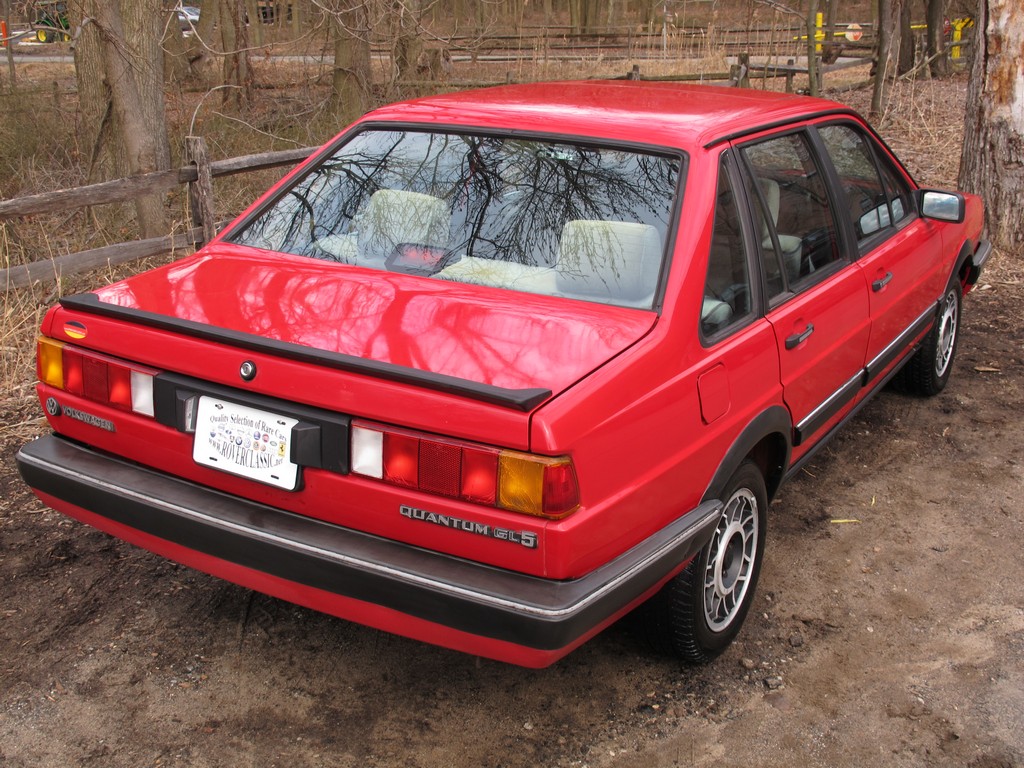 1988 Volkswagen Quantum GL5. 88,836 Original Miles
Engine: 5 Cyl, 2.5L
Transmission: Auto
VIN: WVWFB0323JE031913
Exterior: Red
Interior: Grey
Body Style: 4 Door Sedan

This very rare VW Quantum GL5 has GL trim, automatic transmission, power brakes, cloth seats, power windows, power door locks, power sunroof, tachometer, cruise control and air conditioning. Engine is in good shape, does not smoke, does not leak, nice and quiet. Transmission feels perfect, shifts without any problems, without delay, and without noise. Suspension is in excellent shape, car tracks nice and straight. There is no evidence of any electrical problems.

The exterior is in Excellent shape for a 1988. Cloth seats, carpet floor and glass are all in great shape. Interior of this car is nice and clean. This Quantum has four matching tires that are mounted on good straight aluminum rims. Our mechanics have replaced fuel pump as well as rotors and pads. It will be sold with a clear title and it will be sold as-is, where-is.
You just don't see late model Quantums in this kind of shape roaming the streets anymore, making this auction a very unique opportunity. One glaring problem with this Quantum, for me, is that it is an automatic. It certainly would be a lot more fun with three pedals. But considering the gearbox and the price, this car might wind up as a comfortable commuter for someone or perhaps a first ride for a kid looking to stand out from the crowd. That is, if someone in the VW enthusiast community doesn't snap it up first.
-Paul