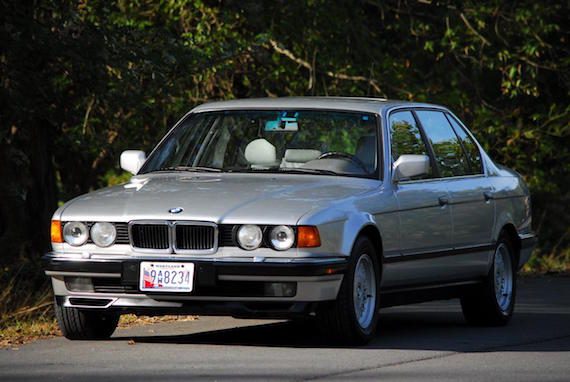 Consider this the latest in my series of "nowadays it's really hard to find an early 90s BMW that hasn't been trashed, but this one looks good" posts. I've always really admired the E32, the iteration of the 7-series built between 1986 and 1994. The very definition of a stealthy, executive express, it's a big body car that dates from an era of BMW styling which combined angular lines, conservative, teutonic good looks and classic BMW cues like the wide kidney grille and four-lamp headlights. In many ways these cars look a lot like the E34, the 5-series of the same era, just bigger and brawnier.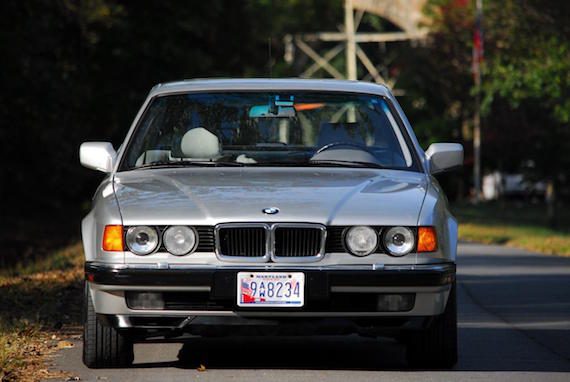 Year: 1993
Model: 740iL
Engine: 4.0 liter V8
Transmission: 5-speed automatic
Mileage: 77,790 mi
Price: No reserve auction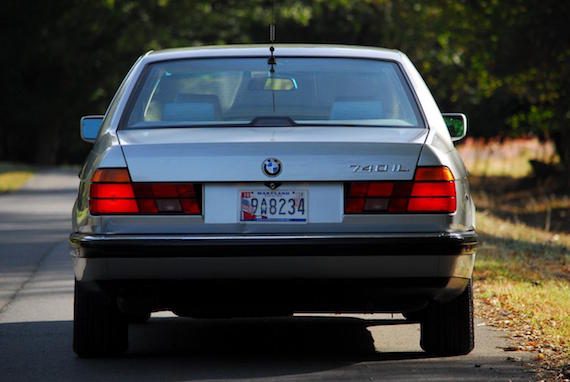 1993 BMW 740iL /Beautiful /Low Mileage 77K /Drive Anywhere

I am the second owner of this low mileage BMW 740iL. I bought this 4 years ago from the son of a doctor who passed away. He bought this new and only put 21,000 miles on it. It was breathtakingly clean and beautiful. According to his son he only drove it on weekends and preferred his pickup when it rained or snowed. His son thought it had never been driven in the snow or rain. He had complete records where all the work was done by BMW Dealers. Even though it wasn't driven much, he regularly had factory service including belts, rubber and such. All records are included

This is a terrific car. It looks great, drives perfectly and you can fly in and drive in anywhere home. I just returned from a 600 mile trip in Virginia and back. It runs cool in the worst summer traffic; A/C works perfectly, handles great and feels very tight.

Feel confident about buying this car, flying in and driving hone anywhere in the US!

Look at the photos!!
It includes

6 changer CD/ cassette player
BMW Factory car phone (it works, of course)
Original manual and cassette
Garage kept for most of its life.
Great Yokohama's 25K miles on them.
New brakes
New Battery
Cold A/C

There are a few things I wanted to correct but did not get to before I put it on eBay:

A small dent in the left rear under the taillight (see photo) and a scratch on the bumper trim.
The headliner was repaired but not professionally. I had planned on having it redone. No rips but it sags a bit over the rear seat.
Windshield reservoir has a leak (external).
A scratch on the rear seat. Otherwise the interior is beautiful
The paint looks great (again, see photos) but does show a few very some imperfections after 25 years. There are some car wash scratches, though mainly on the roof. A good buffing should have it looking great.
Though, as I have said, this car looks beautiful, it is an original 26 year old car.

All sales are final. Please do not bid if you have fewer than 5 positive feedbacks. I am sorry but I have been burned before. If his is being shipped, I will work with you as you make arrangements for pickup as much as I can. Of course, all arrangements must be made by the buyer but I will help in any way that I can.

A $500 deposit non-refundable deposit is required within 24 hours after close of auction. The remainder will be paid with a certified check or cash within 7 days of close of auction. This is a firm requirement.

There are no warranties, implied or otherwise.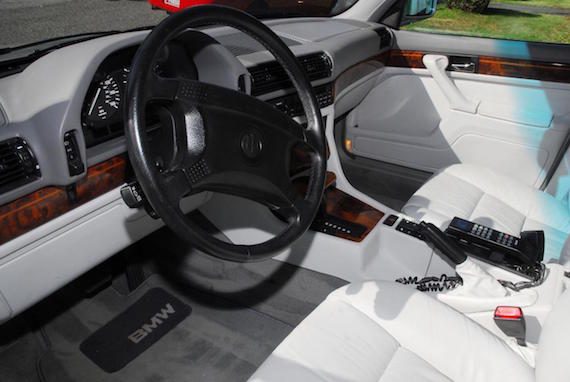 This particular car is a long wheel base 740iL in sterling silver over a matching silver-gray leather interior. Unlike most of the E32s that I've been browsing lately, both the interior and exterior on this example look to be in very good condition. The seller does note some flaws: a dent under the taillight (a look at the photo suggests there may be some rust bubbling underneath), a sagging headliner and some "car wash scratches" on the roof that a "good buffing" might remedy. Potential buyers would probably want to have a closer look at this last one, since BMW paints from this era can be prone to crazing. While this often presents like car wash scratches, the paint itself is actually cracking and the only cure is a repaint (ask me how I know).
Under the hood lies the 4.0 liter V8 M60B40 engine (the same unit found in the E34 540i), which puts about 282 hp to the back wheels through a 5-speed ZF automatic gearbox. It's a fairly robust unit and since the miles are very low on this example (77k), I would expect that this autobahn cruiser has plenty of life left in it. A VIN check reveals the car has heated front seats with lumbar support, sunblinds, stability/traction control and passenger airbag.
Bidding starts at $6.5k. My guess is that it'll sell for not much more than that because of the aforementioned flaws which, while relatively minor, mean that the car can't be offered as mint.
– Craig