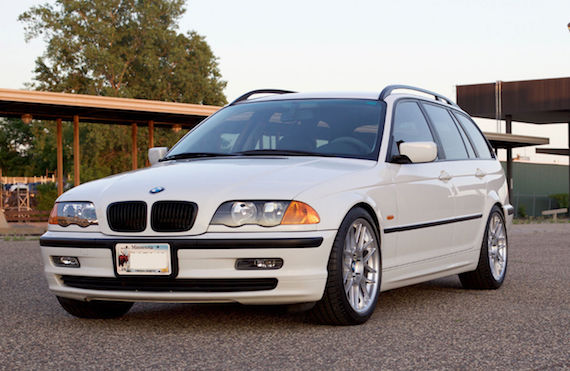 Every now and then, I come across an interesting car which I slot into my weekly rotation at GCFSB last minute. This 2000 BMW 323i Touring is one of those cars. I was in Hingham, Massachusetts on holiday last week, spending a few days at the house of a childhood friend. He's been a BMW guy ever since they days my 1988 325is convinced him to take the plunge on a 1992 325i 5-speed sedan. He has stayed true to BMW with his latest rig, a 2009 328i xDrive Touring equipped with a 6-speed manual. We discussed how great this car was, allowing you to have your family car cake and eat it too. But one question posed by my friend was what to do now that BMW no longer imports a 3 series Touring with a manual gearbox. Well, you could always dial back the clock and explore the other interesting Tourings from BMW's past. This E46 323i Touring for sale in Minnesota belies it's age and 146,000 miles on the clock thanks to some fastidious care. It also has some tasty bits included, such as M3 front seats, a ZHP shift knob and Alcantara trimmed M3 steering wheel to provide maximum driving pleasure behind the wheel.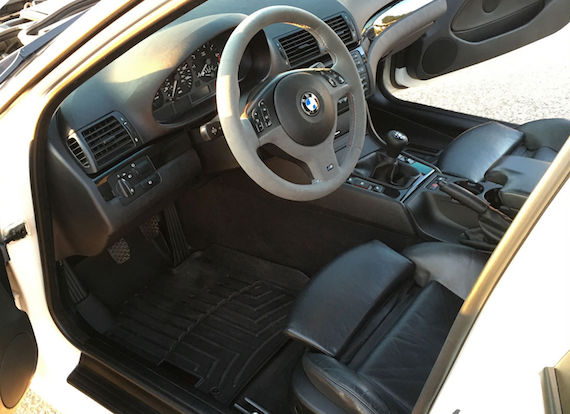 Year: 2000
Model: 323i Touring
Engine: 2.5 liter inline-6
Transmission: 5-speed manual
Mileage: 146,608 mi
Price: $10,500 Buy It Now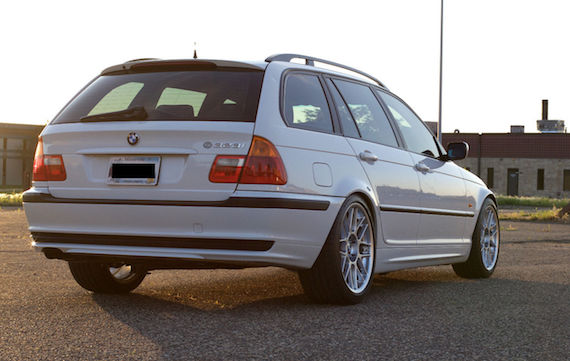 Located in Minnesota, car originally from Colorado
2000 323i Touring Wagon
146,608 miles
Alpine White / Black Interior
Slicktop (No sunroof, extra headroom, and no leaking)
Manual transmission
Rear wheel drive
Heated/Power/Memory seats
Everything works
No accidents
No rear subframe cracks

Had planned on keeping this and doing a full M3 S54 drivetrain swap next winter, most of the maintenance done was with this in mind. Things have changed and I don't have any use (or space) for more than one car and I would rather keep my MK7 GTI for the city driving I do. Overall it is in great condition for its age, and if you keep the M52 should easily go another 150k miles. Honestly it still looks better than most cars on the road, doesn't hurt that it has the early/more attractive E46 fascia!

Previous owner was an enthusiast and kept up on basics really well. The reason I ended up doing so much is he didn't really drive it much at all the past few years and I have silly standards. In total I have receipts for somewhere over $7k in maintenance parts and extras that have been recently installed, this number does not include any labor 🙂

Notables the previous owner completed:
-VCG, OFHG, and vacuum/breather components replaced at 110k
-Cooling system and belts done at 120k

Completed in October-November 2015(144,900 miles):

-Steam cleaned interior (seats removed)
-Fluids:
–Engine: Motul Xcess 5W40
–Transmission: Pentosin MTF2
–Differential: Redline 75W90
–Brakes: Pentosin Super DOT4
-Headlight and foglight bulbs (I think I used Osram Silverstar Ultras)
-New battery

BMW OE:
–Headlight lens
–Engine air filter
–Cabin air filter
–Cowl cover
-Magnetic oil drain plug
-Wheel speed sensors front
-Rust prone areas of underbody coated with Amsoil HD Metal Protect
-Spark Plugs Bosch Platinum
-All speakers replaced with BavSound full kit
-Sound insulation added to door panels
-DICE Mediabridge Bluetooth installed (newest version)
-Weathertech front mats

Just installed at 146,600 miles:

-H&R Touring Cup Kit Shocks and Springs (seems to be one of the only kits with spring rates specific to the touring)
-Hotchkis Sway Bar set including rear reinforcement (F30mm/R25mm)
-Lemfoerder:
–Bushings (all but rear subframe & differential)
–M3 engine mounts
–M3 transmission mounts
–Full tie rods
–Front end links
–ZHP control arms
–Shock mounts (F/R)

BMW OE:
–Cup holder
–Center console
–Lower radio trim
–Flex disc (new hardware as well)
–ZHP shift knob
–Lower steering coupler
–E60 545i short shifter
–Shifter ball mount
–Shifter idler mount (trans and rear)
–Gear selector input shaft joint
–Shifter shaft seal
–Driveshaft center bearing
–Brake pads
–Hatch struts
–Exhaust center bracket
–Front and rear wiper blades
–Driver side mirror
–Strut bolts(front and rear)
–Camber bolts rear
–FCAB mounting bolts
–Front strut reinforcement plates
–Spring hardware front and rear
-RTAB limiters
-Rear shock reinforcement plates
-Zimmerman rotors
-Calipers painted black
-APEX ARC-8 wheels (18×8.5 ET42 Hyper Silver)
-235/40-18 Michelin Pilot A/S3+ Tires
-M3 heated/power nappa leather seats
-Newly wrapped M3 steering wheel using Anthracite Alcantara, including lower trim

Cleaning:
-Paint coated with Chemical Guys Blacklight then Blackfire Wet Diamond
-Wheels coated with CQuartz DLUX then Blackfire Wet Diamond
-Trim and tires protected with CarPro PERL
-Interior is cleaned with Einszett Cockpit
-M3 seats were treated with Leatherique before installation

Areas of possible concern (contact for photos):

-Tiny surface rust spot forming at passenger rear fender(common due to rear bumper clip)
-Two dents that annoy me, just not enough to have them PDR'ed
-Very minor power steering leak from the usual E46 line (level hasn't dropped noticeably)
-BavSound speakers sound much better than BMW OE, but still would need an amplifier, subwoofer, and maybe processor to sound great
-Animals have fed on parts of the under-hood insulation
-Normal rock chips/minor scratches/tiny dents
-Few scuffs on M3 seat backs.
-If I were to keep the M52 I would probably do a few small things, namely the VANOS seals from Beisan and power steering line replacement.

In total it comes with 3 sets of wheels and tires:

-New Apex ARC8 18×8.5″ ET38 wheels with the new Michelin Pilot A/S 3 Plus
-SSR Type C 17×8″ wheels with fresh General Altimax Artic (1000 miles on tires, wheels are in excellent condition)
-BMW Style 68 Square rear wheels 17×8.5″ with General Exclaim UHP (Tires are 50% worn but usable, wheels in average/good condition for age with light curb scraping on one wheel and various small scratches)

Included extras:

-All stock parts: Seats, Steering wheel and airbag, sway bars, springs, shifter, etc.
-Da'lan tow and bicycle rack mount (also wired for lights)
-Black Cargo cover (getting harder to find these, $725 from most retailers)

Asking price of $10,500 includes all extras
$7,500 accepted for the car on Style 68 wheels with stock: seats, steering wheel, and sway bars
Car is sold as is with no warranty expressed or implied.

I've likely forgotten a few small things that I've done, but overall I think I have accurately represented the condition. It's a fantastic example of the often abused and less than ideally maintained E46 wagon. Happy to answer any questions!

Thanks for looking,

Andrew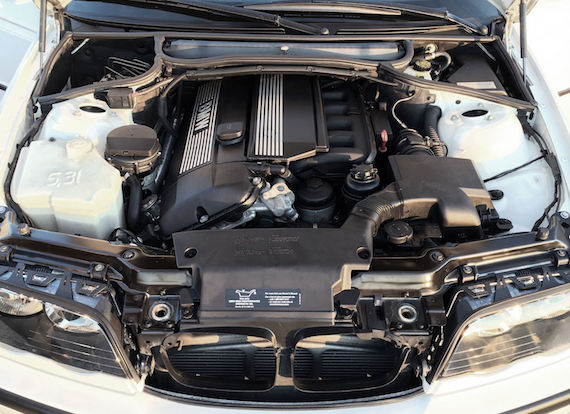 Everyone selling a car on eBay should take a good look at this seller's description of this car, right down to the type of products he used to detail the vehicle. Color me impressed. This is the way you get interested parties to pull out their checkbooks. I've always pondered why BMW never officially made an M3 Touring over all the different generations we've seen. Plenty of people have tried to create their own interpretations of the M3 Touring to various degrees of success. I like this 323i Touring because it has all the right equipment, such as sunroof delete, rear-wheel drive and the manual gearbox. Complimenting those features are modifications that turn it up a notch while doing nothing to ruin the already excellent aesthetic of the stock E46 Touring. The price is fairly strong for an E46 323i, but this one looks as if it has been lovingly cared for throughout the years. Someone is going to have a lot of fun with this Touring.
-Paul