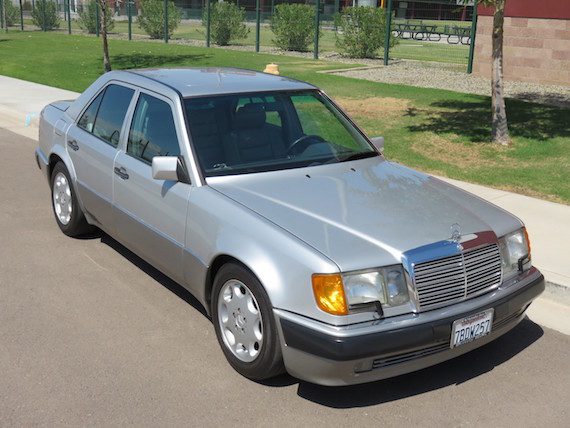 The 500E is the pumped up, M5-fighting, super-sedan version of the W124 platform E-class. The product of a Porsche-Mercedes collaboration between 1990 and 1994, these cars were 322 hp monsters capable of 155 MPH on the autobahn. Powered by the 5.0 liter V8 M119 engine, the 500E was externally differentiated from ordinary W124s only by flared fenders, a slightly lowered stance and an innocuous-looking badge at the rear. The 500E was the very definition of a wolf in sheep's clothing: practical, supremely fast and understated (a cliche, to be sure, but an apt one). I used to scour Craigslist for these cars, in the vain hope that I would come across one being sold for cheap by somebody who didn't know what they had. Sounds far fetched, I know. But Doug Demuro once found one for half price price at a dealer who mistook it for just another old Benz. Sadly, I think those days are over. The used market has since woken up to these cars and now they're usually priced anywhere between $10k and $40k depending on condition and miles.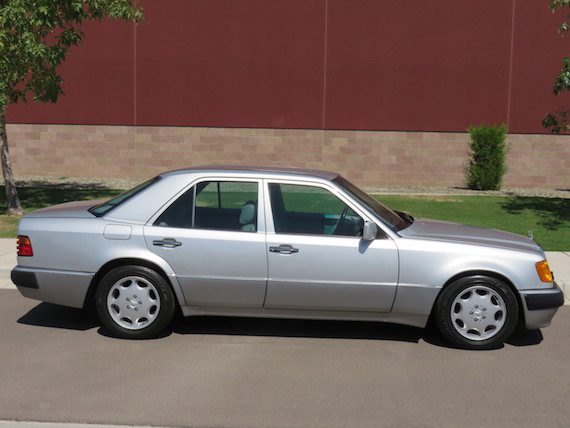 Year: 1993
Model: 500E
Engine: 5.0 liter V8
Transmission: 4-speed automatic
Mileage: 131,300 mi
Price: Reserve auction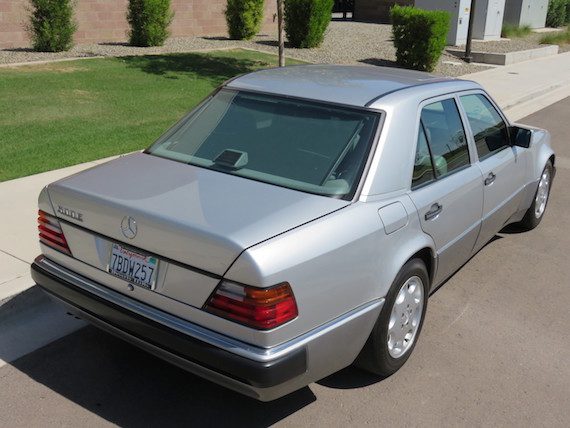 Canyon State Classics brings to market a low mileage 1993 Mercedes Benz 500E equipped with the highly desirable 5.0L V8 and factory widebody treatment.What Road and Track called a "Wolf in Sheep's Clothing," you can call your own.

Jointly developed with Porsche, the car was a luxurious sporty sedan that is nearly unanimously regarded to be one of the last cars built by Mercedes with no thought for development expenses in mind. Generously fitted with numerous standard accessories and a 5.0 l v8 engine with 4-valve cylinder heads capable of a raw output of 326 hp, the entirely hand-built e 500 is close to a work of art. And how wouldn't it be with the plenty of parts sourced from the 500 sl roadster, such as the performance 4-piston caliper brake discs? Furthermore, the car was saturated with extra-components with buyers having had few options available for further customization, such as a cd changer and a phone.
The theory was simple: stuff the Mercedes 500sl's wheels, brakes, transmission, and 322-hp v-8 into the w124 e-class. The build process was less simple. The 500e's flared-fender body shell was assembled at Porsche's Zuffenhausen facility and then shipped to the Mercedes plant in Sindelfingen for painting. After that, it was sent back to Porsche for final assembly. There were only 498 units built in 1993 and a total 1,505 units built for the entire line for US Delivery (1992-1994).

This rare example has only 131,000 miles and 3 senior owner! The car was bought new in Florida as a lease but made its way out to the Southern California area by the late 90's where it lived the rest of its life until about a month ago when it was brought here to AZ to be offered to the world. The car received many its scheduled services on time with no expenses spared, so you know this car has been extremely well cared for. This car had an original MSRP of over $80,000 in 1993, so don't miss your chance to own it for a fraction of what has been invested..

The following is a list of options as this 500E is currently equipped:

– Base MSRP $79,200
– 5.0L 322hp 8-Cyl.
– 4 Speed Automatic Transmission
– 4 Wheel Disc Brakes (Same Size as SL500)
– Porsche Designed Suspension w/ Hydraulic Leveling
– 16″ Mercedes Alloys w/ Almost New Radials
– Auto Climate Control
– Cruise Control
– Gray Recaro Leather Interior
– Alpine Audio System and CD Changer
– Power sunroof
– Power Seats
– Telescoping Steering
– Power windows
– Power Locks
– Power Antenna
– Factory 16″ Wheels with Michelins

The car is finished in beautiful Brilliant Silver with lower charcoal cladding. The body on the car is laser straight, and does not have even a single door ding. This Benz has always been garage kept and pampered its entire life and really shows. The car has never been hit, has no accident history, and still retains all original body panels and no paintwork as evidenced by matching VIN stickers on every panel. Only the hood received a fresh repaint to fix several heavy rock chips.

The beautiful gray leather interior and is all original and looks like new. Dash, door panels, carpet and seats are in like new condition. The dash and almost all of the wood panels are crack free and look like new. Complete set of tools, jack, and key are also included. Everything works in the car.. lights, gauges, radio, seats, windows, locks, a/c blows ice cold, etc. The car will also include all of its original books, quick reference guides, and service history. It also has the original full size spare and tire which has never even touched the pavement.

Mechanically, this Benz is in perfect condition and runs and drives great. The car starts up idles perfect and doesn't smoke or leak. The car has a very strong automatic transmission that shifts perfect and was Factory replaced around 50k miles. The motor puts out 322hp and is plenty to move this nimble E Class around. The car has just been serviced by an authorized Mercedes Benz technician. This car is very clean under the hood and really shows how its previous owner took excellent care of it. Recent work includes new engine wiring harness, mass airflow sensor, throttle body, brake pads/ sensors, alternator, belts and hoses.

This car is ready to go! The car is in excellent condition inside and out. The exterior of this 500E is stunning in Silver with Light Grey interior and is definitely one of the most desired color combination for the E-Class Mercedes. This is a super rare car and will make an excellent driver or collectors item, and with these super low miles..you cant go wrong! This car is also CARFAX certified! Car is currently holds California title and registration and just recently passed CA smog.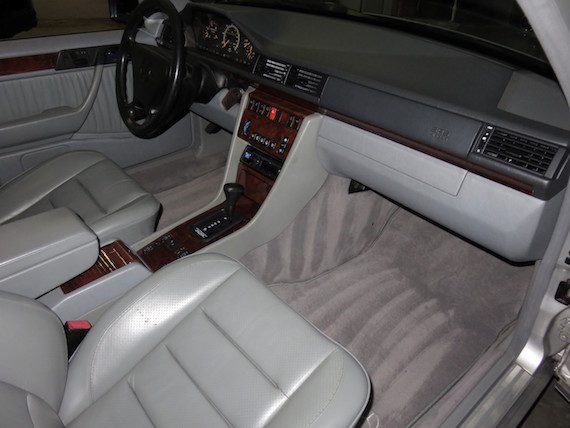 This particular example is finished in Brilliant Silver (code 744) over a gray leather interior. Condition looks great inside and out, maintenance is apparently up to date and includes a new transmission. The car wears its original paint with the exception of the hood, which has been repainted due to rock chips. One of the images appears to show some clear coat failure on the front left fender, near the panel gap with the hood, though it's not mentioned in the listing. A closer look might be required here. The observant contributors to the 500E board have discussed the car in this thread; other than the fact that it's been offered for sale a few times recently without selling, there's nothing too alarming in the history they've been able to put together.
With 131k miles on the odometer, this car has been driven rather than stored for posterity. That's not necessarily a bad thing, as long as it has been maintained properly. Potential buyers would therefore want to double check that service history and inspect the car thoroughly. Although it's currently listed on eBay with a reserve price, the dealer's website lists a price tag of $22,900 (and a slightly higher 134k miles on the odometer). I think that's a bit too high given the mileage. But if the seller is willing to come down a little, and the car is as nice in person as it looks in the ad, this could be a good deal for a car that has great presence, packs a considerable wallop and is already well on the way to becoming a future classic.
– Craig