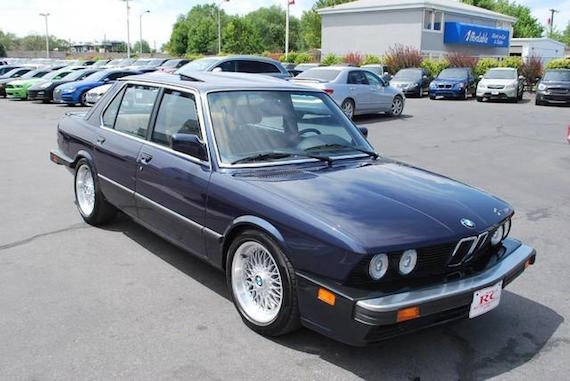 We all look back fondly on our first car. I enjoyed my short time with my 1988 BMW 325is. Truth be told, I probably wouldn't opt for another BMW. Many of the new ones lack the smooth manual gearbox of BMWs of yore and fail to fully capture that "Ultimate Driving Machine" aura. But now, the older models aren't as interesting to me as they once were. Skyrocketing prices have put many BMWs of the 1980s out of reach of enthusiasts of modest means. In addition, there seems to be a bit of a hipster aura about them, as they have become popular with those wanting to stand out. Perhaps I was an über hipster for driving an E30 back in 1998? Do I care? Not in the least. I buy things more on spur of the moment emotions.
While I scan through countless ads for E30 M3s, E24 coupes and the occasional 2002 or E21, every now and then a BMW from this era grabs my attention. This late model 535is for sale in Utah is one of them. Representing the final year for the E28, this particular 5er has an engine swap, packing a 3.4 liter turbocharged inline-6 from the E23 745i. It's not an original car, but has had some upgrades and a bit of freshening to make it a bit more appealing. It's not what you would consider concours, but would certainly make an eye-catching daily driver.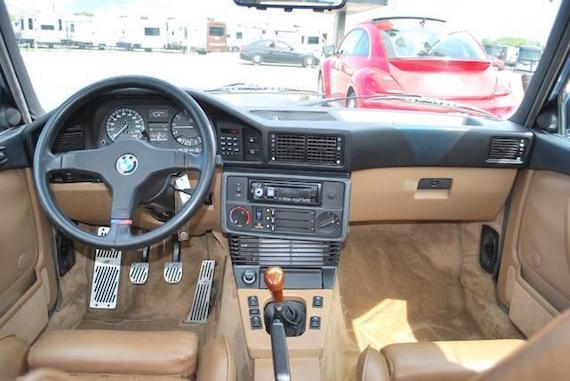 Year: 1988
Model: 535is
Engine: 3.4 liter turbocharged inline-6
Transmission: 5-speed manual
Mileage: 128,968 mi
Price: $16,000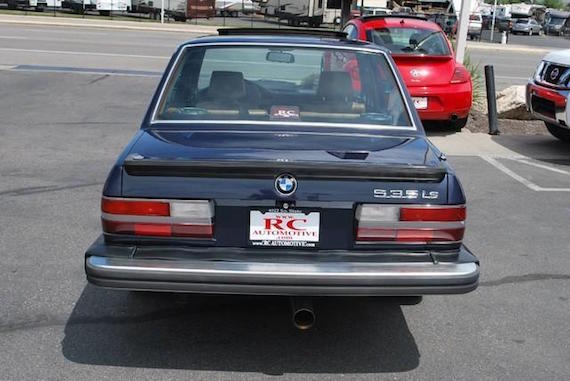 RC AUTOMOTIVE IS EXCITED TO PRESENT THIS VERY CLEAN, ONE OF A KIND 1988 535IS. THIS 535 HAS BEEN PROFESSIONALLY CONVERTED TO FACTORY BMW TURBO SIX POWER VIA FITMENT OF A 85 745I M106 PAIRED TO A GETRAG 5 SPEED AND LSD. THE DONOR 745I INSTRUMENT CLUSTER HAS BEEN FITTED AND THE 207K KILOMETERS (129K MILES) SHOWING ON IS ODOMETER REFLECT THOSE ON THE SWAPPED MOTOR. IT HAS BEEN PROFESSIONALLY REPAINTED TO ITS ROYALBLAU METALLIC USING CORRECT PPG DELTRON PAINT. INTERIOR HAS BEEN RECONDITIONED AS WELL, FEATURING A NEW FACTORY SPEC SPORT SEAT KIT WITH NEW FOAM STUFFING AND UPHOLSTERY. E39 SPORTLINE BBS STYLE 5 17 INCH WHEELS WITH PIRELLI RUN FLAT TIRES. E 32 7 SERIES V12 BRAKE CALIPERS AND ROTORS, NEW SUSPENSION FEATURES NEW BILSTIEN SPORT STRUTS, NEW STRUT MOUNTS, M5 CONTROL ARMS, NEW POWERFLEX BUSHINGS HAVE BEEN FITTED IN THE REAR SUBFRAME AND A NEW DIFF MOUNT SITS IN THE REAR. SUBTLE EXTERIOR TOUCHES INCLUDE LIGHT CLUSTERS RUNNING AN AMBER DELETE KIT, OEM FOG LIGHT OPENINGS USED AS COOLING DUCTS FOR THE FRONT BRAKES, LIGHTS REPLACED BY A HIGH/LOW HID KIT 300K LOW BEAMS AND 4300K HIGHS. EXHAUST IS VIA A STRAIGHT THREE INCH PIPE FROM THE TURBO BACK AND BORLA MUFFLER. THIS WORK WAS ALL DONE EARLIER THIS SUMMER. ITS ALSO HAS ALL UPGRADED SPEAKERS, SUB, AND FACE PLATE WITH BLUETOOTH. CONTACT OUR SALES DEPARTMENT AT (888) 638-8308 TO SCHEDULE AN APPOINTMENT OR WITH ANY OTHER QUESTIONS OR CONCERNS.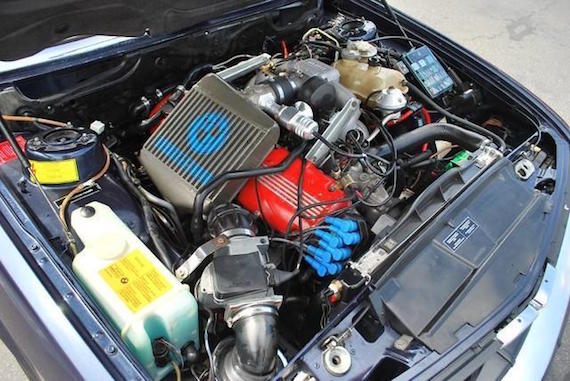 Normally I'm not an advocate of fitting later model alloy wheels on a classic, but the Style 5 wheels look great on both the 535is and M5 of this generation. The aggressive look goes so well with the shark nose on these 5ers. The nearest comparison to this car in our Hammertime archives that I could find was a 1985 535i equipped with a 5-speed manual that sold last summer for $12,000. That car had just under 70,000 miles on the odometer at the time and was very original. One year later, is a heavily modified 1988 535is with a lot more miles worth another $4,000? Probably not, but I'd suspect we are not too far off in terms of value when E28 M5s are pulling serious cash.
-Paul