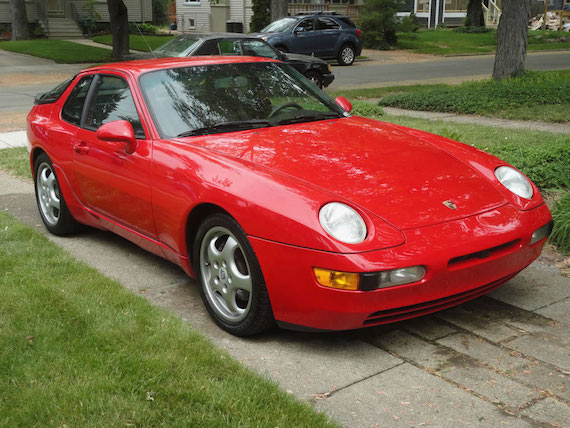 The Porsche 968 continues to capture the imagination of sports car enthusiasts to this day, especially for those who seek the best in handling dynamics. This car was almost a ready-made track car with an almost perfect weight distribution and a large displacement, torquey four-cylinder engine. What was supposed to be a "944 S3" turned out to be different enough than the original formula for Porsche to change the nomenclature. Nevertheless, this final 944 iteration was, like many final production cars, a perfection of the breed. This 968 for sale in Michigan isn't a low-mileage garage queen, but with a few issues sorted, would make a great driver going forward.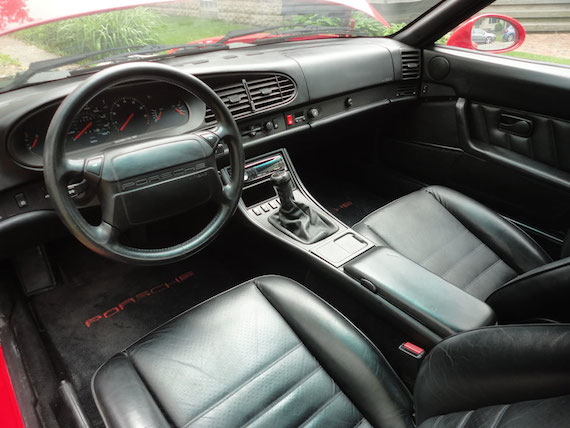 Year: 1993
Model: 968
Engine: 3.0 inline-4
Transmission: 6-speed manual
Mileage: 132,267 mi
Price: No reserve auction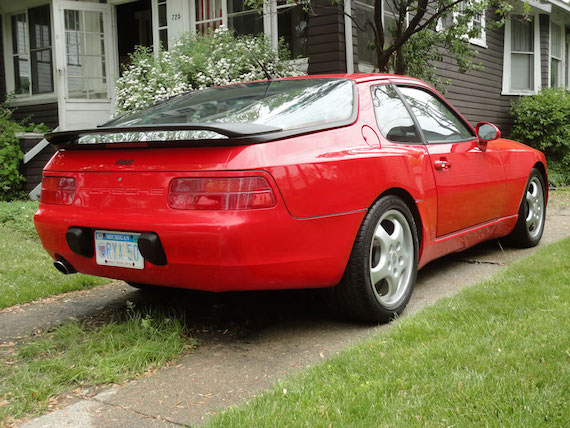 Rare 1993 Porsche 968 Coupe w/6-Speed Manual

Only 2,234 coupes were ever imported into North America over the 4 year production run, and many of those were the less-desirable automatics. That makes it one of Porsche's rarest production vehicles ever.

I've owned this 968 for 14 years: purchased in 2001 at 85,000 miles, while living in south Georgia. It was my daily driver until moving back to Michigan, when it became my second car. I believe I am either the 3rd or 4th owner. The original owner was in Florida. The car has never been tracked. The car is completely stock, with the exception of the radio head unit.

This engine is a screamer! It'll rev freely up to the 6200 rpm redline, making fantastic sounds. The hatchback makes this a practical sports car. I've gotten my golf clubs and mountain bike inside at the same time.

I give it 9/10 mechanically and maybe 8/10 cosmetically, but I'm picky. I believe the car is 100% leak free. Most seals/gaskets have been replaced during my ownership. There are no issues with engine, transmission, suspension, steering, hvac, etc. I have tried to take pictures of all cosmetic issues in detail, so there are no mistaken expectations. Engine bay is beautifully clean, and a joy to work within. This was never a show car, but it is an extremely presentable driver's car.

BASICS:
6-speed manual transmission (rear transaxle for near 50/50 weight distribution)
236 hp 3.0L inline four, 16-valve DOHC, with contra-rotating balance shafts
Variocam (variable camshaft timing) for outstanding torque
Guards Red with black interior
Power seats
Original factory optional 17" Cup 1 rims, staggered width (repainted)
Dual airbags, ABS
Fuel efficient … I saw mid 20's regularly in the city, around 30 with highway driving
The usual… power sunroof (removable panel), power windows, am/fm/cd, alarm, power locks, power heated mirrors, rear defroster, AC.

OPTION CODES:

231 … internal code for tire fitment

331 … AM/FM cassette w/2 door speakers

403 … Pressure cast 17″ Cup 1 wheels

454 … automatic speed control

650 … detachable roof, electric

C02 … catalytic converter

ISSUES: Keep in mind, this is a 22 year old car with 130k+ miles:
Rear window wiper is non-functional (plastic worm gear in motor assembly is stripped)
Cruise control has intermittent fault where it will turn itself off (I suspect a mis-calibrated pedal sensor)
Small section of black trim between front driver fender and lower sill is missing (see pic)
Section of headliner trim is coming unglued at edges. This is a removable trim board. Material is intact and can be reglued.
Dash has some cracks beneath windshield
Scratch on front fender from road debris. Scratch near gas filler. Pot-mark on rear bumper. Small chip on edge of sunroof panel.
Glovebox lid hinge is failing (this is the glovebox between the seats, not the one in-dash). The hinge is plastic and is just wearing out from use.

MAINTENANCE: performed during my ownership, listed oldest-to-newest, from around 85k miles to current:
Clutch replaced
Clutch slave cylinder and master cylinder replaced
Clutch hydraulic hose replaced
Battery replaced
Spark plugs replaced
Variocam unit overhauled with new chain and new tensioner pads (This is a known problem area. The chain can stretch, which will eventually break the sprocket teeth on the camshafts. $$$ Also, the old plastic tensioner rails can crack causing the mechanism to seize. This service requires removal of the camshafts but is important on any higher mileage vehicle. I have pictures of the beautiful camshaft teeth!)
Radiator and coolant hoses replaced (coolant leak at plastic end tanks on aluminum radiator)
Water pump replaced (preventative)
Belts and rollers replaced (standard preventative)
Oil Pan gasket replaced
Valve cover gasket replaced
Motor mounts replaced
Spark plugs replaced
Power steering pump rebuilt (due to leak at gasket)
Sway bar bushings replaced (swelling from leaking steering fluid)
Heater valve replaced (preventative)
DME relay replaced (preventative)
Battery replaced again
Hatch struts replaced

Within past year:
All front engine oil seals and races replaced (including at crankshaft, camshafts, and balance shafts)
Timing and balance shaft belts replaced and tensioned
Power steering rack replaced due to leak
Clutch hydraulic hose replaced (yes, again. Known weak point in hydraulic system. Replace every 10 yrs)
Hood struts replaced

MISC:
Air conditioning is cold and has never needed a recharge
Never had the pinion bearing issue
Tires are relatively new, have seen limited mileage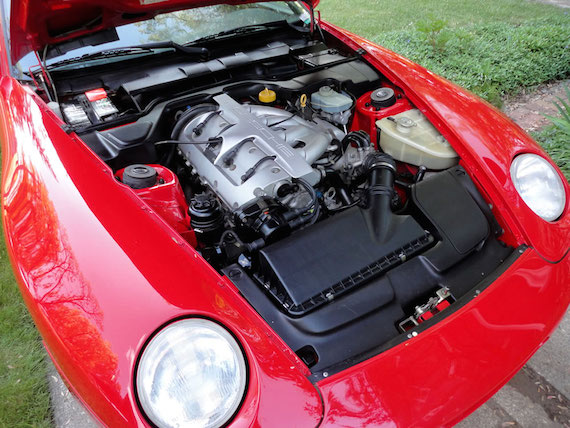 We saw a 1993 968 6-speed sell for a little under $14,000 back in March. That example had over 166,000 miles on it, so considering the maintenance done and the issues, I'd suspect this car should fetch somewhere around this level. Overall, this 968 isn't perfect, but with a detailed description of the seller and it's desirable color combination, it would be a decent example for the beginning Porsche enthusiast or someone looking to snap up a 968 at a lower cost as prices continue to creep up.
-Paul