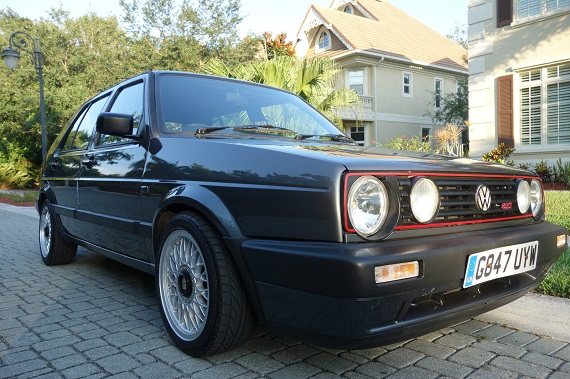 I wonder when the Mk.2 market is really going to blow up. For some time, it's been the A1 models and Sciroccos that have really drawn the big money. Of course, on the other side the Mk.2 market is bookended by the Corrado market, which has always been quite hot. But the 1985-1992 Golf was a very popular platform; I had one, my friends had them, and we drove them hard and turned them up. They were European style on the cheap, versatile and economic hatches that were fun to drive, reasonably reliable and just different enough from the norm to make you feel special. But today, 23 years after the Mk.2 left U.S. shores, there are precious few left in good original shape. I don't think that the Golf was ever intended to be a collector car, mind you – but then, neither was the original Mk.1 Golf, and those have certainly proven their staying power. However, in Europe, the Mk.2 crowd is – if anything – much stronger than it was in the U.S., and since Volkswagen sold more of the later models in Europe and they're now becoming import legal, it seems appropriately time that these models start sneaking over to these shores, primed to take advantage of a surging 1980s market: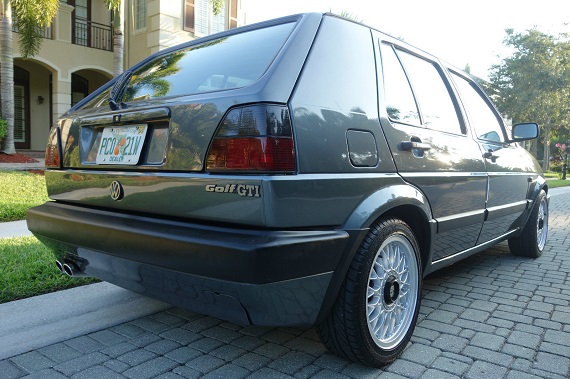 Year: 1990
Model: Golf GL
Engine: 1.8 liter inline-4
Transmission: 3-speed automatic
Mileage: 34,667 mi
Price: Reserve Auction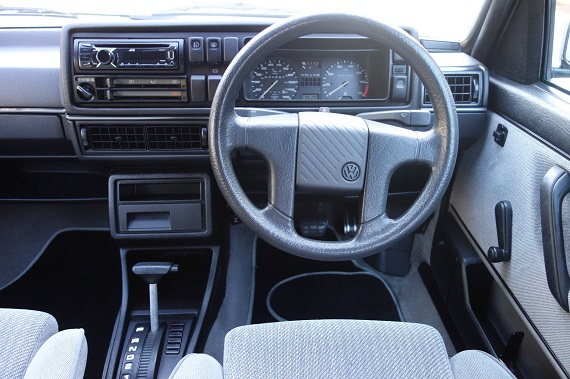 For sale European Right Hand Drive 1990 VW GOLF GL.
Vin WVWZZZ1GZLW306617
VW GOLF is 1990 Model

Here is a very nice low mileage VW Golf GL, Metallic Grey, fitted with Automatic transmission, Power Steering, sun roof, Very good grey cloth sport seats, finished off with a set of OEM 15″ BBS alloy wheel rims & New Tires & New stainless steel exhaust system.

I bought this 1990 Golf GL in England Last year and imported it over to Florida, It has a clear title with Florida DMV, It would be the same to title this car in your own state as it would with any Florida Titled car, However being from Europe it is not fitted with a catalytic convertor or airbags, So you may need to check rules for smog test in your own state before bidding.

The car has only covered 34,xxx miles Car has just been service replacing oil and filters, & Timing belt, New Webber Carburetor, the car runs great, its fitted with factory 1.8 Engine and mated to automatic transmission, Car is not fitted with factory air con which is usual due to the European mild climate.

Inside the car is in exceptional condition for 25 years old, dashboard is crack free, Steering wheel only shows minor wear as you would expect from such a low mileage car, Seats are in Excellent condition with no rips or tears, folding rear seats makes the car very practical and roomy, there is a cargo area rear parcel shelf to cover the trunk area with tool kit, Carpets are in great order with no rips or tears, all switch gear is working and in good condition, New black Headliner & factory sun roof, All Gauges work as they should.

Outside the Metallic Grey paint looks Excellent, But not perfect, its 25 years old so there is the odd mark and scratch if you look closely, rear wheel arches, strut towers, windshield scuttle, floors doors are all solid without any major sign of rot, Front head lights are fitted with halo rings, Left Inner head light has a crack in the lens, The Golf sat on a set of OEM 15″ BBS alloy wheel rims which have just been refurbished to a very high standard with New 195/45/15 Tires and New Lowering springs, Previous owner added the GTi badges, but car is a GL Model, they look good so I left them on.

This Golf runs Great, engine runs smooth and performs very well, pulling strong with no untoward noise or fuss, Gear change is smooth, and the brakes stop the car nicely with great pedal feel, the suspension is smooth and composed, with no knocks or rattles, This car drives very well, you would not be disappointed, Any inspection is very welcome.

It is easy to see why the VW Golf is such a sought after car and has become a great classic every day driver, Its a simple and dependable car that's great fun to drive without all the fuss and gadgets that some modern cars including newer VW's sometimes detract from the pleasure of actually driving a fun car.

Don't miss your chance to buy this European RHD VW GOLF GL.

More pictures are available on request, If you have any questions please ask before the auction ends not after, Please only bid if you intend to buy, any inspection is welcome and should be done before the auction ends.

Shipping is available

FL, GA, AL, $195.00
MS, SC, TN, NC, AR, LA $375
KY, VA, WV, IN, OH, PA, NY, DE, CT, MA, NH, RI, VT, ME, MI, WI, IL, MN, IA, MO, TX $650
OK, KS, NE, SD, ND, NM, CO, WY $850
MT, ID, OR, CA, UT, WA, NV, AZ $1000

Sorry no shipping to AK, HI, PR or islands.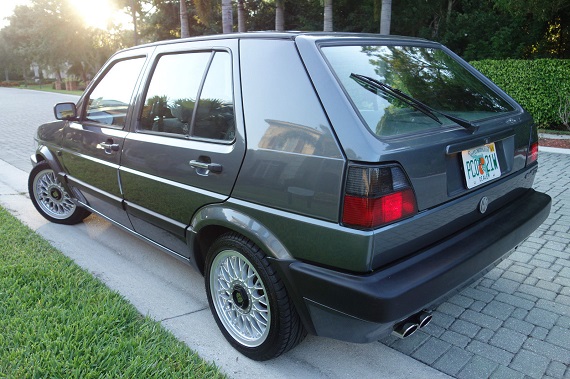 This seller has offered many European model E30 BMWs; I'd guess if this car clears their reserve, we'll start seeing more like this pop up for sale. It's a bit strange in some ways that this car is bringing the money the auction currently reports; at time of writing, with 3 days to go, it's cleared $6,000 with the reserve still on. That's big money for what's effectively a lightly optioned mid-range automatic 4-door Golf. But it's got some nice GTi details added, a fantastic set of Corrado-spec BBS RZ wheels which need new centercaps badly, and the condition is fantastic. Personally, I like the 4-door more than the 2-door, as crazy as that might sound. The proportions are just right, and don't forget that the ultra-special Golf Limited was a 4-door. Big bumpers look to be original on this example; European models differed in trim specs and it's somewhat hard to follow, as well as 1990 being the break between small and big bumpered cars; however, it appears this car had factory fog lights which points towards the big bumpers. The 4-headlight grill was likely added and the halo lights certainly aren't original but easily changed, though I like the half smoked taillights. Interior condition is fantastic and the seats are the sportier models than most base Golfs came to the U.S. with. This is, at the end of the day, a looker – and likely a car that will be snapped up and turned into a stance-tacular show car, because even at $6,000 it's not much more expensive than a good paint job on a tired, old example. With only 34,000 miles on the clock and a Euro RHD cockpit, though, you can bet this will be a car that draws a crowd at the next Volkswagen show – even if it's not bagged and bedazzled.
-Carter