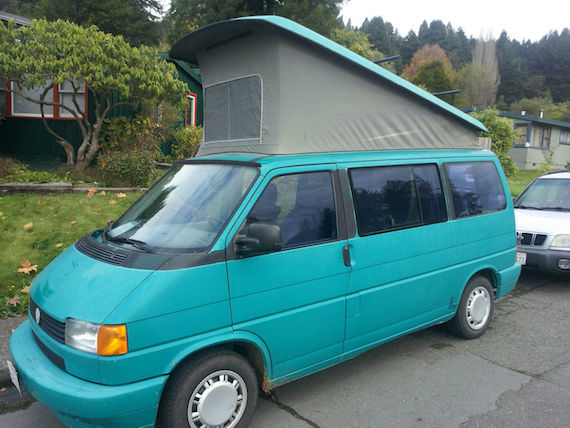 This weekend an old, rarely-seen but often kept in touch with friend came to the island I live on in his camper van. It's a 2004 Ford E350, fully decked out with a kitchen, stand-up desk, futon, tons of storage, and a hightop so you can stand fairly comfortably. It reinspired my desire for a van that you can hang out in as you roadtrip. And while the draw to the Vanagon is well-documented, the later Eurovan has its charms. This 1993 Weekender is equipped with the classic Audi 5-cylinder (with classic Audi miles) and pop-top, but the weekender model eschews the kitchen for just a fold-out table and rear futon, but it's a good base for trips shorter than a week. It's an inexpensive way to get in on the van life, and a platform ripe for improvement as the years go on.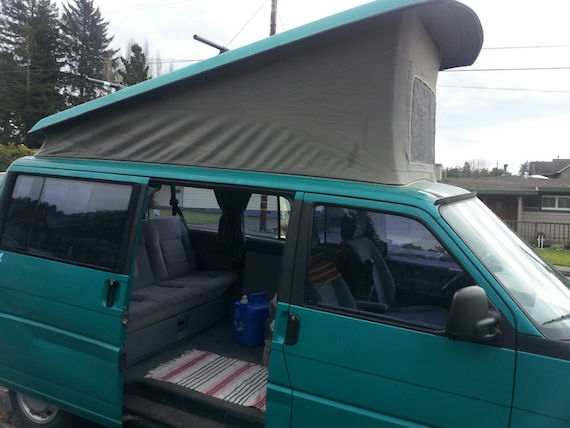 Year: 1993
Model: Eurovan Weekender
Engine: 2.5 liter inline-5
Transmission: 4-speed automatic
Mileage: 179,486 mi
Price: No-Reserve Auction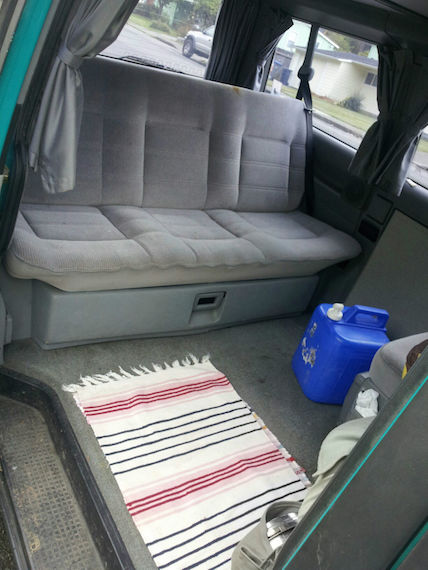 93 Eurovan MV weekender edition. 5 cylinder 179486 miles. Van is Teal in color and is in great condition. Little rust or salt damage. Michelin tires, new shocks, ball joints, tie rods, coolant manifold, fan switch. Sliding door is dented but painted and functions normally. Yakima roof rack and camping accessories included. Michelin Agilis tires weight rated and are all at >%80.
Tow hitch, cooler box that works well and folding table inside. This van was in CO, Southern CA, and now Bozeman MT. Pop up bed and folding back seat turns into a bed also. Cooler box and rear interior lights run on a separate battery so starting up after camping is not a problem. This van is road and winter tested and has had good care and preventive maintenance. Have records of major repairs. Non Smoking. Rear hatch door is sticky but opens always from the inside. Lock core is broken on passenger front door. Can lock from inside but not with key from out. CD player not working radio yes but needs new antenna. Pricing below Blue book for these issues. This van can keep up on the highway and is a sweet rig for road trips.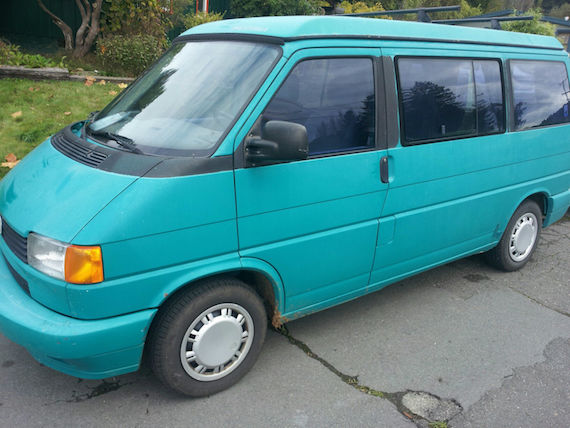 With no reserve and little interest thus far, it could go for right near its opening bid of $8,500. With the height advantages of a pop-top and a simple interior, this van is a great camper for the money. If you put that same amount into some improvements – a rebuild or new engine when the time comes, a stereo, a more extensive camping setup – you'd have a heck of a camper for what's pretty much the cost of entry for any Vanagon.
-NR