The Corrado is one of my favorite VWs of all time…in theory. Ever since I saw a Nugget Yellow G60 in Car and Driver circa 1989 I was bitten. Then the VR6 SLC came out and it was all over; the noise that those cars make is one of the best. Over the years Corrados have popped up for sale and for some reason or another I have passed, and I'm not sure why. Part of me thinks it's a subconscoius defense mechanism keeping me safe from problematic cars or maybe I just like the idea of the Corrado more than the car itself.
The Corrado was a VAG developed and Karmann built sports car that was originally intended to be the successor to the aging 944, however that never came to fruition and it was released under the VW marque. Based on the VW MK2 Golf chassis, the Corrado was originally offered with the Supercharged 1.8l 4 cylinder G60 engine and later with the legendary VR6 narrow angle V6 powerplant. In both variations the Corrado was a quick and fun little car to drive, but the reliability left alot to be desired.
Year:1993
Model:Corrado
Engine: 2.8L VR6
Transmission: 5 speed manual
Mileage:109,000
Price:$5300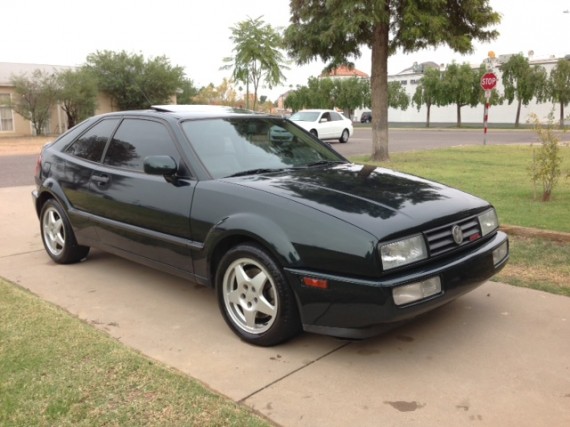 This is a 1993 Volkswagon Corrado in Very Good condition. Good luck finding another as clean as this one is. It has a V6 VR6 and a 5-speed manual transmission. The car has a CLEAN title and only 109,000 original miles! Ice cold A/C and warm heat! This car is loaded with power windows, locks, mirrors, sun roof, premium sound, and very nice leather! As you can see this car has been taken care of extremely well and never neglected. Only asking $5,300. Call March: 602 330 5309
While generally plagued with reliability issues, mostly of the electrical persuasion, the Corrado has a love/hate relationship with VW enthusiasts. More often than not these cars ar an electrical nightmare, with the trick rear spoiler and sunroof being two of the most common failures. These are items to certainly keep in mind with looking at these cars. With over 100K miles, it is also good to look at the timing chains and tensioners. It's a bonus if they are already done, as it's a pricey fix.
All in all this Corrado looks like it's well kept, and with reasonably priced at $5,300. For anyone in the market for a Corrado, this would be a great pick up.
-Brian