Warning!
This post is in our archives. Links in this post may have been updated to point to similar cars available to bid on eBay.
No discussion about durable goods should go without mention of the Mercedes-Benz W123. For ten years, this model range was the bread and butter of the lineup. Even after almost 30 years since production ceased, this car's legendary build quality and reliability has built up a sort of cult of personality. The estate model was the workhorse of the lineup, but still had that air of class about it with a touch of simplicity that vintage Mercedes-Benzes pull off so well. This 300TDT for sale in Los Angeles strikes a bit of a German taxi pose in light ivory but has a lot of service left to give with a touch over 150,000 miles.
Year: 1985
Model: 300TDT
Engine: 3.0 five cylinder turbo diesel
Transmission: 4-speed automatic
Mileage: 157,300 mi
Price: $14,950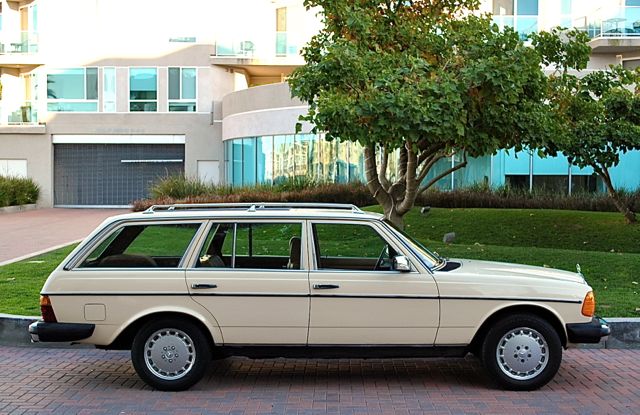 Today I am selling my 1985 Mercedes turbo diesel wagon. 1985 was the last year Mercedes built the incredible 123 series wagon. They are known as the over-engineered cars Mercedes built their reputation on. They were made from 1978-1985 and only from 1982-1985 with the turbo charger. By 1982 these cars already had a reputation for being extremely reliable and economical. Now with the added horsepower they also had enough power. My car only has 157k miles on it, which is actually considered low miles for this kind of Mercedes. If you do a search here on eBay, you will find several Mercedes diesel of this vintage with over 400k miles and still running well. If you keep taking care of this kind of Mercedes, they really can last you a lifetime.

This wagon cruises comfortably at 85 miles per hour all day long, while still getting 26 mpg of diesel. It is truly fun to drive in town and on the freeway. It was finished in "light ivory " (MB color code 623) with Palomino color MB-tex interior. The body and the paint are still in good condition with just minor little dings from 28 years of service. I posted many pictures and you can see, that the body and the paint are still very nice, but not perfect. The interior is very clean as well. There are a couple of hairline cracks in the dashboard, as most of these car have. The wood accents are still very nice, the seats are fine and the carpets are clean. It is a great looking 28 year old car and I get thumbs up whenever I take it out. But the best thing about it is the way it drives. It has been maintained well and it shows.

Just within the last couple of months I replaced the motor mounts, driveshaft axle, fluids and filters, adjusted the valves, installed a new hood pad and new shocks for the rear gate. If you have any questions or if you would like to see the car, please send me a message here through eBay and I will get back to you shortly. I would prefer to sell my car here locally to somebody who could actually come out and see it, but I would also be willing to help with shipping arrangements or an airport pick up. Please do have your funding in order and do all your "due diligence" BEFORE placing a bid. This is a wonderful 28 year old car and it will be sold WITHOUT a warranty "as is" and "where is." I am located in West Los Angeles and can show the car almost anytime. I did upload many more pictures, so please be patient, if they take some time to load. They can describe this car much better than I can. Thank you for looking at my auction and good luck.
We've featured several W123 estates over the past several months and currently the market for examples with 100,000 to 200,000 is ranging roughly from $10,000 to $15,000. As is the case with many cars, final year examples tend to be more desirable as is the case here. While the later style alloy wheels are not correct, they don't detract too much from the overall package. I'll always be a fan of the W123 diesels and for those looking to save the environment, what better way to do it than to buy a safe, durable and fuel efficient old Mercedes like this?
-Paul