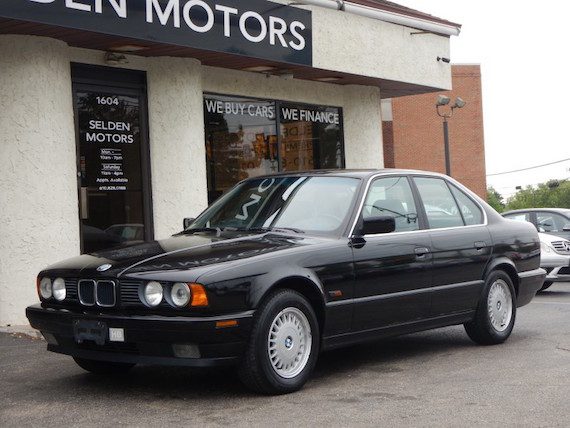 A couple of weeks ago I wrote up a 1995 530i. I noted that despite classically handsome styling and a spot-on chassis, the E34 5-series has remained curiously under appreciated, with the exception perhaps of the M5 variant.  At the time, I admitted that the particular example I posted (an automatic with the relatively underpowered 3.0 V8) wasn't exactly the best of the range. This 525i probably offers a better all round package than the 530i, and is more likely to be attractive to those looking for a cheap but dynamic daily driver. While it's not in quite the same condition as that other car, this one arguably has a better engine and comes in a better color, with a more competitive asking price. It also features that all important third pedal.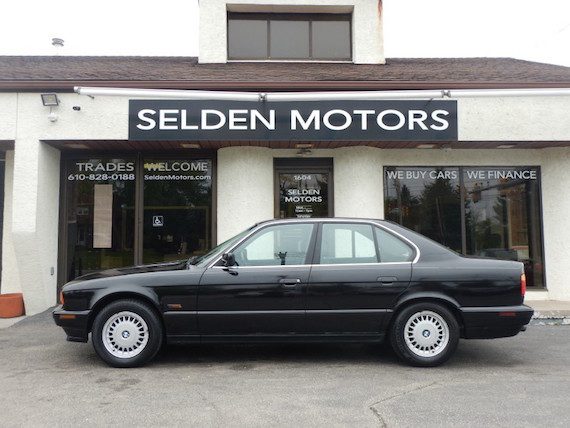 Year: 1994
Model: 525i
Engine: 2.5 liter inline-6
Transmission: 5-speed manual
Mileage: 84,186 mi
Price: $4,500 or Make Offer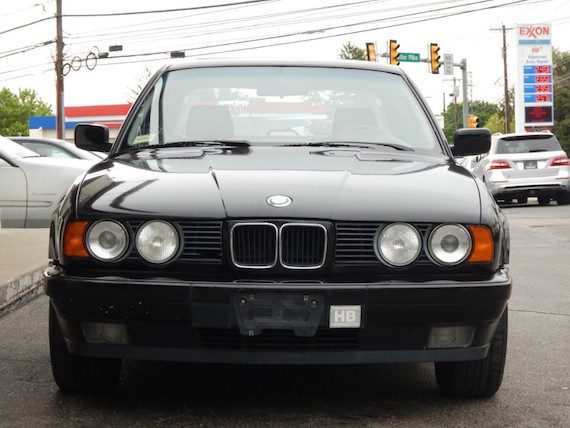 1994 BMW 5 Series 525i

*** 1994 BMW 525I SEDAN *** 5 SPEED MANUAL *** CLEAN CARFAX REPORT *** LEATHER INTERIOR *** POWER SUNROOF *** POWER LOCKS *** ALLOY WHEELS ***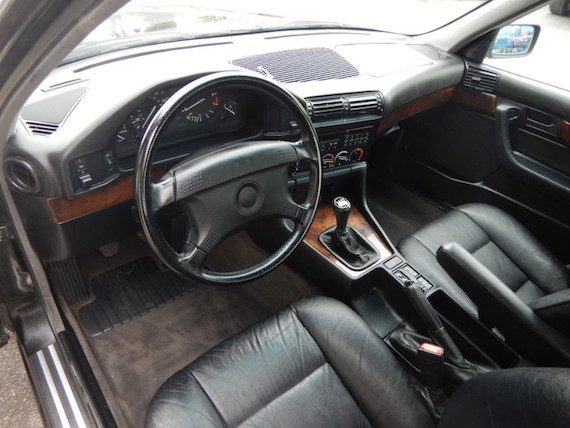 The 525i is powered by BMW's M50B25 engine, a 2.5 liter, straight six unit making 189 hp and 181 lb-ft of torque.  When specified with the manual gearbox, as it is here, the entry level E34 is a peppy and fun car to drive. It's not all that fast in a straight line, but does invite being driven eagerly around twists and bends, where it remains composed, spritely and willing. The M50 engine is highly regarded for its long term reliability and this car carries the M50B25TU ("Technical Update") version, which added VANOS, BMW's variable valve timing system. I currently drive the same car but with a non-VANOS engine, and I'll admit that in the lower rev ranges the motor can sometimes feel a little lazy; it doesn't really wake up until pushed. But when it does wake up, it's a gem. So I assume that the variable valve timing on this example, which helps to distribute torque more broadly across the rev band, is a welcome addition.
Black on black suits this car very well. The dark interior, which looks nice and tidy on this one, makes the cabin shrink around the driver, reinforcing the impression that you're driving a sport sedan, not just a sedan with sporting pretensions. There's not a lot of information in the ad, but a VIN check reveals that this car is equipped with ASC (traction control), heated front seats and front passenger airbag, which are all nice features to have. The leather seats look like they are in good condition (as they should be for a car that has covered only 84k miles) and the wood trim on the dash and doors looks to be in good repair. Vinyl door cards, usually a weak spot as the glue weakens and they begin to unpeel, look okay in the pictures. Unfortunately, the front bumper shows some fairly sizable rock chips, a piece of the plastic grille near the kidneys appears to broken, and there is some discoloration on both sides of the car along the lower door sills. It's hard to tell what this is from the photos, but it could be evidence of rust, or a poorly performed paint job to cover it up. The moldings along the door sills trap moisture and debris, leading to rust along the bottom of the doors, a common problem on E34s.
These are not necessarily fatal flaws, but could well be grounds for negotiation on the price. While the E34 may not turn out to be a collectible, if you manage to knock the seller down a bit at the very least you'll walk away with a cheap, fun and rewarding little daily driver.
– Craig