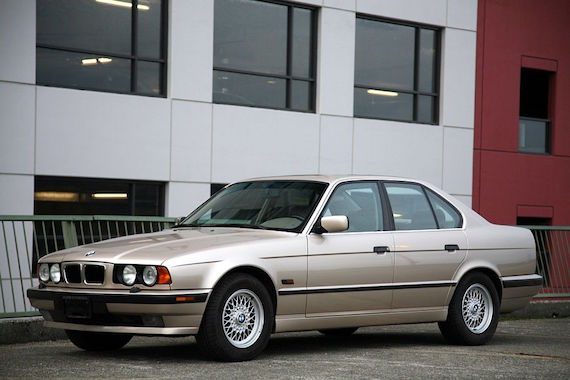 It's surprisingly difficult to find a clean, low-mileage E34 5-series. I should know: I recently bought one myself. Although I eventually found a nice example, I had to wade through a lot of sad and tired cars before finding it. That's a shame because these are among the most attractive and well-balanced cars produced by BMW in recent memory. The design neatly bridges the angular, four-headlight era with the softer, more rounded period to come in the late 90s, and is likely to be looked back upon as a classic. The styling is purposeful, handsome and unmistakably BMW. Even the hot versions, the 540i M-Sport and the M5, are only distinguished from the lower models by subtly modified bumpers and side skirts, leaving owners of base models, like myself, able to kid themselves that they are driving something a bit more special than they really are. The finely weighted chassis makes the car feel surprisingly throwable and sporty for an executive sedan; if the equivalent car from Mercedes, the W124, is built for autobahn cruising, the E34 is well suited to driving the back roads.
But unfortunately, a lot of these have already been driven into the ground. Every now and again however a nice one pops up, like this mint condition example for sale in Canada and eligible for import into the US.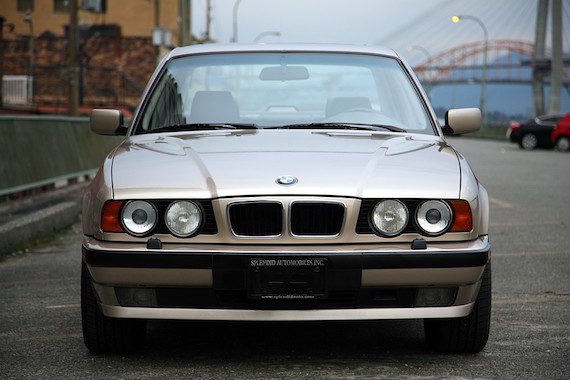 Year: 1995
Model: 530i
Engine: 3.0 liter V8
Transmission: 5-speed automatic
Mileage: 64,300 mi
Price: $9,900 Buy It Now or Make Offer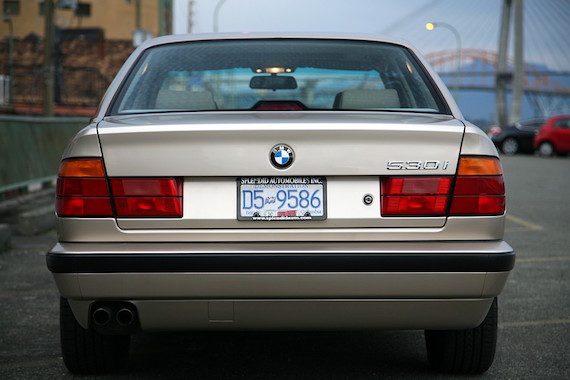 This is museum quality and completely original 1995 BMW 530i E34, which has covered only 103,500 Kilometers (64,300 Miles) since new. It has had one owner only. Original paint is in fantastic condition. It was originally sold by Brian Jessel BMW in Vancouver and always serviced there. The car is currently registered in British Columbia, Canada. It drives great – powerful, smooth and quiet. As it can be seen from the photographs, it is in immaculate condition. It is unlikely that a nicer on exists.

The interior is very clean, no cracks on the dash. The leather is soft and supple, the wood trim in fantastic shape. It has all the usual power options and a trunk mounted CD Changer. ASC Traction Control. All electrical accessories work – power windows, mirrors, sunroof, AC, every switch, every light bulb, etc. Very recent Michelin tires. NO Leaks! All books and keys.

We have seen many clean and original classic cars, but this one is very special. Incredible condition.

For more information, or to schedule viewing appointment in Vancouver, please call Splendid Automobiles Inc. (604) 516-6002

Complete safety and mechanical inspections were performed on this vehicle as part of our reconditioning process. This vehicle is fully operational and can be driven anywhere

A NOTE TO OUR USA CUSTOMERS: As this vehicle is over 21 years old, it is exempt from US EPA compliance requirements. We will provide a letter from BMW certifying that the car complies with US DOT and EPA requirements. It is fully admissible to USA and NO modifications are required. We can assist you with shipping arrangements worldwide. Canadian residents are required to pay GST, BC residents pay PST and GST. No tax will be collected from non-Canadian residents.

We ship worldwide.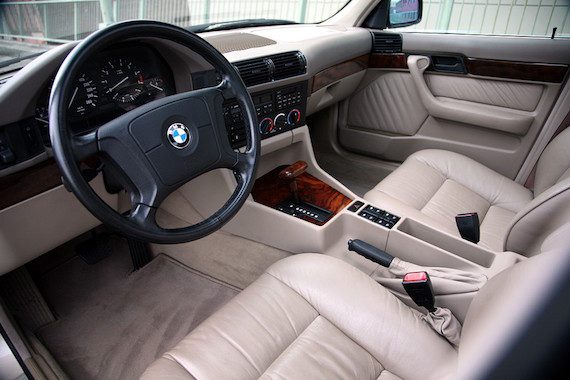 This car is presented in a very 80s-esque Cashmere Beige over parchment tan leather. The paint looks excellent, with late-model color coded lower sills and valence set off nicely by a set of basket-weave wheels. Potential buyers would want to check the lower edges of the doors: the plastic moldings trap debris and moisture here leading to rust, and this can even affect cars that otherwise appear to be clean. The interior looks equally good, with spotless leather and glossy wood trim. This makes for quite a change from most E34s on the market, whose interiors are often ratty – well known weak points include the door cards, which have a tendency to become unglued, and sagging headliners. But here everything looks new, which is not surprising since the car has only covered 62k miles. The ergonomically designed cabin offers few gizmos or distractions, just all the controls the driver needs, within easy and intuitive reach.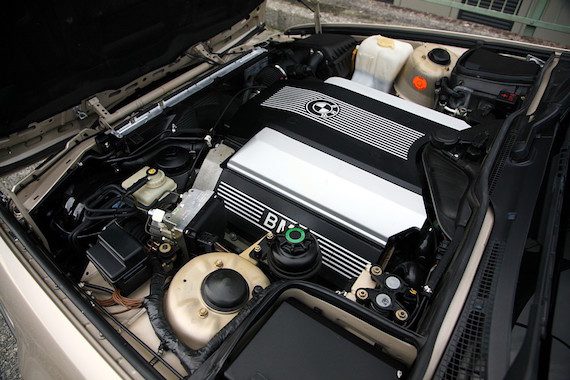 As the mid-range car in the lineup, the 530i comes equipped with the M60B30 motor, a 3.0 V8 unit that puts out about 215 bhp. This iteration of the M60 is not generally favored by enthusiasts, especially when compared with the legendary "big six" M30 from the earlier 535i that it replaced. Fuel consumption is not that much different to the larger 4.0 version of the M60 found in the 540i, yet it makes markedly less power than its bigger brother. In fact, many regard this engine as a bit of a misstep for BMW. To make things worse, this car is an automatic, so it'll never be as quick or as involving to drive as a manual. Nonetheless, it's a stout, smooth engine with a good amount of torque available lower in the rev range, unlike my 525i which doesn't really wake up until hustled above 4000rpm.
Admittedly, the 530i is not the most desirable version of the E34. That would be the M5, whose values appear to be moving upward now that many M-buyers have been priced out of an E30 M3. Or, for those not looking for an M car, a 1989 535i with a manual transmission would be more fun to drive, though they are hard to find. Or just a plain old 540i for a cruiser. Given the range of other options for those looking for an E34, I think this example is overpriced, despite its lovely condition. Still, it's nice to see an E34 in such wonderful shape. If nothing else, it serves as a reminder of just how bang on BMW got it with the rest of the car. Think of this one as a flawed masterpiece.