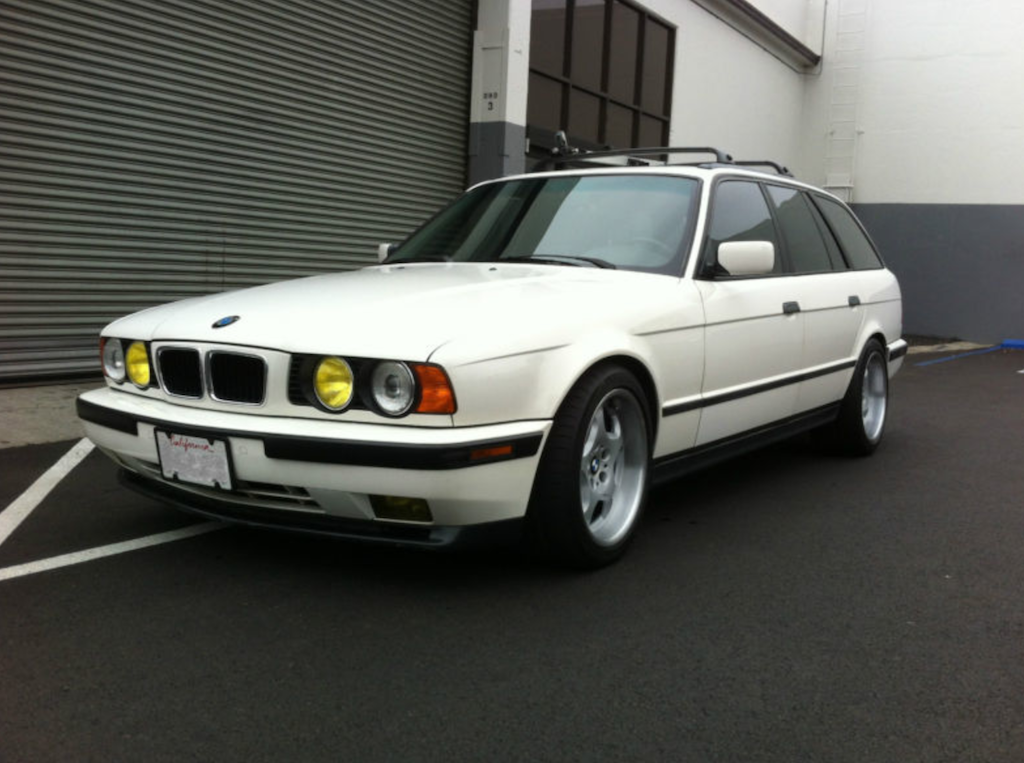 If you liked the BMW 540i M-Sport we featured a few days ago, but need a bit more cargo space, you're in luck. A 1994 530i Touring in the same hue of Alpine White with some M5 appearance pieces tastefully added. Under the hood you'll find the smaller, 3.0 liter M6 V8, coupled to a 5-speed automatic transmission. It's getting harder to find these E34 Tourings in good shape. With under 100,000 miles, this example for sale in Los Angeles is a great piece for five-door fanatics.
Year: 1994
Model: 530i Touring
Engine: 3.0 liter V8
Transmission: 5-speed automatic
Mileage: 82,182 miles
Price: $9,995 Buy It Now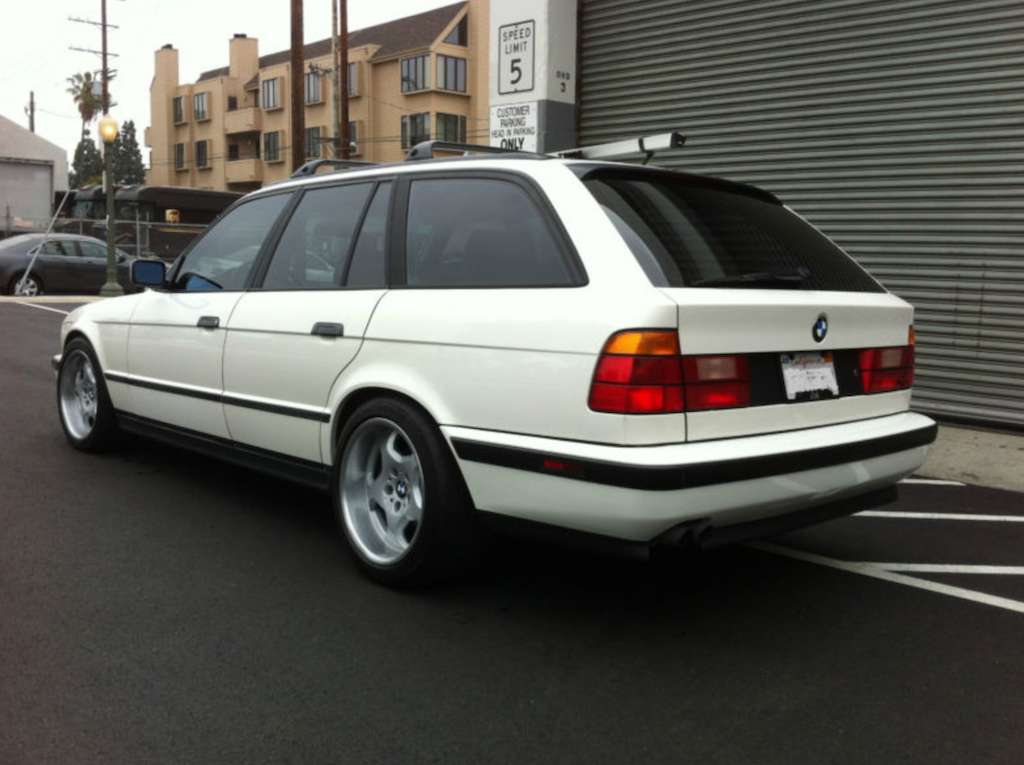 1994 BMW 530iT — MINT, LOW-MILEAGE, M5 LOOK

History and Documentation

This is a 1994 BMW 530i Touring. This 530iT was originally sold by McNulty BMW in Ohio. According to the prior owner, the car was ordered by Mr. McNulty for his wife. The car was supposedly a "summer car" in Ohio and was driven sparingly. The prior owner, an older couple, lived in San Diego and also drove the car sparingly. I am the 3rd registered owner. The car currently has a little over 82,000 miles on it. The title is free and clear in my name. For CA residents, the car is registered through 2014. I have the original bill of sale and other documents, including –

·Original window sticker/bill of sale
·Original owners manuals and books
·Detailed service history/receipts for recent repairs

Build Sheet

·PAINT: ALPINE WHITE / ALPINWEISS 2 (218)
·TRIM: BLACK LEATHER (0203)
·ENGINE: M60B30 (3.0L V8)
·BUILT: 1993-04-08

Optional Equipment

·S214A: ASC+T (AUTOMATIC STABILITY CONTROL)
·S240A: LEATHER STEERING WHEEL
·S288A: BMW ALLOY WHEELS STYLE 29
·S385A: ROOF RACK SYSTEM
·S404A: DOUBLE SUNROOF
·S413A: LUGGAGE NET
·S458A: ELECTRIC FRONT SEATS
·S472A: FRONT ARMRESTS
·S494A: HEATED FRONT SEATS
·S553A: OBC IV
·S640A: TELEPHONE
·S694A: BMW 6CD CHANGER
·S818A: BATTETY MASTER SWITCH
·S925A: DISPATCH PROTECTION PACK

Description

This is a very, very nice Touring in the desirable Alpine White with black interior color combo. If you are looking for an E34 wagon, you can look for a long time but you will be hard-pressed to find one this clean, this well-cared for, this documented, this low-mileage…and this cool. It has been "cloned" to look like an Euro E34 M5 wagon with the following modifications:

·M5 front bumper
·M-Tech rear bumper
·M5 taillight area blackout panel
·M5 door sills
·M5 door jamb sticker
·M5 exterior Shadowline trim tape
·M5 interior Shadowline trim tape
·Yellow inner headlights and foglights
·R.O.D. E34 specific fitment M-Contour 17″ wheels

Condition/Exterior

The Touring has all its original paint, with exception of the rear M-Tech bumper and the front bumper from an Alpine White M5 of the same year. The sheet metal is dead straight. It does not have a single dent or ding on it anywhere. Not one. It is 100% rust free. The paint shines bright. It does not have any scratches or gouges. The clear coat is 100%. There is some slight "ghosting" on the tailgate where the original 530i emblem used to be.

All the trim is original and intact. Window trim is very nice. Rocker trim is very nice. Door handles are very nice. The Shadowline trim tape was professionally installed and looks great. The only small area of trim wear is the passenger side roof rail which shows some minor pitting. Original rear bumper has been replaced with an OEM BMW M5 bumper imported from Germany. It is excellent.

Front bumper is very nice with minimal wear and some chips on the lower lip. Front bumper trim on driver side has a small scrape (see photo). Original headlights and surrounds are very nice, very clean. Taillights are also very nice with no chips, cracks or fading. Glass is beautiful, with no pitting or scratches. The front windshield was replaced and is less than 1 year old. The tint is 3M and was done professionally. Original emblems are all intact but show some minor wear.

Wheels are recently refinished 17″ R.O.D M-Contour specific to the BMW E34. Fronts are 17×8.5″ and rears are 17×10″. Offset is specific to the E34, no spacers, adapters or anything else. Tires are Michelin Pilot Sport PS2s all around. Fronts are 245/40/17s, rears are 265/40/17s. (Original spare is in the trunk).

Condition/Interior

The interior of this Touring is as nice as the exterior. Front and rear seats are absolutely beautiful. When I bought the car it had sheepskin seat covers over both front seats that had been on the car since day one so the leather is in great shape. Seat heaters work and seats do not suffer from the common "seat-twist" problem. Dash is very nice and does not have any cracks, splits, tears or fading. Gauges are nice and clear. Original steering wheel is nice and is not cracked or heavily worn.

All knobs are original and intact. Glove box is intact and lock works. Original radio is very nice. Original door panels are very nice. They are not splitting or separating (though the driver side rear looks like it was nicely repaired at some point in time). Carpet is very good and is covered by brand-new, high-quality German rubber mats that I just purchased. All original seat belts are in the car and are very nice. Original headliner is very nice. It is super clean. It has one small sag around one of the rear speakers.

Rear cargo area is mint and looks like the it has never hauled anything. Rear seats fold down as they should to expand cargo area. Wood is good. A couple of pieces have minor cracks. I have custom refinished wood available with the Buy-It-Now option.

Condition/Mechanical

The Touring fires right up and runs strong. The 3.0L V8 runs smooth as silk and is a blast to drive. Performance is aided by a Dinan chip. Handling is aided by performance suspension/H&R springs. The automatic trans functions properly and runs through all the gears as it should. There is no slipping or hesitation. Shifts sharp and crisp. The car does not hesitate, smoke, leak rattle, or exhibit any unusual noises or behavior. It tracks and stops great.

All of the following work perfectly on the car

·A/C, heater and vents (the A/C blows ice cold!!)
·Headlights
·Taillights
·Instruments and gauges
·Signals
·Wipers
·Power steering
·etc., etc., etc.

To my knowledge, the only things of note that are not functioning 100% are –

* Driver side rear window is slow to roll up

* Driver door actuator is sticking

* Glovebox closes and locks but needs cables

* Radio needs to be reprogrammed

Buy-It-Now option – Additional items

If you choose the Buy-It-Now option, you will get the following items to complete the "M5 look" for this Touring:

·Mint black sport seats
·Mint 1995 door panels (the pleated leather ones)
·Custom refinished grey wood trim (all 14 pieces)
·Roof racks
·M-Tech side skirts and clips and hardware. Shadowline kidney grills
·Aftermarket center armrest (über-rare)
·Aftermarket upholder

There is probably $2,000+ worth of parts here. So, to be clear, if you do not choose Buy-It-Now, none of these items will come with the car. None of them. Not one.

Other/About the seller

Bid with confidence. This is not my job, I am not a car salesman or a dealer. I am a collector and an enthusiast with 100% feedback. I have sold a number of clean, original California classics here on eBay. All of my buyers have been complete satisfied. I have tried to describe this car as accurately as possible but I'm sure I missed something. So, please don't hesitate to e-mail me or call me (818-749-7764) with any questions you may have.

Terms of sale

The vehicle is offered in as-is condition with no warranty expressed or implied. You are bidding to own and your bid is a binding contract. The car is advertised locally so I reserve the right to end this auction early. 10% non-refundable deposit due by PayPal within 24 hours or sale. Remaining balance due within 7 days of sale. PayPal, cash, cashier's check or wire transfer accepted. Buyer will be responsible for cost of shipping vehicle. Seller can assist buyer in locating a reliable transport company.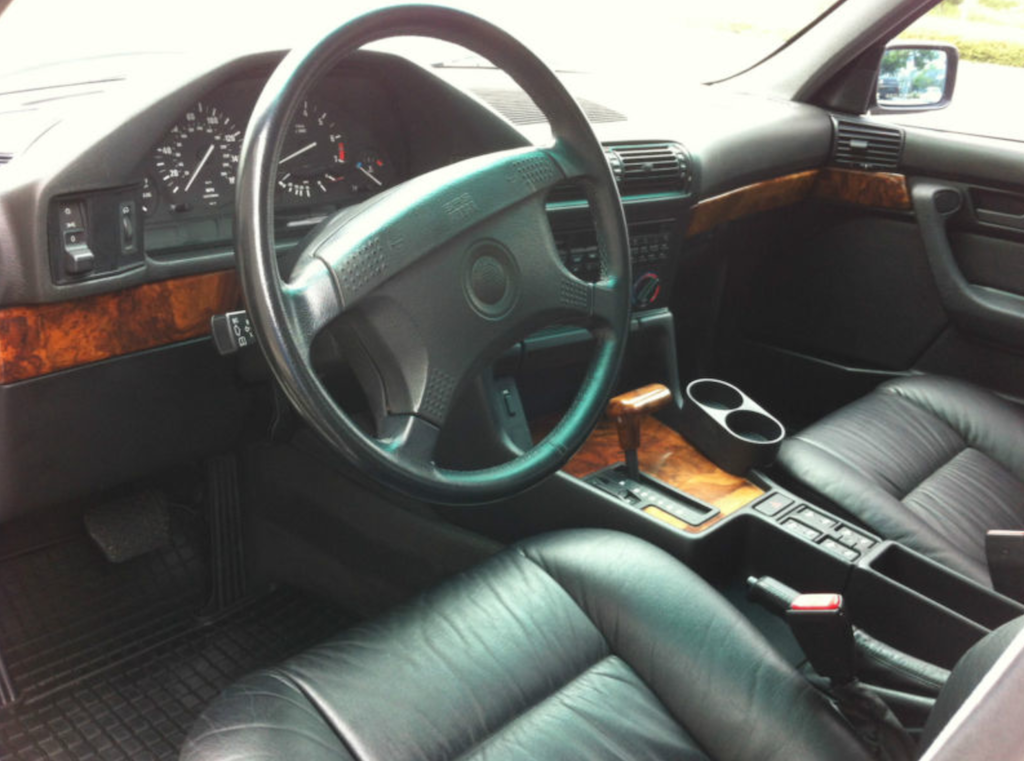 Even though the rest of the world had been enjoying the E30 3 series Touring for a few years, the E34 Touring was the first estate vehicle that BMW unleashed on the US market. Sales weren't off the charts, but there was enough demand for the company to keep sending 3 and 5 series Tourings stateside for years to come. Considering the mileage and condition, I'd say this Touring is attractively priced, especially when you factor in the tasty M bits.
-Paul