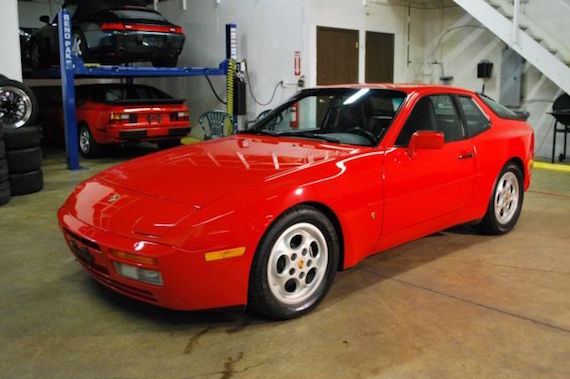 We've featured our fair share of Porsche 928s over the past few days, so it's time to turn our attention back to that other favorite front-engined transaxle, the 944. This 944 Turbo for sale in Ohio has seen just 55,000 miles, painted in classic Guards Red with those famous phone dial alloy wheels. With the dawn of a new turbocharged four-cylinder Porsche upon us in the form of the 718 Boxster, the time is ripe to analyze another four cylinder Porsche from 30 years ago.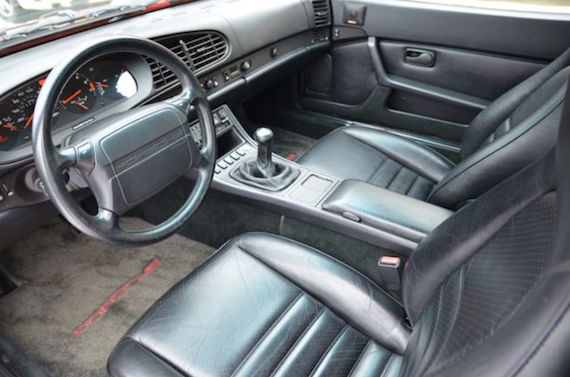 Year: 1987
Model: 944 Turbo
Engine: 2.5 liter turbocharged inline-4
Transmission: 5-speed manual
Mileage: 55,783 mi
Price: $26,980 Buy It Now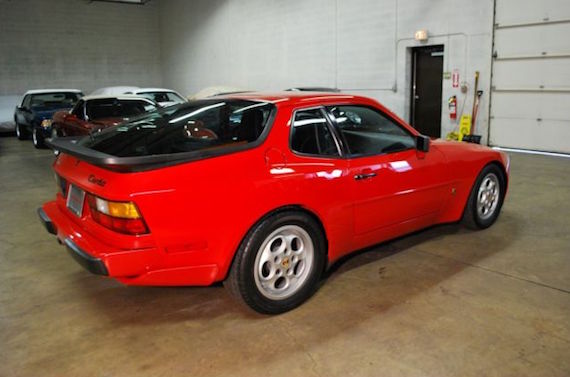 1987 Porsche 944 Turbo –

We just bought this car from the long-term second owner, who bought the car from Motorcars Imports out of Bedford, Ohio in 1991 (note the Motorcars decal still in place on the rear valence). He was an ASE Master mechanic and did all maintenance himself. As a result, we do not have a stack of records that is commensurate with cars serviced at a dealer, but the condition of the car speaks for itself. In 2012 he did a full service including water pump and timing belt, and he documented that service with extensive photographs, as well as parts receipts. He even kept all the old parts in a box.

This guy truly loved the car, and it's obvious. The car is all original paint as verified with a paintmeter, the ONLY exception being the front bumper and panel between the headlights, which is notorious on the 944 for attracting stone chips. It has never seen salty roads, winter, and probably never seen rain during his ownership, as he was fanatical.

This car is very, very original, and is complete with two keys with factory leather pouches, the original option code sticker in the trunk, cargo covers, spare tire, jack, air compressor, complete tool kit and tool roll, and factory manuals with the maintenance book stamped properly.

There are only a few minor modifications to the car, all done by the previous owner and noted in photos. He installed Boston Acoustic speakers in the front doors, as well as speakers in the rear trunk, which are easily removable and only impact the trunk mat. Original Blaupunkt Monterey head unit was retained. He also hardwired a radar system that is of course now outdated, but the level of craftsmanship is incredible. He installed mini toggle switches in the driver's air vent, perfectly hidden, and small warning lights in the gauge cluster. The windshield wipers are kind of cool in a ridiculous overkill sort of way – I've never seen double blade wipers before. Not even sure they've been used more than once or twice. The car also has Porsche badges installed on the front fender with adhesive – no holes drilled, and easy to remove should the new owner desire.

Condition is excellent inside and out and underneath, as you can see in the photos. There are no cracks in the leather seats or in the dash. There is zero delamination on the rear window. None. The original calipers still have a good finish in the paint and lettering. All glass is original. The windshield could stand to be replaced if the new owner likes – there was a couple small cracks on the passenger side that the owner drilled and filled himself – the fix is proper but it of course doesn't look exceptionally pretty.

The paint is very clean with only a few minor flaws that are pretty hard to find. The original stone guards are still on the car and they are cracking but those are a quick fix, readily available from Pelican Parts. The original underhood insulation is also present, and is of course coming apart, but most cars we see have long since had it completely scraped off, because they all do that.

Overall, this is a car that stands above the rest in both condition and originality, and will please most any buyer, short of the guy trying to win the Porsche parade.
Along with the 924, the 944 used to be the gateway drug to the P-car scene. However, with the rise of affordable, early model Boxsters, the 944 is cementing its status as a collectable. The last 944 Turbo we saw with similar mileage sold for just shy of $21,900 last July. Have 944 Turbo prices shot up $5,000 in seven months? Hard to say. I'll always be a fan of these Porsches because they combined performance with practicality in a nice, well-balanced package. I keep hoping that someday I'll get to a point in time where I can have space for multiple vehicles because the 944 Turbo is a car that I keep coming back to.
-Paul