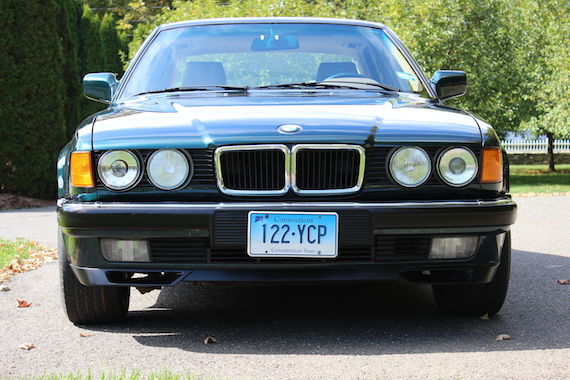 The 1994 BMW 740i we featured at the beginning of this month is back up for sale at no reserve. Tempted to treat yourself to a bit of luxury in your life? Well, this is one seriously nice E32 that needs to find a new home.
The below post originally appeared on our site October 4, 2014:
It's no secret that you can get a lot of car for your money when it comes to luxury cars from the 1990s. But is it a wise investment or another way to run you quickly into the poor house? As with most cars, if chosen wisely, you can mitigate the effects on your wallet, along with some savvy budgeting. This BMW 740i for sale in Connecticut represents the last year of the E32 7 series and looks like it just arrived from a jaunt to the country club parking lot in its dark green over tan livery. With just enough chrome and classic BMW lines that we know and love, this car is supremely posh.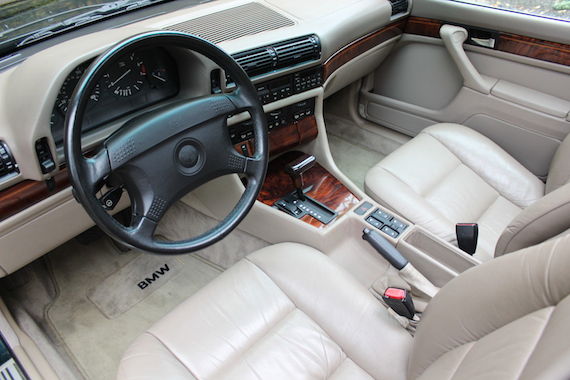 Year: 1994
Model: 740i
Engine: 4.0 liter V8
Transmission: 5-speed automatic
Mileage: 51,343 mi
Price: No reserve auction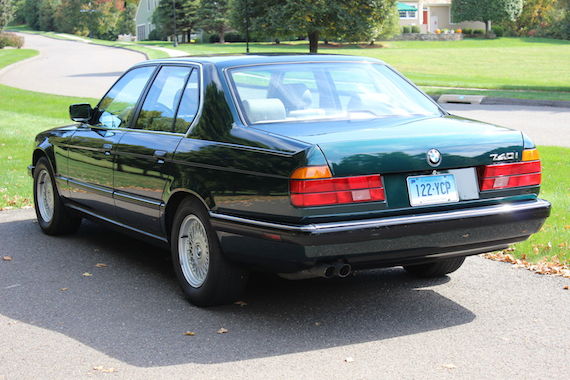 1994 BMW 740i in Oxford Green with Parchment Leather upholstery. This car has had 2 owners; the first was prominent investment manager Jean Tempel, who had purchased the car new at Foreign Motors West BMW. We had purchased the car after she had traded it in with around 20k miles. It has been used sparingly as a summer home vehicle from that point up to 2011 when it was replaced and has been stored since then. The car has been garaged and meticulously maintained and we have most records from our ownership. It is a rare find having only 52k miles and being in such beautiful condition.

The exterior of the car is in excellent condition. The paint holds a deep shine and has no signs of fade. There is no rust anywhere on the car, it has never been used in winter weather under my ownership. There are light scratches, dings, etc., however, far less that you would expect from a car with 50k miles on it. The trim beneath the front bumper has a small crack that you cannot see unless you get down on the ground. All glass, plastic, and trim pieces are in very good shape and have no damage. The left kidney grill has a chip of about an inch on the chrome. The wheels are also in excellent condition.

The interior of the car is nearly perfect. The leather is in excellent condition, soft and supple with no damage. The wood and leather trim have held up remarkably well as a result of being garaged, color and finish is very strong. The seats hold their original shape, spring, and form. The dash has no cracks. The headliner sits perfectly with no sign of sag. The wood is in excellent condition, holding a deep and bright color with no cracking in the finish. The car has never been smoked in and has no strange odors. The carpets are free from any noticeable dirt or stains and show no fade.

Mechanically, the car is also in excellent condition. The engine is fast and strong. The transmission shifts smoothly. The suspension and steering are tight. There are no strange rattles or other noises. There are no leaks. The front end does not make noise while going over bumps or turning. All interior functions, including power seats, windows, heated seats, sunroof, climate etc., work as they should. A/C is cold and heat is hot. There are no check engine, ABS, air bag etc., lights on. I have 2 master keys with remote fobs. The only problem that I am aware of is that the radio requires a code and I have lost it. I had a trickle charger installed under the hood because the car went for long periods without being used.

This classic 7-series is a very rare find with only 52K and being in excellent condition. Most examples of this model have not been properly maintained or have been used up with over 200k miles on them. This car has been very well preserved and is in very impressive condition. I have tried to describe the car as accurately and thoroughly as possible. If you have any further questions, would like specific photos or would like to see the car, please let me know.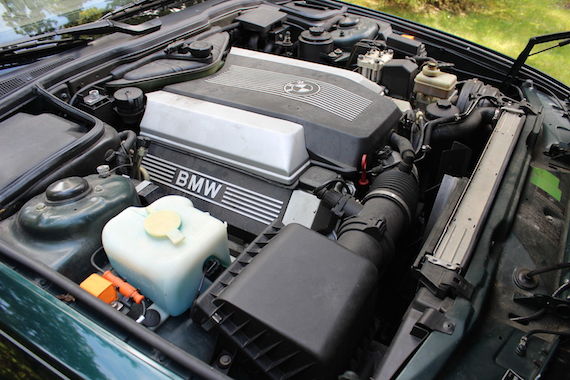 While I've always been partial to the E38 7 series, there's something about this late production E32 that grabs my attention. It mixes the best of the old (styling and chassis) with the new (V8 engine) to produce a very attractive package. The high end of values for a 740i in this condition is hovering around the $10,000 to $12,000 territory at the present time. If I was ever going to consider an E32, it would certainly be an example such as this. While it might not be as intriguing as the 5-speed manual 735i we featured two days ago, it has the attractiveness of the larger engine and low miles going for it.
-Paul