The 8 series coupe was always a bit of a step child in the BMW lineup. A little over 31,000 were made over a ten year time span and they always played a bit of a second fiddle to that other sporting car from Germany, the Mercedes SL. Granted, these cars attracted very different demographics. In the middle of its lifespan, a tuned version of the 8 series appeared – the 850CSI. Fewer than 300 were ever made and they packed the company's M modified S70B56 5.6 liter V12 mated to a 6 speed manual. These cars are beginning to take off in popularity in a way akin to the very last Porsche 928, the GTS. This 850CSi for sale in Scottsdale, Arizona has 84,000 miles on it and certainly belies that it has that much usage under its belt from the pictures.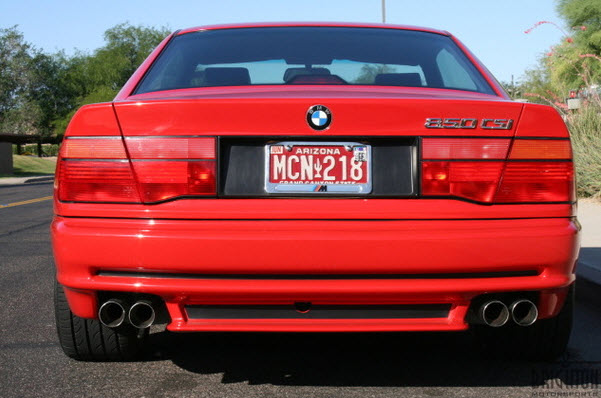 The BMW 8 Series (chassis code: E31) is a V8 or V12-engined 2-door 2+2 coupe built by BMW from 1989 to 1999. The 8 Series was developed as an entirely new class aimed at a different market, with a substantially higher price and better performance than the 6 series. It was BMW's flagship car and had an electronically limited top speed of 155 mph (250 km/h). Over 1.5 billion Deutschemark was spent on total development (2008 USD nearly $1 billion). BMW used CAD tools, still unusual at the time, to design the car's all-new body. Combined with wind tunnel testing, the resulting car had a drag coefficient of 0.29, a major improvement from the previous BMW M6/635CSi's 0.39. The 8 Series offered the first V-12 engine mated to a 6-speed manual gearbox on a road car. It was also one of the first vehicles to be fitted with an electronic "fly-by-wire" throttle. The 8 Series was one of BMW's first cars, together with the Z1, to use a multi-link rear axle.

As a top-of-the-range sports touring car, the 850CSi took over from the prototype M8. The 850CSi's exclusive modified suspension included stiffer springs and dampers and reduced the car's ride height. The recirculating ball steering ratio was dropped 15% over the stock E31 setup. The model also sported wider wheels, with the option of forged alloys. The 850CSi also sported exclusive front and rear bumpers that were reshaped for improved aerodynamic performance. Four round stainless steel exhaust tips replaced the square tips found on the lower tier 8 series models.

Our Brighton Motorsports 1994 BMW 850 CSi Coupe is exceptionally rare, and the MOST desirable example of the 8 Series breed. Over the 10 year model run BMW produced 31,062 8 Series units with worldwide production of the 850Csi at 1,510, of which only 225 were imported to North America. The 850 CSi also had the most powerful V12, displacing 5.6L with 375HP and 410 FT. LB. of torque on tap, easily propelling this immensely capable grand touring car to 100kph (62mph) in a blistering 5.6 seconds, which is exceptionally fast considering the car's curb weight of 4,350 lbs.

This 850CSi is equipped with a 6-speed manual transmission, which was the only option available for the CSi. There's also Power Heated Seats, Onboard Computer, Dual Zone Climate Control, Power Sunroof, Wood Interior Trim throughout, Leather Wrapped Steering Wheel & Gear Shift, Custom Alloy Wheels with Chrome Lip, and Premium Sound System. The original set of alloy wheels and tires also go with the car, so the new owner can put it back to stock and sell the newer 20" wheels and tires which were purchased at cost of over $5,000.00. This 850CSi has been meticulously maintained with no expense spared by the current owner since it was purchased by him in 1995. We also have all the maintenance records dating back to June 8th 1995, when it had 13,441 miles on it. The odometer currently indicates 83,790 miles. This is a truly a remarkable and unique opportunity to own a superlative driving machine.
Unlike other 8 series coupes, the CSi models aren't a cheap proposition, as they were built in limited numbers. The last CSi we featured was an extremely low mileage example that was being offered for a mint. At a little over $30,000, this is still not cheap for an almost 20 year old car with nearly 84,000 miles that won't be that cheap to run. One thing I'm not a fan of with this car is the wheels. Thankfully, the OEM rims are included with the sale. Given this car comes with a history dating back to 1995, I'd feel a bit more comfortable about the mileage closing on 100,000. Even though these can be a needy modern classic, so few were made that the 225 examples ever made shouldn't have much trouble finding decent homes.
-Paul