The 1997 BMW 840Ci we featured a few days ago represents the swan song for the E31, however, the 850CSi could be considered the zenith of this grand touring coupe. While it didn't officially wear the M badge, this is as close to an M8 as you could get, if one doesn't consider the one prototype M8 produced. Only 225 of these beasts were made, featuring the S70B56 5.6 liter V12. Backed up by a six-speed manual transmission, the CSi pumped out 375 horsepower and 410 lb ft. of torque, with 60 miles per hour arriving in roughly 5.5 seconds. Almost twenty years on, this isn't blisteringly fast, but very respectable. With the throwing star alloy wheels and beefy looks, who wouldn't want to cruise around in one of these, even if it isn't the fastest car on the block? This example for sale in Texas has under 10,000 miles on the clock and could be the closest thing to buying a new 850CSi as you could get at this moment in time.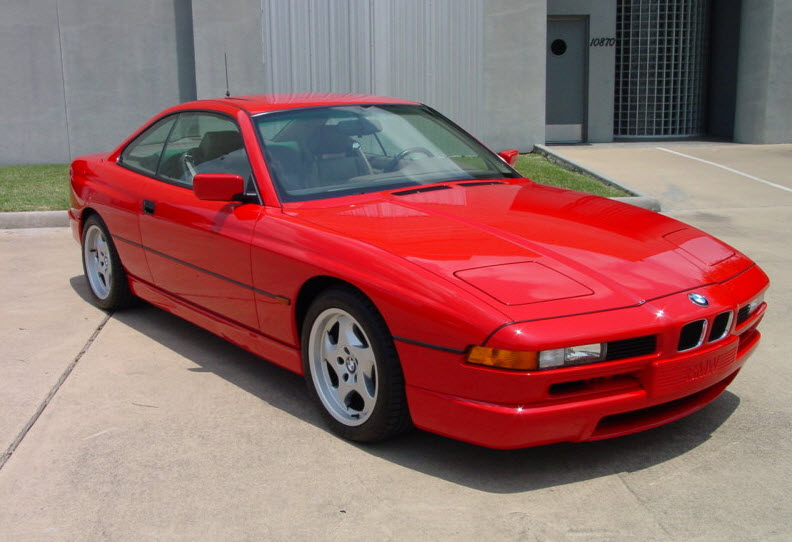 Brilliant red/Parchment, 7,300 miles, 1 of 225 US models for 1994-95, sunroof, heated seats, factory phone and CD changer, all original, finest available.
Much like the Porsche 928GTS, these BMW über coupes have seen prices skyrocket in the last few years. While an ordinary 840Ci or 850Ci in the best condition available might see a maximum value in the mid $20,000 range, these CSi models are a different proposition altogether. This could possibly be one of the lowest mileage examples of a CSi in the world, so of course that would carry a premium. These coupes were almost $100,000 new, so is a little more than $20,000 off the sticker enough? If I had to value this, I would probably guess between $40,000 to $60,000 would be a more reasonable level. But, with such a limited supply, this car may turn out to be one of those instances where it is worth whatever someone is willing to pay.
-Paul