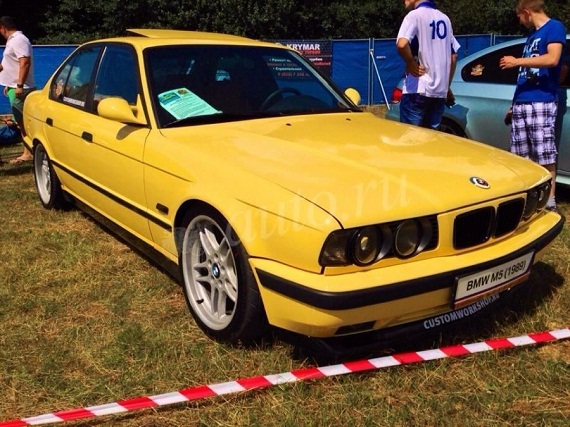 Recently, one of our our posts on a Dakar Yellow M3 sedan prompted reader Ry to ask if there were any E39 M5s that were built in the shade. Well, today's car isn't one of those, but it's interesting that so close to when the question was raised an M5 this rare to see shade pops up for sale. Like it or not, the E34 M5 painted by BMW Individual in Dakar Yellow certainly stands out. It's no surprise, though, that the listing is nearly as eccentric as the person who ordered it's tastes must have been: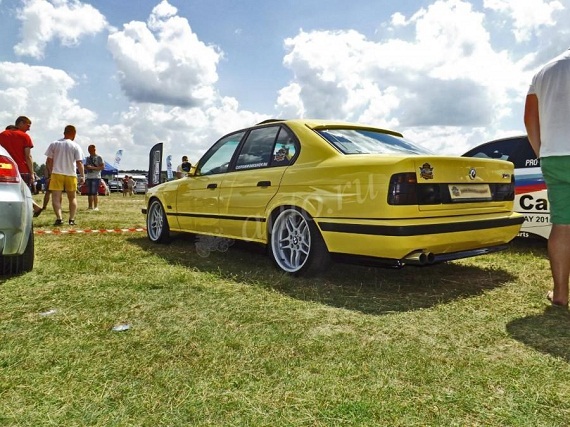 Year: 1994
Model: M5
Engine: 3.8 liter inline-6
Transmission: 5-speed manual
Mileage: 174,000 mi
Price: No Reserve Auction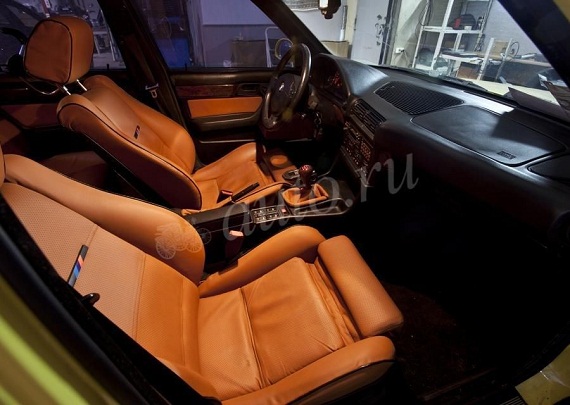 7 years in one hands
It was done
– new engine (bought as a spare part)
– new probshaft
– 4-seats salon, renewed perforated leather with electic heating for each place
– body repaint
– brake calipers from McLaren SLR, brake discs BMW M5 e60
– oil cooler from М5 е60
– full exhaust Supersprint
– custom headlights
– rear optics Hella Black
– steerwheel М5 е39
– suspension XYZ supersport
– front andr rear body stunts

It was invested a lot of money (~ $70k with russian prices), all systems work, car is in very good conditions
No corrosion
All keys and service documents
For all questions write me a message or call

Car location: Russia, Moscow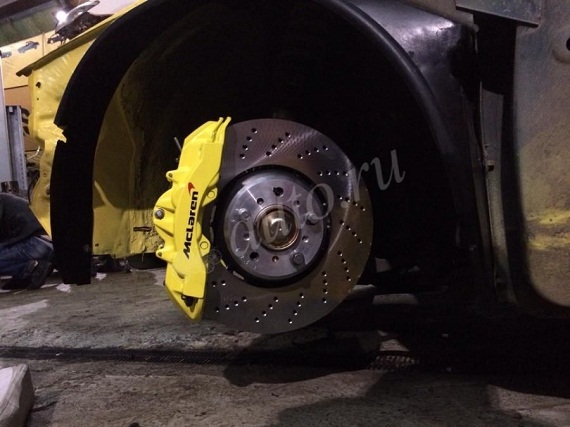 My initial question when I saw it was whether or not it was a real M5; however, it appears to be the real deal – the VIN cross checks with this one listed in the registry in Russia.
NAME Roman Goncharov
MODEL E34 M5
MODEL CODE HC91
VIN WBSHC91090GD64384
PRODUCTION DATE June 1994
COUNTRY OF ORIGINAL SPECIFICATION Germany
EXTERIOR COLOR (PAINT CODE) Dakar Yellow (267 / BMW INDIVIDUAL)
INTERIOR COLOR (UPHOLSTERY CODE) Anthracite M cloth + Amaretta (0475) REPLACED BY M CLOTH + LEATHER (0313)
FACTORY/OEM OPTIONS
Servotronic power steering assist, Shadowline trim, power sunroof, heated seats, headlight washers, automatic climate control with automatic air recirculation, cruise control, interior light package, BMW Business RDS radio with hi-fi speakers, diversity antenna, cassette holder, electronic immobilizer
ADDITIONAL EQUIPMENT + COMMENTS
Contrasting lower aero panels in Cosmos Black metallic (303). Original interior replaced by M cloth + leather from an E34 M5 3.6.
Okay, so it appears to be real – and between the photos, listing and registry details we can see that it's been through three different manufacturers of front brakes, three different interiors and two engines. Sounds great, right? Well, it has certainly been customized a fair amount and it doesn't surprise me that roughly $70,000 has been shelled out between all of the parts and the build. I'd guess, in fact, that those McLaren brakes alone cost the best part of $10,000 on their own. Does that make this car more valuable than the average E34 M5? Probably not to most; I'd guess it would take a really rare collector who'd want specifically the BMW Individual Dakar Yellow color but I'd also guess they'd want a pristine, stock example rather than a warmed over one such as this. For mod-crazy enthusiasts, this car is certainly unique and stands out, but then the starting bid is really quite high for an E34. Ultimately it's all speculation; the car will likely remain in Russia and will be relegated to our memories as just an fleeting flash of color in an otherwise dreary late fall day. To quote Tyrell from Blade Runner, "The light that burns twice as bright burns half as long, and you have burned so very very brightly".
-Carter