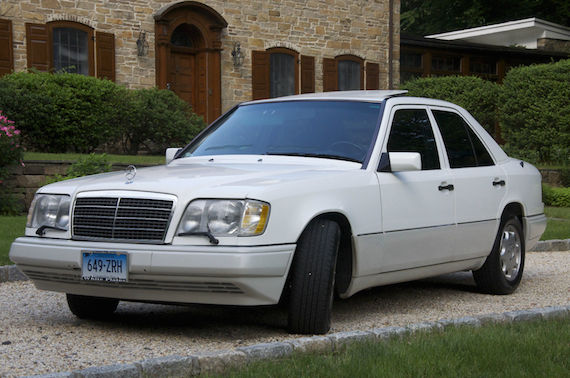 Sometimes you don't realize what you have until it's gone. So goes the story for me and my love of Mercedes-Benzes from the 1980s and 1990s in comparison to the current model range. Mercedes still makes wonderfully good cars, but a bit of the mystique is gone, as an ever expanding SUV lineup emerges and the company tries to lure in those obsessed by the badge with the new CLA sedan. By 1994, the W124 E class was appearing a bit dated in comparison to the Japanese luxury upstarts Lexus, Acura and Infiniti. However, if I look at any of those models from the Far East in comparison to this E420 for sale in Connecticut, I'd say the E420 has stood the test of time. It might have not been the most exciting thing to look at when it was new, but the hallmark Mercedes build quality along with V8 muscle are ever apparent.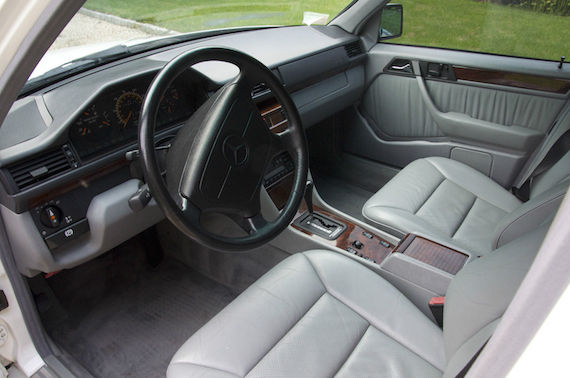 Year: 1994
Model: E420
Engine: 4.2 liter V8
Transmission: 4-speed automatic
Mileage: 39,415 mi
Price: No reserve auction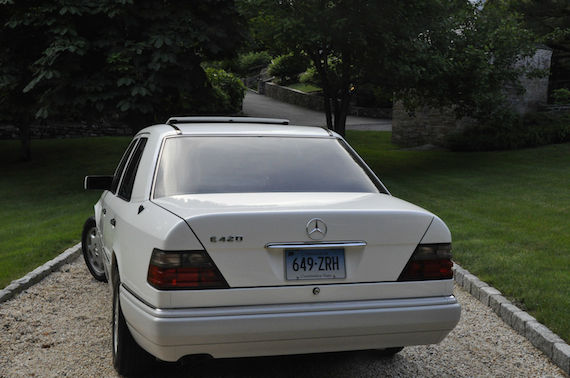 I am selling my beautiful kept, cream-puff 1994 E420 Mercedes. I am the third owner of this classic. The car was originally purchased by the quintessential little old lady in TX in 1994 who basically drove the car to the grocery store and back for the next 15 years. The car was then purchased by a man in Arizona who owned it until I bought the car in late 2012. He kept the vehicle in excellent condition and I have since then as well, quickly fixing anything that wasn't working and maintaining normal maintenance schedules. I did drive this car occasionally in the winter only short distances and it was kept in the garage, otherwise it has not seen a winter as it lived in TX and AZ.

Some features include: original radio, no cracking of interior leather seats or wood, tinted windows, tires in good condition, spare tire, fully working sun/moon roof, fully functional air conditioning- it will freeze you out- and heat, cruise control. Everything is working

All of the "typical" items that go bad in these older mercedes have been replaced. John, the owner in AZ replaced the wire harness which has been well documented to have problems and always needs to be replaced and recharged the AC.

I have replaced: Rear sway bar, power antenna (another item that typically goes bad), the power steering fluid pump. I also had a complete brake job done including the rotors and replaced the ABS sensor. I got a bit of a dent/scrape in the drivers side rear bumper (from a parking lot) and replaced the entire bumper.

This car runs great, it has the classic mercedes smooth ride that many of their newer cars do not have. It is such a pleasure to drive and own. As you can see from the pictures the interior is also in mint condition and includes the original first aid kit- kinda cool. I had the engine and all systems looked over by a mechanic two months ago and they found everything in working order. I am happy to share this document with you and of course am willing to drive the car to the mechanic of your choice if you want it looked over again.

There are a total of nine very small paint chips on the exterior. I have included an image of the two most noticeable (both on drivers door) and you will see that they are very small. The others are even smaller and I have pictures and location descriptions if you would like. As far as rust, the car is rust free (including under-carriage) with the exception of one small spot on the trunk, I have included a picture.

This is a no surprise one-of-a-kind vehicle. You will not be disappointed by this cream-puff.

Please let me know of any questions that you have.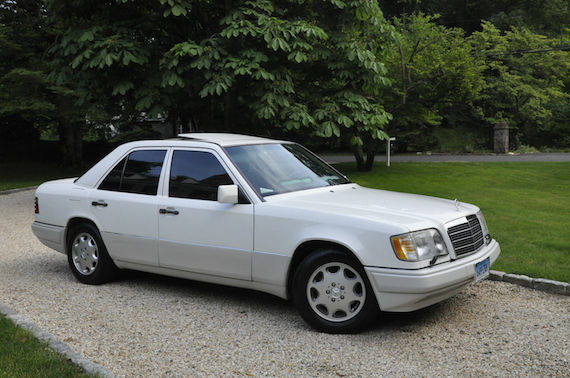 My father owned a 1992 400E, the first year for the V8 in the W124 E class. It was as sturdy a drive as the lesser 300E, but was a riot in a straight line, able to embarrass many at stoplights. If I could have changed one thing, I might have upgraded to 500E sized rubber, as the 15" tire/wheel package was a bit underwhelming for the amount of power the car had. While you see a number of 500E/E500s with low mileage, it's rare you come across the more sedate 400E/E420 in such great shape. The opening bid might be a bit optimistic, but there may just be some interest right before auction end.
-Paul