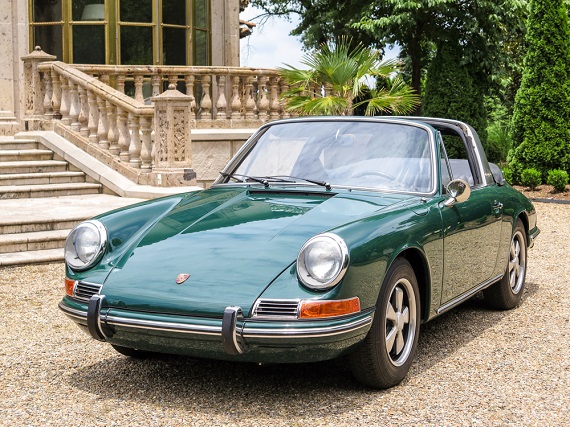 The soft-window Targa is one of those cars that we rarely come across, but when we do they are always something to marvel at. Introduced in 1967, the soft-window Targa is basically a convertible with a fixed roll hoop, built primarily because Porsche felt uncertain about the sustained viability of convertibles on the market due to increasingly stringent crash regulations. The Targa we are all most familiar with, featuring a standard rear glass window was also made available beginning in 1968, leaving the soft-window targas as a bit of a short-lived anomaly. The example featured here is a great looking Irish Green 1967 Porsche 911 Soft-Window Targa, located in North Carolina. It was restored more than two decades ago and recently has received a full refresh to bring back its beauty.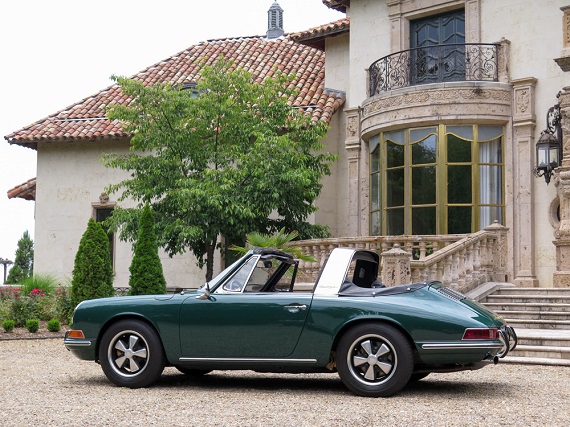 Year: 1967
Model: 911 Targa
Engine: 2.0 liter flat-6
Transmission: 5-speed manual
Mileage: 699 mi
Price: Reserve Auction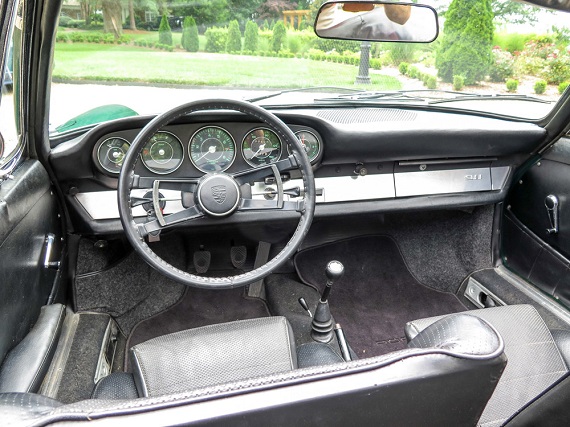 Highlights of the car:
Irish Green on Black
Ordered new from the factory by prominent Hollywood animator/producer Jay Ward
Chassis# 500201
Engine# 911435
Transmission# 200273
3 Owners
Rust Free, No Accidents
Sport Seats
Concours Restored in 1990
200 miles since refresh including complete color-sand and hand-polish, engine-out tune-up and detail, replacement of misc rubber trim items, etc
Original interior and carpets, targa top, and soft window
Private party sale – International Buyers Welcome
The car is located 15 miles north of the Charlotte, NC airport. For more information or to set an appointment to view the car, please call Tim at 704-892-2628.

The Story:

I am a Porsche collector and my primary interest is early 356's and 930 Turbos. I came upon this car in a disassembled state in the back of a local Ferrari restoration shop. All of the parts and pieces were in good condition and the paint, even though dull and blemished with light scratches, looked as if all it needed was a professional cut and hand polish. The shop was about to begin the process of a complete restoration and I felt obligated to "rescue" the car and it's wonderful patina before it was blown apart and ruined with new paint and replacement parts. I spoke with the owner of the car who had sent it to the shop "to have a few oil leaks fixed" via a friend's recommendation. After some evaluation, the shop persuaded her into some restoration work, which eventually became induced into a full restoration. She explained to me that she and her husband had purchased the car in the mid 1980's as something to drive and enjoy together. After learning about the PCA and subsequently becoming members, they proudly attended several events and local concours. Anyone who has owned these cars knows what it's like to attend a local car show and have a car that you love criticized by a nitpick judge. Frustrated by having the car that turned her into a "car girl" receive less-than-stellar remarks at a local concours, she was determined to have it restored and brought back to it's original glory. In 1990 the car received a complete exterior restoration including fresh Irish Green lacquer paint and a full engine-out detail. With the car looking better than ever, she decided to exhibit at the Midwest Porsche Owner's Festival put on by the Schonesland region of Des Moines, Iowa in 1991. After a scrupulous examination, the car was awarded 3rd place in the Pre-76 Concours and also won the most sought after trophy at any event, People's Choice.

The car was driven and enjoyed in the years that followed until 2013 when I stumbled upon it in the Ferrari shop. Once the purchase was complete, the car underwent a "refresh" by Mr. Martin Steger. Martin was factory trained by Porsche in the late 60's, working with the factory race team through 1973, and has worked with these great cars in one degree or another ever since. We agreed that the car's patina could be preserved and that a major tune-up with a focus on rebuilding components instead of replacing. Major suspension components were rebuilt and rubber bushings were replaced, brake calipers were rebuilt, carburetors were rebuilt and synced, valves were adjusted, the original fuel and oil tanks were flushed, treated, and sealed – the list goes on. One of the most important aspects of the refresh was the paint, my goal was to preserve the beautiful 25 year old Irish Green lacquer. The entire exterior of the car was hand color-sanded then hand polished, the result speaks for itself. Upon seeing the car after completion, the previous owner could not be convinced that the car was not painted. During the refresh process I ordered a Kartex for the car and was very pleased once I received it. The Kartex proves some very interesting info, the most interesting of which being that the car was originally purchased by Jay Ward of Hollywood, California. Jay Ward was the creator and producer of many famous cartoon shows including Rocky and Bullwinkle, Dudley Do-Right, George of the Jungle, Captain Crunch, and countless others. Jay was a true car enthusiast and I find it very cool that this car was once a part of his personal collection. Beyond proving the prominence of the car's original owner, the Kartex also proves that the engine and transmission numbers are original to the chassis.

This car starts, drives, and stops like it should. It tracks super-straight on the interstate and is a pleasure to drive in any condition (except rain!). I felt obligated to purchase the car and ensure that it's character was not over-restored and lost. As I first stated, I am an avid collector of early 356's and 930 Turbos so I am passing this beautiful '67 onto the next lucky owner. This car needs absolutely nothing to be driven and enjoyed as it was originally intended, it is turn-key ready. This is a private-party sale and international buyers are welcome. I encourage anyone with the means to come see the car prior to bidding, I do have access to a lift and would be happy to show the car any time day or night within reason. The car is located in Mooresville, NC – buyer is responsible for any and all transport costs.

As with any car of the vintage, I recommend any interested person do their own due diligence before bidding. I have a clean, clear NC title for the car. The car is currently listed locally for sale, I reserve the right to end the auction early in the event that the car sells outside of eBay.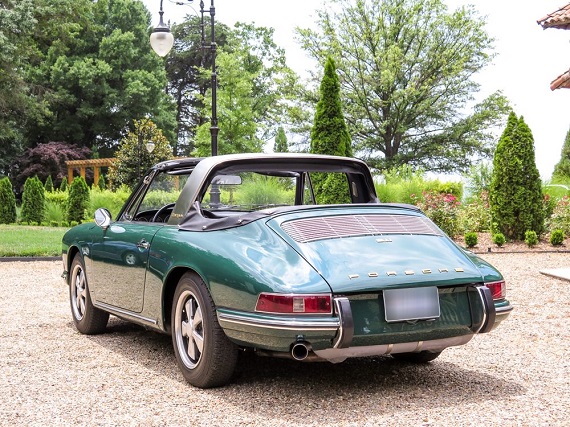 The listed mileage figure is somewhat unclear, but typically with a 911 of this vintage the quality of restoration and overall condition play a larger factor than the specific mileage. And in this case the condition appears fantastic both inside and out. Because of their rarity these cars tend to fetch pretty high values and current bidding suggests this one is no different. But even with a bid of $96,100 the reserve remains unmet. We'll be interested to see if this unique piece of Porsche history finds the right buyer.
-Rob