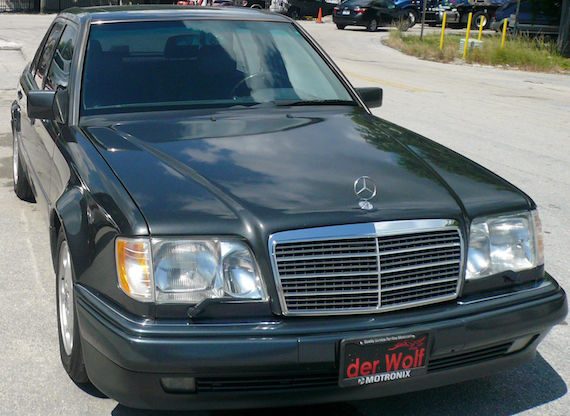 The W124 platform E500 - the product of a joint venture between Mercedes and Porsche – has established itself as a firm favorite among enthusiasts lusting after brawny, fast German steel. Hewing close to the late 80s/early 90s super-sedan recipe - big engine, understated exterior, room for four to travel in comfort with effortless rapidity - these brutes have been rising in value of late, with asking prices on mint, low-mileage examples reaching into the $30k plus territory. Over the summer, Paul and I saw a couple of 500Es hanging out at Katie's Cars and Coffee, the same place, in fact, where a week later a 380SL would rather infamously collide with a Ferrari 458 Speciale. I hadn't seen a 500E in the flesh for a while, and I was struck by just how muscled and hunkered-down they look. At the time, Paul said to me that "hunkered-down" is exactly how they feel to drive too. I have to take him at his word; sadly I haven't had the pleasure.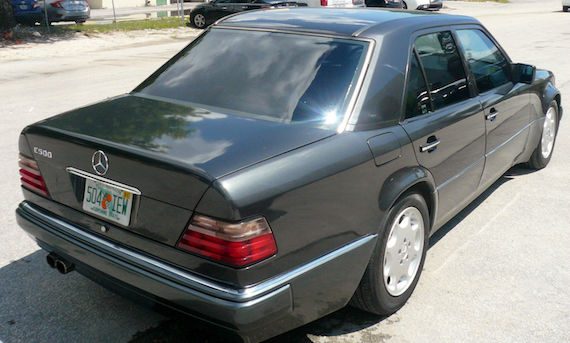 Year: 1994
Model: E500
Engine: 5.0 liter V8
Transmission: 4-speed automatic
Mileage: 142,202 mi
Price: Reserve auction with $24,900 Buy It Now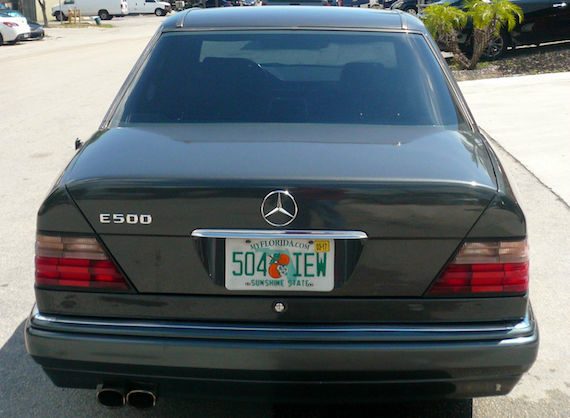 1994 E500 Mercedes-Benz "A Wolf in Sheep's Clothing" – Remarkably Good

For sale due to age and health concerns, Der Wolf, my daily driver and pampered restoration project is now 99% finished. For those of you unfamiliar; the E500 (only 350 came to the USA) was the last of the 1991-94 Mercedes-Benz W124 Super Sports Sedans built in collaboration by Porsche to compete with the newly launched BMW M5. German car connoisseurs affectionately refer to the E500 and 500E series as A Wolf in Sheep's Clothing. Google this car and get all the details.

Porsche was given Carte Blanche with full access to the Mercedes Parts bin. For the fine details and exceptional performance characteristics of this now classic super sports sedan please Google 1991-94 Mercedes 500E or E500. 322 HP 5.0 Liter V8 does 0-60 mph in a tick over 5 seconds and tops out at 160 mph.

This is a drivers' car It handles like a go-cart and satisfies anyone's lust for speed. Porsche, in collaboration with Mercedes, lowered, widened, flared the fenders, installed Recaro seating and tuned the sedan to be unsurpassable on the Autobahn.

Consider buying this car as an investment. According to Hagerty Insurance Valuation Guide, which you can find online at hagerty dot com this car has appreciated in value nearly 500% in the past five years.

Their current valuations are:
#1 Concours $51,200
#2 Excellent $40,600
#3 Good $29,900
#4 Fair $18,900

I insure with Hagerty and they have given me a total loss guarantee of $28,000. If stolen or totaled I get a check for $28,000 .. period. … and that was before I painted the car.

Purchased well over 5 years ago with 104,000 miles Der Wolf needed most everything. And most everything she got. I have invoices for every expenditure. They total $28,840. This does not include tires or a $5500 paint job with new windshield; nor the Sony radio and other odds and ends.

I started with the mechanicals. The highlights are:

1) New brakes, rotors, bearings etc.

2) Hydraulic valve lifters .. replaced

3) New water pump, radiator, hoses, thermostat, etc. She runs cool in Miami heat

4) A/C overhaul – Get chilled in Miami heat in August .

5) Wiring harness … did you know there are 3? Changed all 3 with OEM wiring – nearly $5K

6) Starter motor … replaced

7) Front end … completely redone.

8) Struts .. replaced new front and back (hydraulic suspensions are expensive)

9) Drive shaft was trued and differential bearings replaced.

10) Rear window lifts motors replaced.

11) And lots more mechanical work all done by specialized Mercedes Benz shops, Motronix of Dania, Florida and JS Benz of Miami. All work documented and available to see and goes with the car.

12) Der Wolf was treated to a serious paint job in January of 2014 by Paterelli Restorations in Dania, FL. A month later she won 1st Prize for Vintage Sedans at Concours South Florida. See photo of trophy plaque (accompanies car). The paint has stayed near perfect for the past 2-1/2 years as I keep the car in an A/C indoor parking at my condo at 2627 S. Bayshore Drive in Coconut Grove, FL. Paint is original MB Graphite Gray Metallic.

13) The radio was changed 2014 and replaced with a top of the line Sony Radio/CD player and an installation for Sirius/XM, which I enjoy. You will have to call Sirius to turn it on.

I I mentioned that the restoration was 99% finished: Here is what is left to do if you want to turn Der Wolf into a serious show car. There is nothing else to do mechanically. It needs nothing and everything works. Below are the flaws I intended over time to correct.

1) The front seats are covered in high quality sheepskins. I learned while living in Europe that sheepskins keep you warm in winter and cool in summer. It is also true that the sheepskins are covering up what are really decent Recaro upholstery but the drivers' left seat bolster has a 4" split in the leather. It cannot be repaired to my satisfaction. However, World Upholstery of California will make a pair of new front skin seats for this car for approximately $1250. Add another $500 for an upholster' installation. Or, just drive this car, sheepskins are great.

2) There is a nick in the vinyl center console below the armrest. You can see it in one of the photos. It is a relatively easy replacement. Clean consoles can be found on eBay and elsewhere. Also, the accordion wood door on the storage unit below the arm rest is broken. That storage unit can also be easily replaced.

3) There is a slight sagging of the headliner around the edges of the doors. Your friends will never notice but you will. An upholster can tighten it up. Not a serious problem.

4) There are 3 hairline cracks in the burled walnut console wood. These are not cracks in the wood but in the lacquer protecting the wood. Call it a patina of age. I would not change the wood panels but they are available new for under $500.

If you are in Florida come see the car. It's sitting in the showroom of JS Benz in Miami at 4501 SW 74th Ave, Miami, FL 33155. Tel. (305) 269-8999. JS Benz is famous in South Florida as a Mercedes Benz only tuner. They boast one of the few Dynometers in the area and build special cars for special people. A visit to their shop and showroom is a treat.

Feel free to have the car inspected by your own mechanic or one at JS Benz.

Any questions about anything regarding this car please send me an email through eBay or give me a call at 954-261-7054.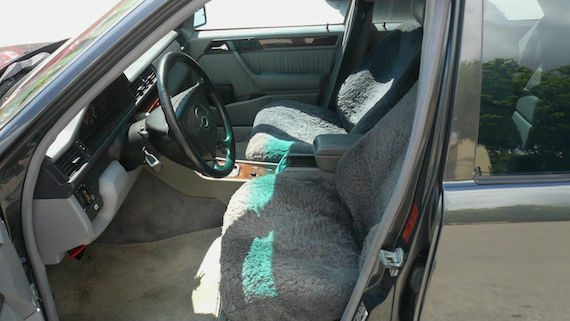 This particular example is a late production, facelifted model. It therefore has the exterior tweaks common to all post-1994 W124s, namely, a rounder front grille, full glass headlights and revised, clear tailights. It also carries the E500 model designation (pre-facelift cars were badged 500E). The exterior condition looks excellent on this one, no doubt aided by a recent repaint in the original, and quite lovely, color of graphite gray metallic. In addition, the seller appears to have undertaken an almost complete mechanical restoration of the car and claims that any remaining flaws are cosmetic, afflicting only the interior. Among them are a tear in the driver's seat leather (hence the sheepskin covers) and a sagging headliner. It is a little surprising that the seller hasn't remedied these flaws too, given how much money he's already spent.
Produced in relatively small numbers, these cars don't come up for sale that often. When they do, they tend to be closely scrutinized by the crowd over at 500eboard.com. There is currently a thread over there concerning this car (see here), but so far the knowledgeable contributors to that site have not thrown up any red flags. Potential buyers may, however, want to get confirmation of the car's mileage, since a google search of the VIN brings up a very old (c. 2002) thread about the same car on PeachParts.com, wherein someone suggests a CARFAX report shows a potential rollback on the odometer.
Despite the apparently nice condition on show here, I think the $25k buy it now price is still a bit rich for the miles (142k). I suspect somewhere closer to the $20k mark is a bit more reasonable.
– Craig