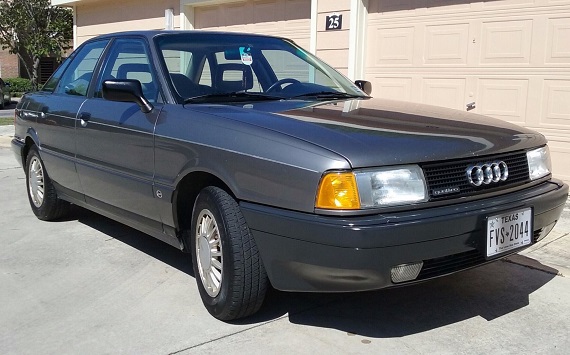 While the move from the B2 to B3 chassis brought many changes to the small Audi lineup, it was also very much a case of 'meet the new boss, same as the old boss'. Some of the features of the 4000 were gone; you could no longer opt to lock the center differential, for example, since the manual locker had been replaced by a more sophisticated Torsen unit. You could still opt to engage a rear differential lock, but electronics overrode that at 15 m.p.h.. That change was indicative of movement in the marketplace and where the B3 was aimed – slightly more upscale from the B2. Interior quality was greater, and production was broken into two categories as it had been in Europe. Selecting the top-range 90 quattro got you nicer BBS wheels, color matched bumpers and mirrors, a sportier raised spoiler, a better leather interior and wood trim. The downscale 80 would channel more of the outgoing 4000, with savory Serret Velour and a more plastic-heavy interior. They even opted to keep the same Ronal R8 wheels as the old model early on, and the subtle rear spoiler was a near copy of the B2. The more basic 80 was closer in performance to the 4000, too – the luxury and safety items of the B3 meant more weight, and the 90 tipped the scales at nearly 3,000 lbs. Mechanically identical, the 80 quattro was about a hundred pounds lighter and anyone who has driven 80s normally aspirated Audis knows that 100 lbs. makes a difference in performance. Motivation for both was the same NG-code inline-5 that was seen in the last Coupe GT Special Build models, meaning 130 horsepower and 140 lb.ft of torque – smoothly adequate, but certainly never overwhelming. As with the 1988 5000S I looked at the other day, these models came to market at a time of crisis for Audi, and consequently few were sold. Audi's best year of sales for the B3 quattro twins was 1988 when just over 3,000 were sold – only a handful more than the outgoing 1987 4000CS quattro, and rare for a new model. This Stone Gray Metallic example is one of the few that come to market and looks like one of the better ones we've seen: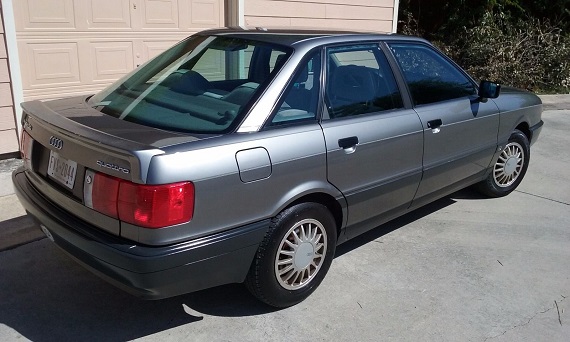 Year: 1988
Model: 80 quattro
Engine: 2.3 liter inline-5
Transmission: 5-speed manual
Mileage: 115,000 mi
Price: $6,500 Buy It Now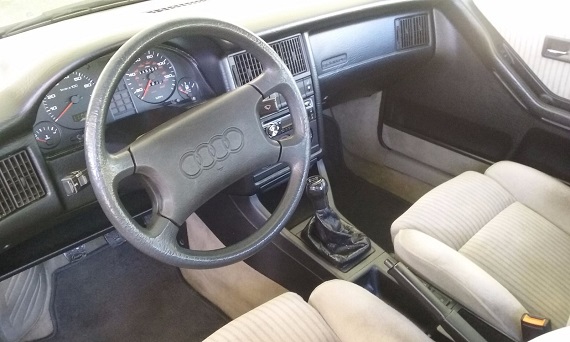 1988 Audi 80 Quattro, extremely well maintained. Everything work, Original paint. No rust. Clean title. Runs very strong and smooth, like a new car. One of the last in this condition, perfect for collectors. Only 115,000 miles in 28 years. This car has Rally DNA, drive it is a pleasure. I replaced the timing belt and water pump almost 5 month ago, everything original, belt is Contitech. The vehicle is located in San Antonio, Texas if you want to drive it. This sell is As is. To avoid scam I only accept cash in person, money deposit to my bank account. Honesty support this deal. Buyer is responsible to pick the car after sell.

Bad things: 1.Window regulators need to be replace.

2. Cover under next to exhaust pipe make sound sometime, need to be adjust.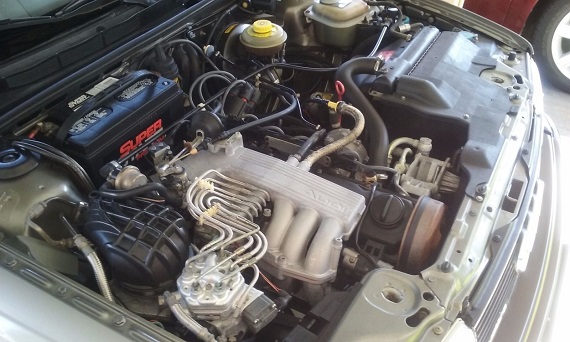 Setting aside the price for a moment, generally speaking the condition of this car seems to be pretty good and mostly original. Stone Gray Metallic is a pretty nice color and is matched inside by the Quartz Velour. This car has the optional sport seats which are great to sit in and very comfortable, and as another option they're heated – plus they look near perfect. This example doesn't appear to have the optional ABS system or trip computer, but the lack of center arm rest probably means it was a ski-sack equipped model. Outside of the upgraded head unit which looks out of place, it all looks to be in very nice and original shape, commensurate with the 115,000 miles on the odometer. That's barely broken in as these older Audis go. However, the asking price of $6,500 is jaw-dropping. These cars, while very nice, just aren't worth anywhere near that. Fans of the B3 will point to the quicker and nicer looking later 20V models, which in this type of shape would probably be worth a premium close to the asking price here. However, we're also on the cusp of the first European turbocharged models coming here, and as some S2s can be had close to the $6,500 asking price, the headache of importation would be rewarded with a much nicer and better driving car. The unfortunate conundrum of these Audis is that they're great cars that are worth a great deal more than what the sell for, but they're just not really collectable at this point. Your $6,500 would be much better spent on a 200 20V, S4, S6, or 20V model. Drop the price to around $4,000, and this car becomes competitive in the marketplace I think.
-Carter