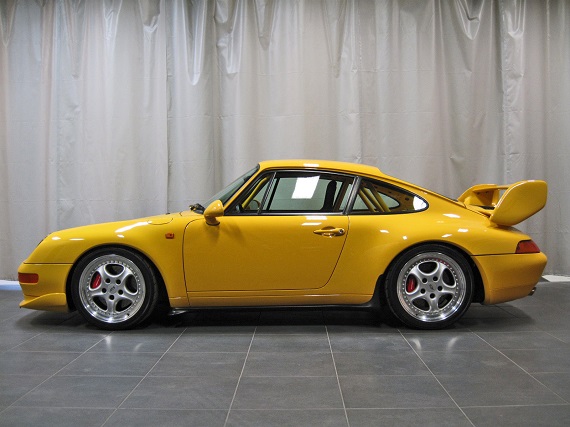 I'm going to break away rather abruptly from looking to find 911s we can all aspire to in order to look at a 911 we can aspire to in a different sort of way. More along the lines of peak aspiration I guess you'd say. For buyers for whom the standard 911 has proved too soft or too refined – basically too suited for the masses – Porsche has offered their RS model. It hasn't always been available, especially during the company's leaner years, but when available the Carrera RS (along with the later GT3 RS) has offered the sort of pared down high performance that few buyers desire and even fewer would actually purchase. For the 993, Porsche took this ethos a step further offering a Clubsport option for the RS. The package effectively deleted everything from the interior that was unnecessary, including the carpets, and then welded in a full roll cage to provide extra degrees of rigidity and safety to the chassis. In what I can only assume was a strange twist of comedy, the original purchaser of this 1995 Porsche 911 Carrera RS Clubsport asked Porsche to put the air-conditioning back in the car. While we might surmise that request was because the owner wanted to actually drive the darn thing and thus needed at least that small bit of comfort, this RS sits with fewer than 20K miles on it. If we want to look on the bright side, I suppose it makes a very rare car even rarer still.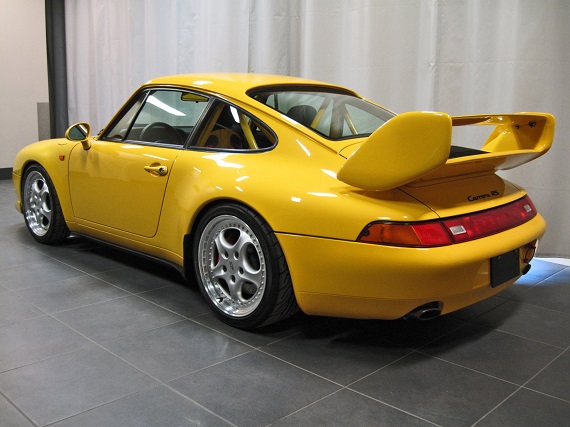 Year: 1995
Model: 911 Carrera RS
Engine: 3.8 liter flat-6
Transmission: 6-speed manual
Mileage: 31,400 km (~19,511 mi)
Price: CAD $725,000 (~ USD $554,400)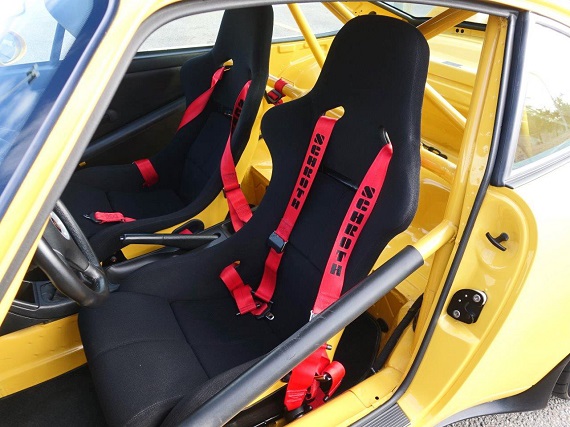 1995 Porsche 993 Carrera RS Club Sport

Type 993. 300 bhp, 3,746 cc SOHC air-cooled horizontally opposed six-cylinder engine with Varioram and Motronic 2.1 management, six-speed manual transmission, independent front suspension with McPherson struts, Bilstein coil-over dampers, and an adjustable anti-roll bar; independent rear suspension with semi-trailing arms, Bilstein coil-over dampers, and an adjustable anti-roll bar; and four-wheel cross-drilled ventilated disc brakes.

One of only 227 RS Club Sport models
Includes original books, tools, and Certificate of Authenticity
The last air-cooled Carrera RS
Matching numbers engine and transmission

It was based on the Carrera Cup competition car and specifically conceived as a homologation special in a great enough quantity (at least 50 units) to qualify it for the BPR GT3 and GT4 categories as the RSR 3.8. It was offered only to the European market and appeared after the original 3.6-litre engine RS of 1992 had gone out of production. The standard 3.6-litre engine of the Carrera RS was bumped up to 3,746 cubic centimetres by an increase in its bore to 102 millimetres, but it still retained the RS's standard 76.4-millimetre stroke.

This engine, the Type M64/20, was fitted with Porsche's innovative Varioram variable-length intake system and produced a very healthy 300 brake horsepower at 6,500 rpm and 262 foot-pounds of torque at 5,400 rpm. The latest version (2.10) of the Bosch Motronic engine-management system kept tight control over both the twin-plug ignition and the fuel delivery through individual port throttle bodies.
Along with the engine updates, an important component of this competition-oriented machine was to make it as light as possible. The RS was brought down to a 1,280 kilograms by deleting the headliner, electric windows, electric mirrors, central locking, intermittent windscreen wipers, radio speakers, power-adjustable seats, a rear defroster, airbags, and sound insulation. Removal of all these comforts resulted in an effective weight loss of 100 kilograms. The RS package added a number of performance features to the car, which included thinner window glass, simplified interior lighting, an alloy front hood and doors, lightweight interior door panels, Recaro sports seats, a front strut brace, ball-joint front damper mounts, and adjustable anti-roll bars with five positions for the 24-millimetre front bar and three positions for the 21-millimetre rear piece.

Its power is delivered through a Type G50/32 six-speed manual transmission, with its gearing optimized for acceleration rather than top speed. 265/35ZR-18R tyres in the rear and 225/40ZR-18 tires in the front are mounted on specially made 18-inch "Speedline for Porsche" three-piece, light-alloy wheels with magnesium centres, which are 9-inches wide in the front and 11-inches wide in the back.

This German market Carrera RS was delivered in November 1995 in rare M003 Club Sport specification. Aimed directly at endurance racing events, such as the Nürburgring, the Clubsport was further stripped of carpeting and fitted with a Matter welded-in roll cage, strut tower brace, bucket seats with six-point Schroth harnesses, as well as a battery kill switch and fire extinguisher. Compared to the "standard" RS, only 227 such examples were built for GT2 homologation.

Finished in iconic Speed Yellow, this Carrera RS sports the aforementioned bucket seats with matching yellow seat backs as well as factory air conditioning, the only feature that belies the Club Sports competitive intentions. With less than 31,400 kilometers (19,500 miles), this Porsche includes its original owners' manuals and service booklets in their leather pouch, as well as the original tool roll in the front compartment. This beautiful example offers its next owner a stunning package of exciting looks and thrilling performance, and it would make a wonderful addition to any serious collection of Porsche automobiles.

This vehicle is located in Canada. The buyer is responsible for any duties, taxes and modifications required to import the vehicle into their home Country.

VISIT US @ kulumotorcar.com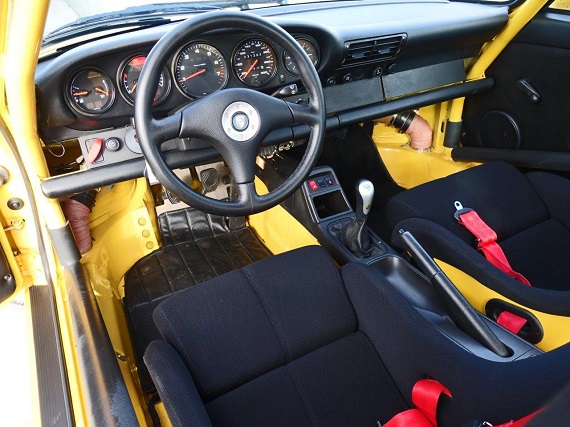 We've featured a Carrera RS Clubsport once before and I remarked there that the Guards Red exterior seemed a little bland for the car. These are cars that desire as much audacity in their appearance as they possess in their performance. Here, in Speed Yellow, we have no such problems (the Guards Red RS probably wasn't actually bland either). For potential US buyers federalizing one of these poses issues, and I'll leave to those more familiar to answer whether the Clubsport package makes that process even more difficult. Regardless, a car like this will always be aimed at collectors and given the asking price here the extra cost for importation may seem of lesser consequence. For most of us these will remain the cars of our dreams and part of the shared DNA of the 'regular' 911s that so many do own.
-Rob