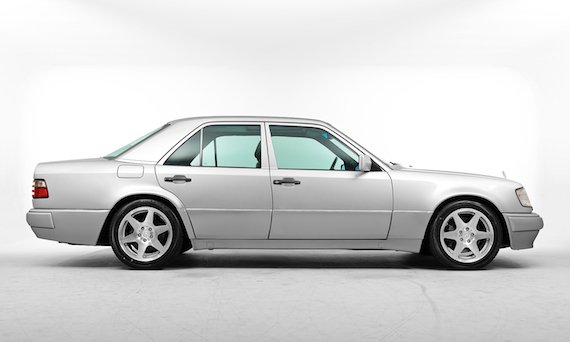 Following on to the AMG E-class estate goodness we just saw earlier today, here's a very nice example of one of the last of those famous Mercedes-Benz/Porsche collaborations, the E500. We've waxed poetic about this car many times, but a variation some might not be aware of was that a Limited model appeared towards the end of the E500s lifecycle. These E500 Limited models included different trim, inclusive of some rather avant garde upholstery and Evo II wheels. As if this performance special wasn't limited enough, feast your eyes on this silver beauty for sale in the United Kingdom at 4Star Classics.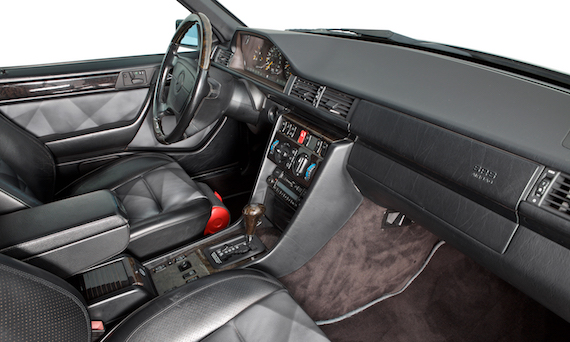 Year: 1994
Model:Â E500 Limited
Engine:Â 5.0 liter V8
Transmission: 4-speed automatic
Mileage:Â 68,892 mi
Price: £29,995 (~ $43,407 USD)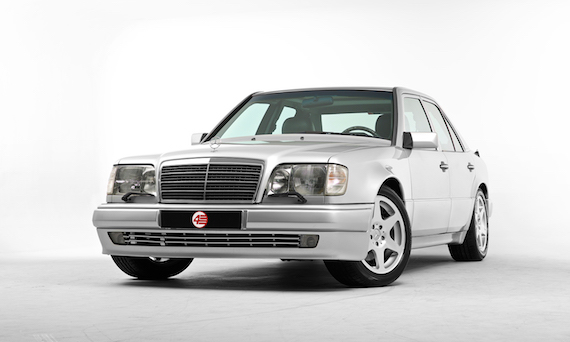 MODEL HISTORY
From 1990 to 1994 Mercedes-Benz sold a high-performance version of the W124, the 500E, which was created in close cooperation with Porsche. In fact, each 500E was hand-built by Porsche, being transported back and forth between the Mercedes plant and Porsche's plant in Zuffenhausen, Germany, during assembly – taking a full 18 days to complete each model. In 1994 it was face-lifted along with the rest of the range and renamed to 'E500′. The 500E and E500 were known by Porsche as Type 2758 in that company's official nomenclature.

The 500E had a naturally aspirated 5-litre V8 engine derived from the R129 500 SL. Sports car braking performance also came from SL components: 300mm front SL 500 discs with 4-piston calipers came installed on the 1992 and early 1993 cars. The later 1993 and all 1994 cars came with the upgraded 320mm set taken from the 600 SL. Rear brakes on all years were 278mm brakes from the 500 SL. Called the "Wolf in Sheep's Clothing" by the press, performance tests of the day yielded impressive results: 0-60mph in just 6.0 with a top speed of around 160mph.

The 500E was built with only four seats and in left hand drive, with the seats supplied by Recaro. With its aggressive stance: 1.5 inches wider track, 0.9 inch lower profile, flared fenders, side skirts, front air-dam and wide tires, the 500E was easily distinguished from its lesser brethren. The 1994 E500 model is more easily identified because of the cosmetic changes that affected all E-Class cars that year, such as updated headlights, grille, and trunk-lid. The engine, however, remained unchanged from the 1993 500E. 1994 models carried an upgraded sound system made by Becker or Alpine, replacing the two-piece Becker 1432 unit used in model year 1992 and 1993 cars. Because of its look, limited numbers, hand-built construction, and unique pedigree, the 500E is already considered a classic, even within Mercedes-Benz.

The E500 Limited was a "limited" model production between 1994-1995 of the E500. All E500 Limited's were face-lifted. From factory, the vehicles came with special two-tone interiors, 17-inch Evo II alloy wheels, birdseye maple wood trim, and were usually fully optioned with sunblinds, climate control, heated seats, and memory seats. They also had black 'Mercedes-Benz' lettering on the engine rather than white painted lettering that usually flaked off. They also came with the Mercedes-Benz stamped stainless steel doorsill protectors as standard. They had two-tone sportline steering wheels, passenger and driver airbags together with the fully face-lifted bodywork and cladding as standard. They are deemed to be the most desirable of the E500 range.

EQUIPMENT
17-inch Evo II alloy wheels, Two-tone leather upholstery, Heated and electric memory seats, Birdseye Maple wood trim, Electric sunroof, Electric windows, Climate control, Mercedes-Benz Classic cassette player, Rear window sunblind, Rear armrest, Mercedes-Benz sill protectors, Spare wheel, Toolkit.

EXTERIOR
Hand built by Porsche and Mercedes over a period of 18 days, this rare E500 is finished in Brilliant Silver metallic. Being a 1994 Limited model this is a face-lifted example benefiting from the updated E-class bodywork and trim throughout.

The paintwork is free from any scrapes or scuffs and looks great against the tinted glass and polished Evo II rims. With only a small number of blemishes to speak of, most notably stone chips to the lower part of the front bumper, the E500 remains in great order overall.

INTERIOR

The Limited models featured special two-tone leather upholstery and in this example it is black and grey. Due to the high performance nature of this über-saloon the seats are Recaro and present in excellent condition, with only the tiniest of wear to the bolsters. The rather avant-garde design seat centres show no signs of use, and are complemented by equally pristine door cards.

The interior throughout is in good order with the unmarked carpets protected in the foot wells by a full set of genuine Mercedes overmats, which also present well. The grey suede headlining is also pristine with the only real signs of interior wear being light cracking to some of the maple wood trim.

ENGINE & TRANSMISSION
At the heart of this Mercedes is its 5-litre V8 engine. Producing around 315hp, and coupled to a four-speed automatic gearbox, it enables the car to sprint from 0-60mph within six seconds and have a top speed of 155mph, which is limited. Derestricted models have been known to reach over 170mph.

Under the bonnet is an orderly engine bay. Obviously not that of a brand new car the area does remain very clean and tidy. Having been freshly serviced and checked over by Mercedes-Benz of Guildford the car remains in fine fettle.

WHEELS, TYRES & BRAKES
The E500 sits on the original set of 17-inch six-spoke alloys, as seen on the legendary 190E Evo II. The polished wheels are in good condition and are free from any curb marking. They are shod in a brand new matching set of Bridgestone Turanza tires.

HISTORY FILE
The Mercedes was first registered on 8th November 1994. Since that time it has covered 110,871km, which equates to a mere 68,892 miles. Intended for the European market the car was manufactured to German specification but did, in fact, end up spending its life in the dry climate of Japan.

Since arriving in the UK very recently the car has just been serviced by Mercedes and is complete with a fresh MOT. Present in the history file are numerous inspection sheets documenting service work carried out over the years, as well as a letter from Mercedes-Benz UK confirming the car's build date, numbers, and spec.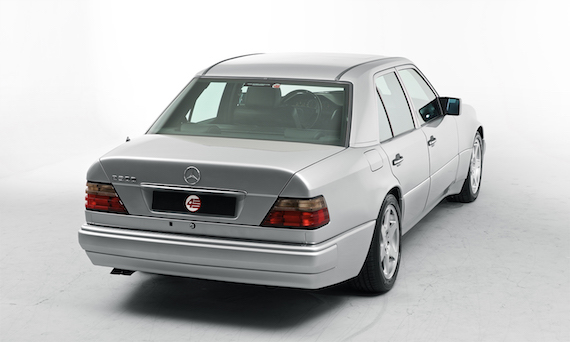 Even though this E500 is for sale in the UK, all of these super saloons were left-hand drive, which will certainly open up the appeal for this collector car abroad. The folks at 4Star Classics delivered once again with this ad. They are a model of what it takes to sell a car. Great pictures, thorough description and an intimate knowledge of the vehicle at hand. As we've noted, 500E/E500 prices are climbing. We saw a US spec E500 with just over 120,000 miles sell last summer for $23,600. The Pound Sterling to Dollar exchange rate has never been favorable for those of us in the US, so the asking price here represents the top end of the market when it comes to the E500. In a few more years, it will be eligible to import one of these special versions stateside. Silver is not my most favored color for this four-door beast, but the Evo alloys suit these cars quite well.
-Paul