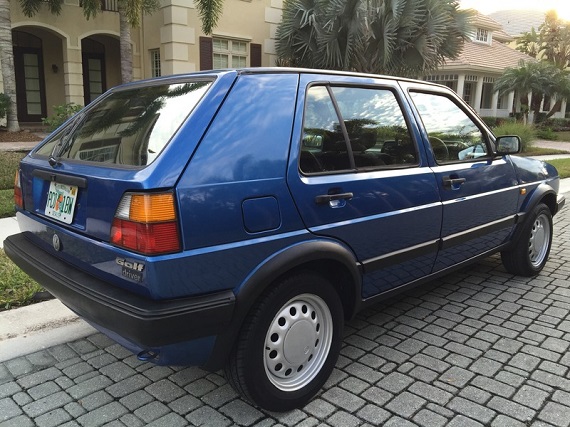 It's interesting to me that Volkswagen has managed to make the Golf a premium product, because for so long it was actually low man on the totem pole at VW. I owned a Westmoreland made Golf built in 1986, and while it was a fun car to drive, luxurious it was not. Compared to new models with Audi-inspired interiors, the Mk.2 cars are positively Spartan in design. However, compare them to some similar Japanese interiors from the day and you begin to see why the Golf was widely regarded as the premium hatch in the segment. It also offered plenty of performance from the 16V models, though in Europe those cars were more expensive to insure. Popularity and a propensity for getting into accidents meant that they were targets for theft, the and consequently high insurance premiums. As a result and due to the higher cost of the GTi models, Volkswagen introduced several GTi-look packages like the Golf GT and this one, the later Golf Driver: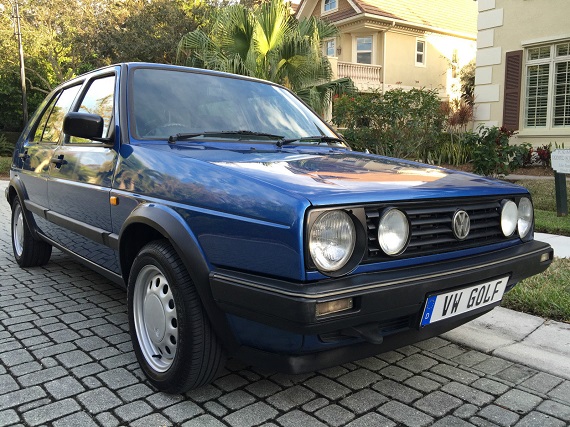 Year: 1991
Model: Golf Driver
Engine: 1.8 liter inline-4
Transmission: 3-speed automatic
Mileage: 70,760 mi
Price: $7,695 Buy It Now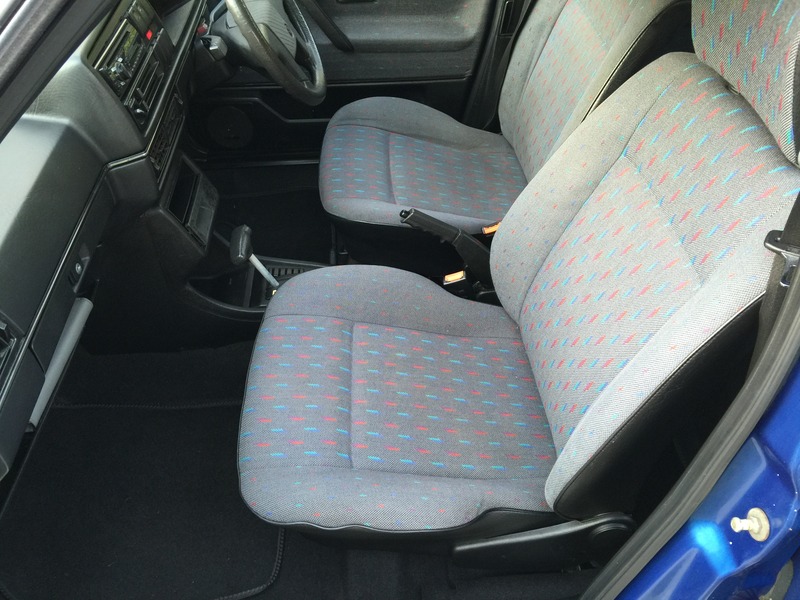 For sale European Right Hand Drive 1991 VW GOLF DRIVER.
Vin # WVWZZZ1GZMW555421

More pictures Below

Here is a Great VW Golf Driver Euro Model, Helios Blue, fitted with Automatic Transmission, Manual sun roof, Black / Grey seats, finished off with a set of European Bumpers & 14″ Steel wheel rims, The Golf Driver Model was only available in Europe and was aimed at the driver who wanted the looks of the Hot Hatch GTi model without the cost of the Expensive insurance.

I bought this 1991 VW Golf Driver in England last year and imported it over to Florida, It has a clear title with Florida DMV, It would be the same to title this car in your own state as it would with any Florida Titled car, However being from Europe it is not fitted with a catalytic converter or airbags, So you may need to check rules for smog test in your own state before bidding.

The car has covered only 70,xxx miles, The Car has just been service replacing oil and filters, Front & Rear Brakes, New rear wheel bearings, It runs great, & is fitted with very economical factory 1.8 4 Cylinder Engine and mated to Automatic transmission, Car is not fitted with factory air con which is usual due to the European mild climate, But is fitted with optional Sun roof & power steering.

Inside the car is in great condition for 25 years old, dashboard is crack free, The Seats are in Excellent condition, folding rear seats makes the car very practical and roomy, trunk area with tool kit, Three Spoke Euro steering wheel (none airbag), Digital Clock, all switch gear is working and in good condition, Manual front & manual Rear windows, & Manual sun roof,

Outside the Helios Blue paint is good, Some Marks / Scratches on hood, various marks, as expected from a 25 year old car, But as you can see from the pictures very Nice, a very solid car, rear wheel arches, strut towers, windshield scuttle, floors doors are all solid without any major sign of rot, Right head light has a chip in lens, Under the hood the engine bay is tidy & Engine dry, The Golf is sat on a set of 14″ OEM VW Euro 14″ Steel wheel rims with Good 185/60/14 Tires.

This Golf Driver runs Great, engine Pulls Strong and performs very well, with no untoward noise or fuss, Gear change is smooth, and the brakes stop the car nicely with good pedal feel, the suspension is smooth and composed, with no knocks or rattles, This car drives very well.

It is easy to see why the Golf is such a sought after car and has become a great classic every day driver, Its a simple and dependable car that's great fun to drive without all the fuss and gadgets that some modern cars including newer VW's sometimes detract from the pleasure of actually driving a fun car.

In my Opinion the "Bad Bits" below all are in the pictures
Scratch on Hood
Dings on Left front fender
Scuff under left side bumper
Very minor rust on lower part of Left front door
Chip in right head light

Overall a very good and tidy 25 year old VW Golf, that's dependable and in great condition, every thing works as it should, It would make a great classic daily driver or with little work could be made in to a excellent show car.

Don't miss your chance to buy this Very nice European RHD VW Golf Driver.

More pictures are available on request, If you have any questions please ask before the auction ends not after, Please only bid if you intend to buy, any inspection is welcome and should be done before the auction ends.

Shipping is available

FL, GA, AL, $200.00
MS, SC, TN, NC, AR, LA $395
KY, VA, WV, IN, OH, PA, NY, DE, CT, MA, NH, RI, VT, ME, MI, WI, IL, MN, IA, MO, TX $695
OK, KS, NE, SD, ND, NM, CO, WY $895
MT, ID, CA, UT, NV, AZ $1000
OR, WA $1200

Sorry no shipping to AK, HI, PR or islands.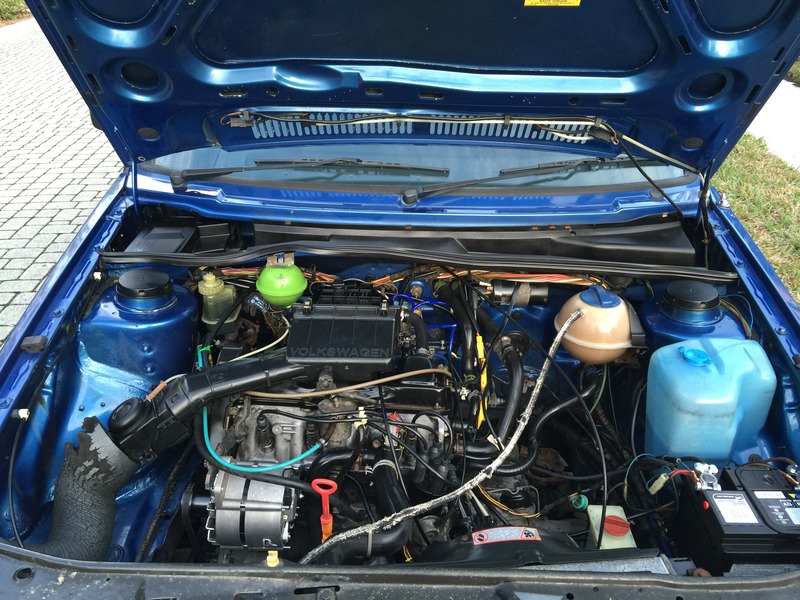 The seller lists the car as Helios Blue Metallic, which it most definitely is not. I think it's probably Pasadena Blue Metallic, a much brighter shade. Pasadena is equally if not more rare than Helios, and was only available in the U.K. on the late Drivers and the special "Pasadena" edition (similar spec to the driver). The confetti seats inside are the comfort variety which frankly aren't very comfortable, but are easily swapped for any number of other Mk.2 variant seats. Condition overall appears to be great and original, and the seller does a reasonable job of showing damage areas. Drivers came in two specifications; with pre-1990 cars being 1.6 and the later cars having the option for the GL-spec 1.8 motor. The 1.8s came standard with a tachometer, so I'm assuming that since this car is a '91 and has the tach it's probably the 1.8. The 90 horsepower it generates won't light any fires but they're still pretty entertaining to drive, though delivered through the 3-speed automatic is really what is a letdown. Despite the low mileage and neat/rare European model status, it's hard to stomach the near $8,000 asking price. At half that, this would be a fun car that you could swap a VR6 and 5-speed into and have a quick and unique Golf. But the standard Golfs haven't generated quite the collector market that the Mk.1 Rabbit/Golf has, and as such I'd wager this car is overpriced by the best part of 50% and will have a hard time finding a buyer.
-Carter